Prince de Bretagne capsizes
Tuesday January 28th 2014, Author:
James Boyd
, Location: none selected
Having set off Friday before last on his attempt to break Francis Joyon's record for sailing from Port Louis in Brittany to Port Louis in Mauritius, Lionel Lemonchois' 80ft trimaran Prince de Bretagne has capsized.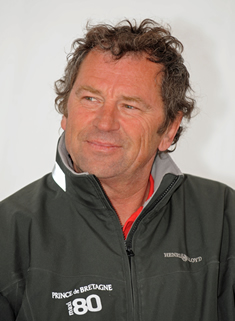 Yesterday at 15:57 Prince de Bretagne's EPIRB was triggered. At the time the year old trimaran was passing to the east of Isla de Trindade (once a mark of the Volvo Ocean Race course), some 800 miles off the Brazilian coast, in a southeast wind of 16-8 knots
The MRCC Gris-Nez in France (the coastguard) contacted the Prince de Bretagne team to inform them of the beacon alert.
Lemonchois, best known for his emphatic win in the 2006 Route du Rhum while sailing for the Gitana team, managed to get a call through to his shore team early yesterday evening. He confirmed that the trimaran had capsized in a gust. Although he has injured his hand, he is safe inside the boat and has cut away the rig, to ensure it does no more damage to the hulls.
Lemonchois intends to stay on board the upturned hull of the trimaran as his shore team arranges a rescue. The MRCC in France continues to monitor his situation as his shore team scramble to Brazil to find a tug to go out to the stricken vessel. Although a rescue will take several days to mount, Lemonchois says he is okay for both food and fresh water.
Back to top
Back to top