Beau Geste takes on the maxis
The Rolex Sydney Hobart race is currently providing the best ever comparison between different genres of maxi boat. There are the four 100 footers – the Reichel Pugh-designed serial line honours winner (six times since 2005) Wild Oats XI, newly fitted with a DSS foil, the Juan K-designed former Speedboat/Rambler 100. Following her catastrophic keel loss and capsize in the 2011 Rolex Fastnet Race, she has been acquired by Anthony Bell and rebuilt by Cooksons as Perpetual Loyal. Grant Warrington's Don Jones-Fred Barrett designed 2003 line honour winning Wild Thing is back, now extended to 100ft with a modified hull shape, while for the second year 86-year-old Syd Fischer is campaigning Ragamuffin 100, the Greg Elliott design originally launched as Maximus, that won Hobart line honours in 2011 as Investec Loyal.
Then there are the two VO70s, the 2011-2 Volvo Ocean Race winner Groupama 4, now owned by New Zealand wine magnate Jim Delegat and Black Jack (ex-Telefonica) owned by Queenland investment guru Peter Harburg.
But between the two groups is Karl Kwok's latest Beau Geste. Those with keen memories will remember Kwok's Farr 80 Beau Geste that following her launch in 2009 raced successfully in regattas around the world picking up silverware in races as far afield as the Transatlantic Maxi Yacht Cup, the Maxi Yacht Rolex Cup, the RORC Caribbean 600, the Newport-Bermuda, Chicago-Mac, Pineapple Cup, etc. However in June 2012 the boat effectively snapped in two in the Auckland to Noumea Race.
So with a broken 80 footer already in the team's possession, the new Beau Geste, this time a design from Botin Partners, has been built around the salvageable parts of the old boat – in particular the rig, sails and deck gear, as well as the retractable drive down to the bunks and the nav station. "The whole reason we built the boat is that we were able to use existing parts," says Gavin Brady, Karl Kwok's long term project manager/sailing manager. "There was a lot of good stuff with the old boat, stuff we developed and worked on and it was nice to be able to use that, while having a second opportunity to build something special."
Using the rig from the previous boat effectively meant that the new boat had stay in the vicinity of 80ft LOA however more important was maintaining a similar righting moment to the old boat.
Botin Partners' Adolfo Carrau explains: "When you work around an existing rig, the rig is designed around a given righting moment for the boat, so the righting moment was sort of given."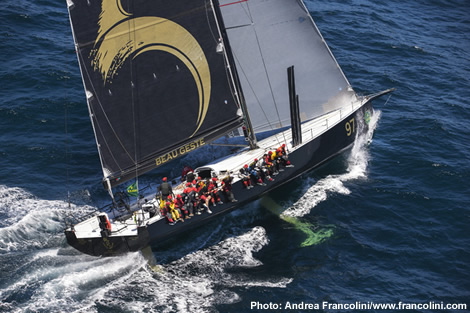 The most significant difference between Farr and Botin Partners boats is that while the former had a lifting keel, the latter has a canting keel and twin daggerboards. However the new boat has a marginally more beam at the waterline and so she has more form stability and therefore righting moment from her hull shape. Saying this, according to Carrau, the new Beau Geste has precious little immersed hull. "It is probably the shallowest hull we have ever done."
The new Beau Geste has oceanic potential, but is optimised for 'coastal racing' ie the world's 600 milers, like the Rolex Sydney Hobart, Fastnet race, Middle Sea, etc (although the program for the boat beyond the Hobart race hasn't been finalised). But significantly this means that the boat isn't a VO70-style reaching weapon, but is instead optimised for VMG upwind and downwind.
Carrau: "In the Fastnet, you normally have a long beat and then a run and in the Transpac there is a lot of broad reaching and running. With these 'short' races, you are usually going from A to B and you can't go too far from the rhumb line like you can, say, in the Volvo Ocean Race. So the boat has a lot of form stability and on a reaching course it will be okay, but VMG running it should be extremely good. That was the concept and the path we decided to go down early on, because if you want to overtake a 100 footer, that is the only way we could think how to do it."
Equally significant about the new Beau Geste is her ultra-light displacement. Compared to the previous boat at 20-21 tonnes, the new one weighs just 16. The majority of this has come from the change from the heavyweight lifting keel, to the canting keel, which requires a smaller bulb, around 50% the weight of the original (albeit with two additional daggerboards), but with a substantial draft of 5.5m, with a milled steel foil and carbon fairings, similar structurally to a VO70. But it has also come from careful engineering and fit-out.
Gavin Brady explains: "It looks like a grown-up VO70, but in reality it is quite different. Its displacement to length ratio is radically different to a VO70, more in line with an IMOCA 60. We are getting more righting moment out of the hull, so we need less lead on the keel effectively. I think it is where the sport is headed at the moment – lighter boats with more form stability."
In terms of sailing, it is early days yet, but with a performance like that of a multihull, it requires a similar technique to sail. "You can't sail this like a true wind angle boat," Brady continues. "You have to adjust your style for sure. If you push the boat hard and you think the jib lead has to go out 3in, you do it and the boat will go half a knot faster. So the gains and losses are quite amazing. So it rewards good sailing."
However he admits: "We have yet to find out what really works. I think it is also a boat that you could sail along very happily at 70% of the boat's potential and not know that you are not pushing yourself. So the challenge with this boat is keeping the hammer down at all times. You have to push yourself."
Carrau agrees: "It is like a big dinghy, not like a heavy offshore maxi. It is very responsive, but that also means it needs constant attention by the crew, because while it can accelerate fast, it can come to a halt also quite fast, if you are not on the ball. You need to be tweaking the boat continuously."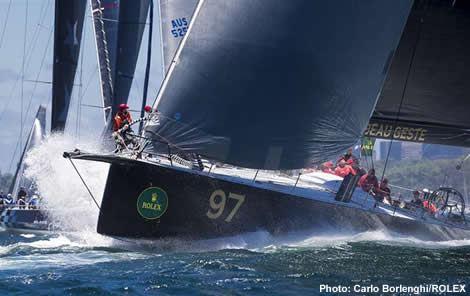 With the daggerboards, Beau Geste has gone down a similar route to the VPLP-Verdier designed MACIF and Banque Populaire in having boards that are both further outboard than normal and also located vertically in the hull so that the boards provide considerable vertical as well as lateral lift (albeit not to the same degree as the IMOCA 60s). "It is a first very shy step towards lifting daggerboards," admits Carrau. "We think they are pretty good for this race. We couldn't go too exotic, because of the time constraints and also because they have to be super reliable, so straight boards with a closing foot."
The new boat also has twin rudders. Carrau seems sold on this. "I would be surprised if you saw any other single rudder boat going offshore in the future." He admits that they were toying with making the rudders kick-up (as they have on their Class40 Tales Santander 2014, which recently finished second in the Transat Jacques Vabre). However they forsook this favour of simplicity. "There aren't ten guys in shore team looking after this boat full time, so it has to be more down to earth."
Beau Geste also has powered winches, but, as ever, although this means there are no pedestals in the cockpit, it doesn't allow crew size to be reduced. In fact since the delivery to Sydney th,ey have bumped up the crew from 14 to 18, much the same as the old boat. As Brady explains: "You still have to get sails up on deck and get them trimmed on. That is about the same as the old boat and it makes sense because the mainsail is about the same weight. In fact a lot of the sails are off the old boat."
There is of course a rock star crew. In addition to Brady and Karl Kwok, it includes the team's long term navigator Steve Hayles, but a hardcore Volvo Ocean Race crew including Cameron Ward, Brad Marsh, Ryan Houston, Dave Swete, Tony Rae, Phil Jamseon, Kevin Batten, Kelvin Harrop and Dave Endean. As Brady observes: "It was funny coming across to Sydney, I looked down below and there were jackets from Telefonica, Groupama, Camper, Ericsson, etc. We have a fantastic boat and an awesome team. You can't have one without the other."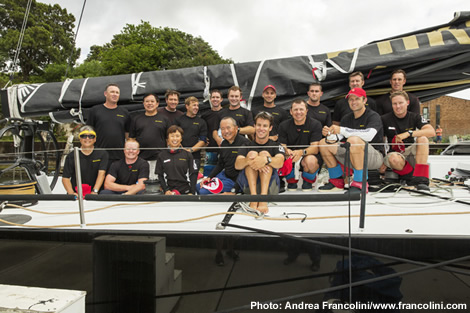 The new boat was built by Cooksons in Auckland, Botin Partners having previously worked with Mick and his supreme team on the Camper VO70 and numerous TP52s such as Emirates Team New Zealand, Warpath and others. Plus they worked with PURE Engineering on the structure of the new Beau Geste, Giovanni Belgrano's company also regularly work with Team NZ and Cookson. "For this project and Camper it was very efficient, they could go to the yard weekly and solve a lot of issues directly with the yard," says Carrau of PURE's involvement. "For this project in particular, Cookson made it on time because PURE had 4-6 engineers working on it full time.
"The big challenge was to reach the displacement we were aiming for, but at the same time we had to comply with Germanischer Lloyd scantling requirements for boats bigger than 24m. The previous boat had a failure and it wasn't an enjoyable experience for anyone and we don't want something like that to happen. So the hull and deck shell are really strong, but they had to be creative inside to make the boat light.
"Down below, it looks similar to a VO70 and that was one of the nice things about Mr Kwok, that he allowed us to push a bit harder on this than his previous boats. So it is not painted, and it doesn't have too many luxuries inside."
Significantly the mast is deck stepped with a keel tower arrangement beneath it, plus the structure and watertight box around the canting keel.
Impressively construction of the boat took just five months, despite Cookson being busy churning out new daggerboards for the ETNZ AC72 and getting the all but trashed Speedboat/Rambler back together and seaworthy as Perpetual Loyal.
The new Beau Geste was launched one month ago and the crew had just two weeks to work the boat up before the valuable delivery to Sydney. "There is nothing like getting out in the middle of the ocean," says Brady. "You can't beat getting away from it all. You learn the boat and all those little things. Like the boat is making a lot of noise going upwind and in reality its just the floorboards banging around."
So can Beau Geste beat the 100 footers on the water...the million dollar question. At the time of writing Beau Geste had dropped back to being 50 miles off the lead. However so far the conditions perhaps been less than ideal for her.
"In some conditions, she should be faster," says Carrau. "Upwind it is very difficult because she is 20ft shorter, but broad reaching and especially running, the boat being so light and also lifting daggerboards are a big benefit, because in a building breeze, this boat should start planing a couple of knots earlier than the rest of the fleet. So in medium downwind conditions she should do okay. Also in very strong winds, with her hull characteristics, as it doesn't have the righting moment and the weight, it means that the loads are not huge, so it should be a bit more manageable than the bigger boats and sail changes should take less time."
Prior to the start Brady said how all the maxis will perform against one another was the great unknown. "At the end of the day, logic would say 'how could an 80 footer beat a 100 footer?' One boat goes flying down the harbour and then you go upwind and another boat comes from a quarter of a mile behind. There is such a range of boats that over 48 hours I don't think anyone could pick it. This is the first full scale tank test model the sport has ever seen. Just the differences between Loyal and Oats is dramatic enough and then you go and put us in the middle. And you can't discard Ragamuffin. It is going to be a fascinating race."
Sure is.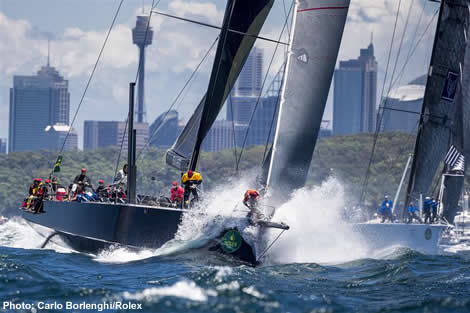 Back to top
Back to top