Victory for Benoit Marie
Benoit Marie on his Finot-Conq designed Proto benoitamarie.com has arrived in Pointe-à-Pitre, Guadeloupe to take line honours in the 2013 Mini Transat. The French skipper crossed the line at 21h 46mn 05s GMT, with a total racing time of 18d 13h 01m 05s at an average speed er the course of 8.25 knots.
This is Benoît Marie's first victory in a major singlehanded ocean race. In two years, his development has been linear. Considered a definite outsider at the start in Douarnenez, set foot on the dock, amazed by his performance and deeply moved to see his family...he only learned of his victory in the Bay of Pointe à Pitre, when someone on a spectator boat provided him with the news.
"There were not many bet on me at first, but I knew I had my chances," Marie commented when he came ashore. "This year has been really tough. The wait was highly demotivating and the more we waited, the harder it was to get into race mode. I really took care never to let it unsettle me. From Sada, we knew we would face strong winds - that happened almost immediately.
Sailing down the coast of Portugal: "It was really an equipment breaking sea. The first night, I really reduced sail and applied myself to stay at an average speed of twelve knots, it was more than enough. I elected to sail in a seamanlike manner to avoid having to stop in Lanzarote for repairs. That didn't not stop me having my worries about equipment: my mainsail blew out several times at the third reef. I had to sew it. I also had rudder damage. I was forced to fix it with retaining lashings regularly ... "
His match with Giancarlo Pedote: "For the last three days I haven't received any position updates, my SSB radio was inaudible. I knew I was well placed, my boat was fast in these conditions. I especially tried to sail the cleanest route, never easing off ... I did not know my position, but he should have nothing to regret.
"Of the 3,700 miles of the Mini Transat, I think I had was close hauled for just three miles out of the Bay of Sada. Everything else I did downwind ... and that is truly magical."
Three hours later, at 00:41:30 UTC, Italian Giancarlo Pedote on the 2011 race winning scow, Prysmian, arrived in second place, disappointing having led for most of the race. His elapsed time was 18d 15h 56m and 30s, sailing the course at an average speed of 8.20 knots.
Of this leg Pedote commented: "It was a bit hard because of the issues of the first leg, but I accepted the decision of the Race Director. I thought about stopping in Puerto Calero because I broke something on the first night. I had lots of breakages, which I was able to repair. I lost a lot of speed due to the broken bowsprit. I was intoxicated with all the laminating!
"I always knew that my boat was very good downwind. I gave everything, I had belief up until the end. I'm glad there is nothing more I could do. After three weeks of silence the brain has a little trouble understanding. When I'm racing I'm in my own world I'm happy because I responded well in difficult situations."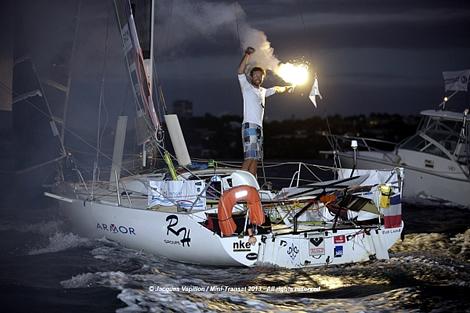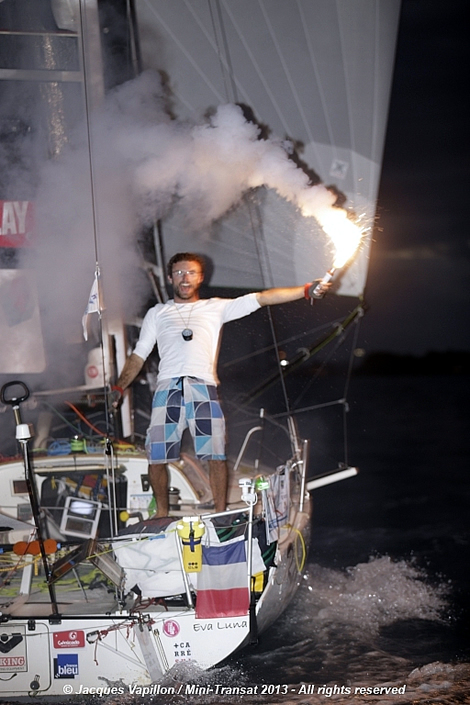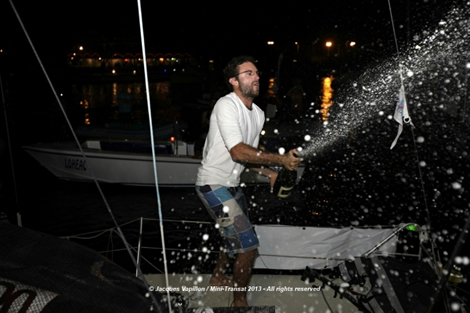 Back to top
Back to top