Class40 podium complete
Having had a unchallenged lead since the race re-started from Roscoff in the very early hours of the morning of 10 November, French duo Sébastien Rogues and Fabien Delahaye on GDF Suez sailed across the finish line off Itajaí, Brazil at 2256 UTC yesterday evening to take line honours in the Transat Jacques Vabre 26 strong Class40 fleet.
The Class 40 winners' elapsed time for the theoretical course of 5450 miles is 20 days 21 hours 41 minutes and 25 seconds at an average of 10.76 knots. In reality they sailed 5578 miles at a real average of 11.12 knots.
Sailing the Sam Manuard-designed Mach 40 design, the duo have been comfortable leaders for almost the entire race, only recently coming under pressure when they led into light, unsettled winds off Cabo Frio.
Early in the race they made a carefully calculated technical pit stop into Muxia on the north west corner of Spain to scale their mast and replace two vital wind vanes. Their stop cost them less than 50 minutes and they still led the fleet by 19.8 miles when they set off again.
Benefiting from sailing first to reach the trade winds off Portugal they were able to extend ahead of the German Franco duo on sistership, mare, Jorg Riechers and Pierre Brasseur. duo on Mach 40 sistership Mare. On 22 November they led into the Doldrums 77 miles ahead of mare. Their astute choice of route allowed them to increase that margin by 30 miles. Only later did they reveal that they had actually blown up two key spinnakers in quick succession which ultimately cost them some of their lead in the lighter conditions further down the race course. Indeed at Cabo Frio their lead was halved and, now up to second, Spanish duo Alex Pella and Pablo Santurde on Tales Santander 2014, closed to within 34 miles on the Bay of Rio.
When GDF Suez crossed the line the Spaniards were around 50 miles behind.
While GDF Suez was favourite going into the Transat Jacques Vabre and Delahaye has finished second in the Solitaire du Figaro previouly, this isthe first big ocean race win for her crew.
Rogues said that the two keys to their win were being able to break first through the high pressure ridge off Cape Finisterre which allowed them to get into the Portuguese trade winds first, and their passage through the Doldrums, identifying a narrow corridor using a series of wind satellite radar images.
"We took the lead in the race off Guernsey and really never let go. But it was never easy. We had our share of technical problems. But that's the same for other crews. We started to worry when we lost two of our spinnakers. But we were quickly looking forwards and back into the winning mindset. It worked well with Fabien and the boat is great. We had a great weapon. We did a good job and managed our lead well. Our technical stop was not costly. It happened when we came out of Roscoff when there was a lot of wind and big seas. We broke the wind vanes and so we had to stop if we were going to do well. Our choice of port was decided by the weather, Muxia by Finisterre. We stopped for 50 minutes and it was hardly a detour. Passing through the Doldrums was close to perfect.
"Without the big spinnaker it was difficult for us and on the Brazilian coast we did not have the good sails, and we saw the others catching up fast. When we launched the big spinnaker and it held, only then did we know we might be alright. We repaired it during the upwind leg after the Doldrums and only put it up recently. Off the Brazilian coast we did not need it. But on every ranking we could see the other were catching us. Three days ago we thought we would finish third, off Rio we put up the big spinnaker and saw that it worked, and only then did we say 'okay, maybe we can win this race'.
"The new generation of Class 40 has such great potential. Today with these Class 40s we can race on these boats with reasonable budget. We had peak speeds of 24kts. And our partnership worked well. I sailed with one of the most talented sailors of his generation. But I also have a friend. And what a welcome here. To arrive into such an atmosphere, it is a unique moment.

Fabien Delahaye added: "From the outside our race might seem 'easy'. In fact, we had ups and downs. But we never gave up. Three days ago we would finish third because it seemed impossible to contain mare and Tales Santander 2014. We did not think we had a spinnaker to hoist but we had managed to repair it. We were able to get back on the attack. We were leaders and not followers. Thanks to a favourable weather all along the route we won the Transat Jacques Vabre really not having to move much from the direct course."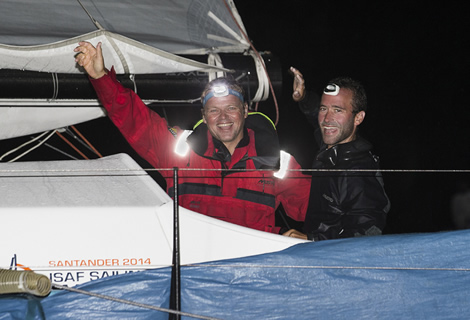 Alex Pella and Pablo Santurde on Tales Santander 2014 crossed the finish line at 0236 UTC to take second place. The Spanish duo's elapsed time for their race is 21d 01h 22m 15s, 3h 40m and 50s second after GDF Suez. They sailed the theoretical course at an average speed of 10.69 knots, but sailed 5660 miles at an average speed of 11.2 knots.
Sailing their new Botin Partners design Gonzalo Botin's Tales Santander 2014 (read more about this boat here) is a great result after losing valuable time early in the race when they had to make a technical pit stop into La Coruna to repair a rudder fitting. When they stopped, they were around 50 miles behind the leaders, but as they continued down the Portuguese coast in the strong trade winds, Tales Santander 2014 had dropped to 156 miles behind. But they again showed phenomenal reaching speed when they progressively pulled back 40 miles by the Cape Verdes.

Emerging from the Doldrums in third, just after Rio they managed to pass mare pulling up to second. As the leaders struggled for pace in the lighter breezes Tales Santander 2014 managed to close to within 37 miles of the lead. They elected to go inshore of the main oil platform field off Rio which cost them some of their margin against mare.

For Barcelona-based Pella, it is another endorsement that he is one of Spain's brightest ocean racing stars, having already finished on the podium twice in the Mini Transat, completed the 2009 Transat Jacques Vabre in fifth in the IMOCA 60 class with Pepe Ribes and finishing fourth in the Barcelona World Race in 2011. For Santurde on his first big ocean race and represents a great debut.
While the pair were pleased with second, Pella believes that their enforced pit stop cost them the race win. They sailed 200 miles across Biscay with one rudder and did not know if they would be able to finish the race. "We thought we might be going home to Santander" Pella said.

"We are happy with second, when you saw us on the second day stopping to repair the rudder in La Coruna that was a hard moment. When broke it we did not know if we could continue the race or go home to Santander. We decided to stop in La Coruna to see. It was Sunday of course and every machine shop was closed. The guys from the yard made it, went from Castellon to Valencia and drove by car to give us the fittings. In fact we only stopped for two hours to do the repair, but we did 200 miles with one rudder. And when we left La Coruna we had no wind and GDF Suez and mare were away."

Did it cost you first? "What do you think? When you see the final miles now, then for sure it did.

"We are happy. I am happy to have sailed this fantastic boat with Pablo. We sailed very many miles close with many boats, we were two or three days with Watt & Sea, two days with Armel Tripon with Geodis, we learned as we went because the boat is new.

"It is a fantastic boat. When it is windy and we are reaching, it is fantastic. We are lucky because a big part of the race is reaching and we were great in these conditions."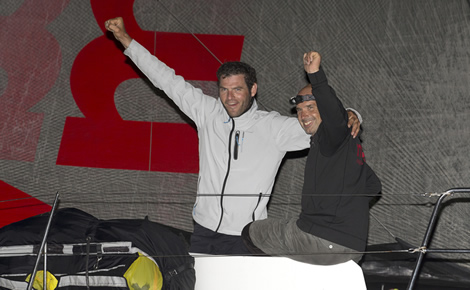 The German French partnership of Jorg Riechers and Pierre Brasseur on their Mach 40 mare finished in third at 04:36:30 UTC to complete the podium.
Their elapsed time for the theoretical course was 21 days 3 hrs 21 mins 55 secs at an average speed of 10.64 knots. They sailed 5669 miles at an average speed of 11.1 knots. Mare finish 5 hours 40 minutes and 30 seconds behind the winner.
Riechers and Brasseur have always been in the Class 40 vanguard, virtually since leaving Le Havre. Chasing the runaway leaders, their near sistership, the mare pair were never far from the lead. But soon after Recife, Tales Santander 2014 finally took over second place. When Tales Santander 2014 made a mistake heading inshore of the Rio oil platforms, mare closed on second with 265 miles to sail to the finish line. But skipper Riechers, a past Solidaire du Chocolat winner, confirmed that even between the Le Havre start line and Roscoff he felt they did not have the speed to win this race: "For us it was a good race. I think we sailed a good an intelligent race. Unfortunately we just never had the boat speed to win. That was quite clear from the first leg from the outset in Le Havre to Roscoff. And that was confirmed on the way down to the Equator. While we are happy to finish third it was really good to be close to this second placed boat Tales, which is a really, really fast boat. We are happy to finish just ten miles behind them.
"We lost second last December when we decided not to modify the boat. Sailing-wise I don't think we made any big mistakes. We were a bit unlucky when we exited the Doldrums. We were taken by a black cloud for two hours there. And from there it was tough because we were too far west, we could not get in line with Tales and we had lost 30 miles on GDF and from there it was clear we could not win this race. It was a boat speed thing, and the error was not to modify the boat in a certain way. It was a cool race for us."
Back to top
Back to top