Next deluge expected
Wednesday November 27th 2013, Author:
James Boyd
, Location: none selected
The latest arrival into Itajaí at the end of the Transat Jacques Vabre is Gilles Lamiré and Andrea Mura on their trimaran Rennes/Saint-Malo Agglomeration third in the Multi 50 class.
Images courtesy of Expedition Navigation Systems and PredictWind
The boat, which was previously Lionel Lemonchois' Prince de Bretagne, finished at 04:03:46 UTC covering the 5,450 mile long theoretical course from Le Havre at an average speed of 11.44 knots. In reality they sailed 6,232 miles at an average speed of 13.20 knots.
The next arrival is expected to be the final Multi 50, Erik Nigon and Samy Villeneuve on Vers Un Monde Sans SIDA (a world without cider?) which has 16 miles to go to the finish line at the latest sched. She will be the first in a deluge of boats due in over the next 24 hours with the battle of the older generation IMOCA 60s led by Bureau Vallee (ex Delta Dore) sailed by Louis Burton and Guillaume Le Brec with Vendee Globe veterans Bertrand de Broc and Arnaud Boissières on Votre Nom Autour du Monde (ex BritAir) 38 miles behind them at the latest sched. The latter is to be awarded two hours of redress by the International Jury for rerouting towards the capsized Multi 50 Arkema - Region Aquitaine earlier in the race, so this finish for sixth place in the IMOCA 60 class will be a close one.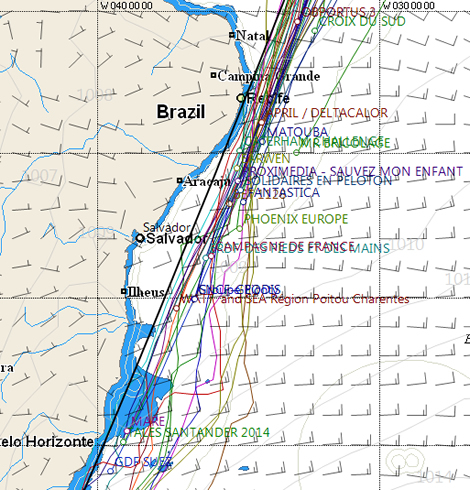 Meanwhile in the Class40s, Sébastien Rogues and Fabien Delahaye on perennial leader GDF Suez are keeping an eye on their rear mirror. Now past Vitoria and some 135 miles from reaching the latitude of Cabo Frio, the butterscotch coloured Mach 40 is now 62 miles ahead of second placed Tales Santander 2014, the nimble Botin Partners design sailed by Spanish crew Alex Pella and Pablo Santurde, compared to 87 yesterday. Third placed mare, sailed by Jörg Riechers and Pierre Brasseur has also closed on the leader, down from 100 to 84 miles. At the latest sched both boats were still on a charge, sailing 2.5 knots faster than GDF Suez.
However the forecast is working in the leader's favour with the forecast showing the trade winds holding for the next 48 hours until a front forms between Cape Frio and the finish (as it did for the MOD70s). This is likely to nail the boats behind the top three.
Halvard Mabire and Miranda Merron on Campagne de France are still holding ninth place with two boats Damien Seguin and Yoann Richomme's ERDF-Des Pieds et Des Mains and Christof Petter and Andreas Hanakamp's new Humphreys design Vaquita immediately ahead of them.
Brian Thompson and Mike Gascoyne took Caterham Challenge into Recife yesterday morning, where they planned to make an eight to ten hours stopover to fix the rip in their mainsail. The F1 boss' Akilaria RC3 docked at around 0700 UTC and eventually set off again at around 2100. The stopover has caused them to drop from 11th place to 16th.
Back to top
Back to top