Closing in on the scow
Saturday November 23rd 2013, Author:
James Boyd
, Location: none selected
The Mini Transat sailors continue to tackle the unstable trade winds, conditions varying between windy squalls and flat calms. They are constantly trying to establish the right balance between heading south to find more consistent breeze and heading west to save miles.
There was good news for Arnaud Gentien (www.diffuselec.com) when CLS, the company that manufacturers the positioning beacons, was able this morning to give a first approximate position of his vessel. The positioning units are equipped with both a GPS and an Iridium transmitter. After investigation, it was discovered that the latter was continuing to broadcast, while the GPS component was not working. His position at 14:30 GMT of 22°05'N and 22°23' W, places him 30 miles to the immediate west of Pierre-François Dargnies (We-van.com).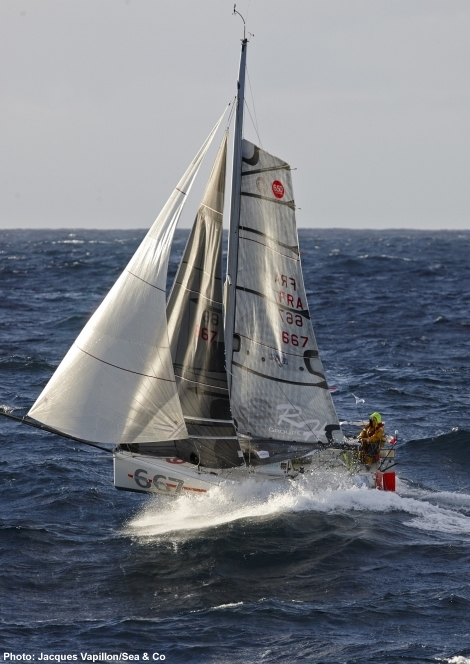 Protos: Benoit Marie on a charge
At the 15.00 UTC sched just 5.2 miles separated Giancarlo Pedote (Prysmian) and Benoît Marie (www.benoitmarie.com), who is diving south of his opponent. For Pedote, whose lead previously looked comfortable, this is a rude awakening. It remains to be seen whether the speed differential observed recently is due to the variable weather, or a technical problem preventing Pedote from exploiting the full potential of his boat. Either way, Benoît Marie is demonstrating that on the original transatlantic route of the Mini Transat, the Finot designs are still highly competitive.
145 miles astern, Bruno Garcia (Sampaquita) in fourth and, to a lesser extent, Rémi Fermin (Boreal), are increasingly feeling the pressure from Bertrand Delesne (TeamWork). Also on the rise is Julien Pulvé (MEXT - ICA) who, despite his stopover in Puerto Calero, is gradually been pulling through the fleet. Similarly Annabelle Boudinot (Agro 650) is on track to achieve her goal: to demonstrate that a Proto, partially constructed from flax fibers can be competitive.
Series: Aymeric Belloir out on his own
Aymeric Belloir (Tout le Monde Chante contre le Cancer) continues to dominate the Series class with a 90 mile lead. His opponent can only wait for the sailor from Etel to put a step wrong. Behind Justine Mettraux (TeamWork) and Simon Koster (Go 4 It) are tied up with their own fight for second place. Jean-Baptiste Lemaire (L'œuvre du Marin Breton) is in a situation that, in terms of pure racing, is more comfortable. In fourth place, he is 150 miles ahead of the duo of Tanguy Le Turquais (Terréal Rêve d'enfance) and Eric Cochet (Abers & Co), but in turn they need to be wary of a possible attack by the trio of Alberto Bona (Onelinesim.it), Jerome d'Aboville (Bel) and Damien Audrain (Gerinter) who have taken a more southerly route.
Craig Horsfield (Naked Retreats) has sought medical assistance. Suffering from a sprained hand, he was able to consult and take the appropriate drugs. Horsfield has been able to continue safely after the consultation was relayed by an escort boat.
Protos at 1500 UTC
1. Giancarlo Pedote (747 – Prysmian) with 1608.2 nm to finish
2. Benoit Marie (667 – benoitmarie.com) + 5.2 nm
3. Rémi Fermin (741 – Boréal) + 128.6 nm
4. Bruno Garcia (240 – Sampaquita) + 137.6 nm
5. Bertrand Delesne (754 – TeamWork Proto) + 157.1 nm
Series at 1500 UTC
1. Aymeric Belloir (810 – Tout le Monde chante contre le Cancer) with 1747.5 nm to finish
2. Justine Mettraux (824 - TeamWork) + 86.6 nm
3. Simon Koster (819 – Go 4 it) + 93.5 nm
4. Jean-Baptiste Lemaire (607 – Œuvre du Marin Breton) + 113.4 nm
5. Tanguy Le Turquais (599 – Terréal Rêve d'enfance) + 250.7 nm
Back to top
Back to top