Tricky finish in store for the MOD 70s
Saturday November 16th 2013, Author:
James Boyd
, Location: none selected
The competition in both the Transat Jacques Vabre's multihull classes is getting closer.
Images courtesy of Expedition Navigation Systems and PredictWind
The MOD70s are this morning directly off Salvador de Bahia where this race finished for so many years, with Edmond de Rothschild still out in front but with Oman Air having closed to 46 miles astern down from 70 miles 24 hours ago. Having passed the eastern point of Brazil, Recife, last night, the 70ft tris' next landmark is Cabo Freo to the east of Rio, where the course allows them to hang a slight right for the final 500 miles to the finish at Itajai in southern Brazil.
As Oman Air crewman Damian Foxall told us before the start of the race, this last passage could provide a last roll of the dice in a race which to date has been fairly processional for the speedy MODs. Unlike the monohull crews competing, the multi classes can use short-based routers and ashore Jean-Yves Bernot is working with Edmond de Rothschild and JEF Cuzon has a similar role with Oman Air. They will be pouring over the weather between Rio and Itajai over the next three days.
At present there is a cold front immediately south of Itajai, stemming from a depression centred to the southeast, out in the Atlantic and this is edging is way northeast (towards the boats) over the course of today. This seems to develop into a trough tomorrow, so the MOD70s will head into it in northeasterly, then they will have to find a way through before they break into southeasterlies on the opposite side of the trough. Basically the last two days, are going to be tense both on board and for the weather teams back in France.
Meanwhile the two Multi 50 leaders are tackling the Doldrums and just as with the MOD 70 earlier in the week, both have taken a slight left turn in an attempt to minimise the distance they have to sail through this notorious area. The satellite wind radar images show that at present there appears to be a corridor through between 28-29°W with the southeasterlies filling in at around 6°N.
In terms of DTF Yves le Blevec and Kito de Pavant on Actual appear to have reduced their deficit on Erwan Leroux and Yann Eliès' FenetreA Cardinal by a whopping amount - from 113 miles yesterday morning to just 36 miles at the latest sched. However aside from the leader slowing up as they enter the ITCZ, this is also because they are further east than Actual. On the water the two boats are 103 miles apart.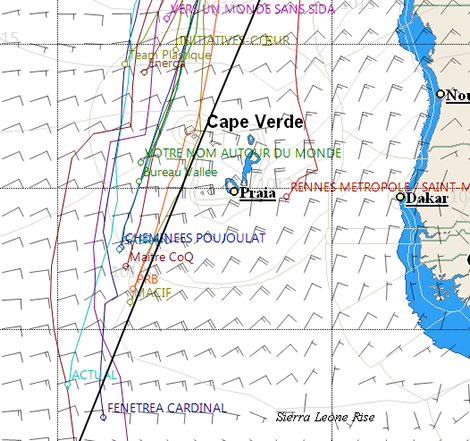 Behind the IMOCA 60s leaders will be entering the Doldrums tonight. Francois Gabart and Michel Desjoyeaux on the all-powerful MACIF is of course now in the lead and has extended slightly on chasing Vincent Riou and Jean le Cam on PRB, now up to 29 miles. MACIF looks set to follow a similar route to FenetreA Cardinal through the Doldrums, but is approaching from a more easterly heading. The boats behind are set up to the northwest and look to be following a route closer to Actual's.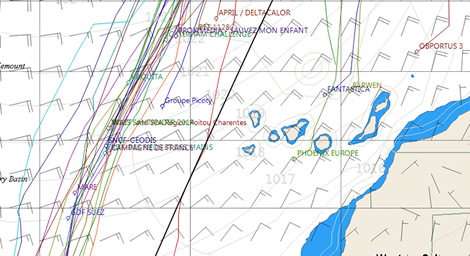 Click this image to enlarge it...
In the Class40s Sébastien Rogues and Fabien Delahaye on GDF Suez continue to extend, up from 32 and 94 miles over second place mare and third placed ERDF-Des Pieds et des Mains respectively, to 46 and 131 miles at the latest sched. They are following a similar westerly route down the Atlantic as the fleet ahead of them as taken.
The racing is particularly close behind with Halvard Mabire and Miranda Merron on fourth placed Campagne de France now down to two miles off third place, having sailed 316 miles in the last 24 hours compared to ERDF's 294.9.
Some impressive fliers are going on in the Class40 still with Louis Duc and Stéphanie Alran on Phoenix Europe having passed through the Canary Islands last night. However they are looking slow now in the wind shadow of the islands and have dropped from eighth to ninth over the last 24 hours. Two other boats are taking a similar route to them - Fantastica, the Italian latest generation Verdier design and leading amateur skipper Catherine Pourre on an older Verdier design, Earwen.
Mike Gascoyne and Brian Thompson on their Akilaria RC3 Caterham Challenge have regained a position over the last 24 hours, now up to 11th but with the boats ahead some 100 miles ahead of them now.
Update from Caterham: All good on board with some rest at long last as well as starting to push a little but still a bit gentle on the sail until we have full confidence. wind a little lighter for us than predicted but we still have passed Proximedia overnight which is good. Weather routing for us looks ok over the next few days with the leaders slowing down as the winds fall but we should have more wind down south in a few days time than the leaders so we should gain back some of the lost miles.

Changing from the reefed medium spinnaker to the full masthead medium in a couple of hours time, just taken out second reef so one reef in the main hoping to make it through to lunchtime without any problems, our first full day without a drama for quite a while would be nice weather looking better with clear skies and a bright moon overnight. Hopefully some sun today to see how these solar panels are working..."
Back to top
Positions at 0930 UTC
Pos
Boat
Crew
Lat
Long
VMG
Crs
Dist
DTF
DTL
2 hr av
24 hrs
MOD70
1
EDMOND DE ROTHSCHILD
Sébastien Josse - Charles Caudrelier
14 43.01' S
35 27.58' W
25.1
186
614.3
1054.03

2
OMAN AIR MUSANDAM
Sidney Gavignet - Damian Foxall
14 09.83' S
34 52.38' W
26.5
193
638.1
1100.62
46.58
Multi 50
1
FENETREA CARDINAL
Erwan Leroux - Yann Eliès
6 40.52' N
28 16.92' W
10.6
166
340.5
2393.25

2
ACTUAL
Yves le Blevec - Kito de Pavant
7 48.67' N
29 36.46' W
19.6
185
418.7
2428.94
35.69
3
RENNES METROPOLE / SAINT-MALO AGGLOMERATION
Gilles Lamiré - Andrea Mura
14 32.03' N
21 40.72' W
19
212
362.7
2985.77
592.52
4
VERS UN MONDE SANS SIDA
Erik Nigon - Samy Villeneuve
20 40.97' N
26 01.21' W
17.3
207
338.9
3227.93
834.68
ABD
ARKEMA - Region Aquitaine
Lalou Roucayrol - Mayeul Riffet

ABD
MAITRE JACQUES
Loïc Fequet - Loïc Escoffier

IMOCA 60
1
MACIF
François Gabart - Michel Desjoyeaux
10 47.36' N
27 21.82' W
19.6
196
354.3
2642.27

2
PRB
Vincent Riou - Jean Le Cam
11 16.23' N
27 16.13' W
18.5
199
348.7
2671.17
28.9
3
MAITRE COQ
Jérémie Beyou - Christopher Pratt
12 04.06' N
27 30.85' W
18.5
196
358.5
2710.78
68.51
4
SAFRAN
Marc Guillemot - Pascal Bidégorry
12 39.68' N
27 43.54' W
18.2
190
350.5
2740.19
97.92
5
CHEMINEES POUJOULAT
Bernard Stamm - Philippe Legros
12 43.04' N
27 40.31' W
18.2
190
353.2
2744.39
102.12
6
BUREAU VALLEE
Louis Burton - Guillaume Le Brec
15 05.06' N
27 01.63' W
14
210
338
2890.89
248.63
7
VOTRE NOM AUTOUR DU MONDE
Bertrand de Broc - Arnaud Boissières
15 44.27' N
26 58.64' W
15.5
210
338.3
2928.94
286.67
8
ENERGA
Zbigniew Gutkowski - Maciej Marczewski
18 53.56' N
26 49.39' W
11.8
201
296.6
3111.88
469.61
9
TEAM PLASTIQUE
Allesandro Di Benedetto - Alberto Monaco
19 10.32' N
27 33.41' W
11.1
201
289.2
3116.34
474.07
10
INITIATIVES-CŒUR
Tanguy de Lamotte - François Damiens
19 39.16' N
25 39.76' W
11.1
178
262.9
3175.52
533.25
Class40
1
GDF SUEZ
Sébastien Rogues - Fabien Delahaye
25 35.44' N
24 05.41' W
13.9
209
332.6
3540.89

2
MARE
Jörg Riechers - Pierre Brasseur
26 20.27' N
23 51.70' W
13.5
205
318.7
3587.31
46.43
3
ERDF-DES PIEDS ET DES MAINS
Damien Seguin - Yoann Richomme
27 31.16' N
22 50.08' W
11.1
193
294.9
3672.34
131.45
4
CAMPAGNE DE FRANCE
Halvard Mabire - Miranda Merron
27 30.54' N
22 42.72' W
12.4
197
316.1
3673.97
133.08
5
SNCF-GEODIS
Fabrice Amedeo - Armel Tripon
27 43.46' N
22 48.73' W
11.9
199
326.2
3684.31
143.42
6
TALES SANTANDER 2014
Alex Pella - Pablo Santurde
28 14.94' N
22 45.67' W
12.6
212
316.2
3714.87
173.98
7
WATT

and SEA Région Poitou Charentes
Yannick Bestaven - Aurélien Ducroz
28 14.68' N
22 42.86' W
13.7
210
318.2
3715.45
174.56
8
GROUPE PICOTY
Jean-Christophe Caso - Aymeric Chappellier
28 53.01' N
20 57.01' W
13.2
202
307.8
3784.32
243.43
9
PHOENIX EUROPE
Louis Duc - Stéphanie Alran
27 22.52' N
16 36.47' W
10.8
239
258.5
3800.02
259.13
10
VAQUITA
Christof Petter - Andreas Hanakamp
29 33.74' N
22 05.18' W
13.5
203
305.2
3801.02
260.13
11
CATERHAM CHALLENGE
Mike Gascoyne - Brian Thompson
30 48.08' N
20 48.12' W
10.6
192
281.5
3894.11
353.22
12
PROXIMEDIA - SAUVEZ MON ENFANT
Denis Van Weynbergh - Jean-Edouard Criquioche
30 55.13' N
20 28.54' W
9.7
195
266.4
3906.84
365.96
13
BET 1128
Gaetano Mura - Sam Manuard
31 00.20' N
19 48.54' W
10.8
195
288.3
3924.5
383.62
14
FANTASTICA
Stefano Raspadori - Pietro D'Ali
29 15.49' N
15 34.97' W
9.9
231
257
3925.18
384.29
15
EÄRWEN
Catherine Pourre - Goulven Royer
29 21.13' N
14 42.82' W
9.8
222
240.4
3951.93
411.04
16
APRIL / DELTACALOR
Lionel Regnier - Tim Darni
31 24.20' N
19 08.21' W
10.7
191
265.3
3960.1
419.21
17
MR BRICOLAGE
Damien Rousseau - Matthieu Alluin
30 11.30' N
15 10.47' W
8.6
166
222.5
3980.26
439.37
18
CROIX DU SUD
Michelle Zwagerman

- Patrick Conway
32 50.99' N
18 50.76' W
10.5
191
232.4
4045.64
504.76
19
OBPORTUS 3
Olivier Roussey - Philippe

Burger
30 29.17' N
12 33.36' W
12.7
232
235.3
4066.63
525.75
20
MATOUBA
Bertrand Guillonneau - Sébastien Audigane
32 36.09' N
16 10.01' W
8.5
162
136.4
4089.33
548.44
21
SOLIDAIRES EN PELOTON
Victorien Erussard - Thibaut Vauchel-Camus
34 41.63' N
16 59.17' W
8.6
249
247.1
4184.49
643.6
22
ECOELEC-FRANTRONIC
Eric Darni - Florent Bernard
33 30.98' N
12 54.44' W
8
237
198.5
4215.05
674.16
23
11TH HOUR RACING
Hannah Jenner - Rob Windsor
37 46.87' N
14 43.92' W
9.1
240
224.2
4398.68
857.8
ABD
DUNKERQUE Planète Enfants
Bruno Jourdren - Thomas Ruyant

ABD
MARIE-GALANTE
Dominique Rivard- Wilfrid Clerton

ABD
CONCISE 8
Ned Collier Wakefield - Sam Goodchild
Back to top