Finish line in their sights
Friday November 15th 2013, Author:
Andi Robertson
, Location: none selected
Vendée Globe winners François Gabart and Michel Desjoyeaux are back in the lead of the Transat Jacques Vabre's highly competitive IMOCA 60 class after leaders PRB, Vincent Riou and Jean Le Cam pit stopped into the Cape Verde islands this morning, repeating a rudder repair that their rivals undertook five days ago in Peniche, Portugal. In the Class 40 fleet GDF Suez has slightly increased her lead, as has FenetreA Cardinal in the Multi50s. And the two high speed MOD70s have Recife, Brazil in front of them after crossing the Equator last night.
IMOCA Open 60. In the Pits… and Out

As PRB made their pit stop into the Cape Verde islands François Gabart and Michel Desjoyeaux on MACIF seized the lead in the IMOCA class, passing through the island group in the wake of erstwhile leaders and carrying on when Vincent Riou and Jean Le Cam peeled off to rendezvous with their shorecrew in Mindelo on the island of Sao Vicente.
The diversion, no more than a dozen miles west from the route taken by the Vendée Globe winning pair on MACIF, took a little over an hour but it allowed Gabart and Desjoyeaux to resume the lead that they had last held off Portugal five days ago, before they themselves had stopped into Peniche on the pitstop for repairs. MACIF was leading by 31 miles this Friday afternoon, but PRB was quicker.
Fifty miles to the west of the islands, Maitre CoQ (Beyou and Pratt) was giving chase with a deficit of a further 30 miles behind the leaders. But with a complicated and difficult Doldrums up ahead, the leading five are expected to compress again.
Jean Le Cam, co-skipper of PRB, recalled: "We just stopped for an hour to give us enough time to change the rudder, so it was fast. It went well. The rudder had broken when we were close to Madeira and for sure when you push the boat it is normal that things can break. We have had an excellent first half of the race and hope the second will be good too. One of us is always on deck and at the helm. We are off under spinnaker and going as fast as we can. We are going to see what options everyone is taking so we have to work out how we get up to MACIF."
Still jockeying for contention Bernard Stamm reported from Cheminées Poujoulat; "Maitre Coq has managed to get a better wind angle, one that is more favourable for his boat, than the one we have. Things seem to have slowed for Safran, so we just have to keep an eye on the others. We have decided to go as far west as possible round the Cape Verde Islands to position ourselves to get to the optimum Doldrums crossing point. Conditions are a little strange, the sky is overcast and although we do not have the squalls or big clouds of the past few days, we do have a good established and regular wind. We have managed to get a bit of rest and the morale was boosted yesterday finding ourselves well positioned. It is not easy when you are leading and then lose ground, so it is tough; we have to keep on top of it all the time.
"I think we are well set up to get through the Doldrums, which are positioned well north this year, and that means we should be a bit faster out."
If the top five are engaged in an exciting tussle with the lead changing regularly – all five of the top boats have lead at least once – the scrap at the rear of the IMOCA fleet is as intense and challenging. Alessandro di Benedetto and Alberto Monaco on Team Plastique took over eighth place today ahead of the Polish duo on Energa, Zbigniew Gutkowski and Maciej Marczewski.
Multi 50s - Long Tow to Madeira for Arkéma - Region Aquitaine

There is little change at the front of the Multi50 fleet where Erwan Le Roux and Yann Eliès on FenetreA Cardinal have Actual (Le Blévec and de Pavant) directly behind them as they start to contemplate their Doldrums passage, one which looks set to be less straightforward than that which prevailed for the MOD70s. Le Roux and Eliès opened more than 20 miles on the second placed Multi 50 today and lead by 120 miles.
Although they are safe on board the Portuguese tug and Lalou Roucayrol and Mayeul Riffet are recovering from their 85 hours ordeal in the upturned Arkema Region Aquitaine, they are not yet able to relax. Conditions mean that, along with the tug company, they have decided to tow the upturned hull to Madeira, 285 miles downwind. They expect to reach there sometime in the middle of next week.
Speaking to French radio yesterday they relived the conditions in the capsized trimaran. "We are feeling a bit better having had a shower and some food", explained Mayeul Riffet. "We did try and turn the boat over but the maneouver is virtually impossible with the sea state being so bad. We tried to while away the time but had a lot of maintenance work to secure the boat which involved diving to clear rigging and daily check outside. We had time to talk and philosophize on life, the future and think. We had to set ourselves objectives try and achieve them. Each time the ETA for the tugs arrival was delayed, we found it really tough. Conditions really worsened and the waves were breaking over the upturned hulls. We were lucky to have battery power inside despite being upturned, which gave us light at night and the ability to communicate. With no beacons it was only thanks to the GPS position given, that the tugboat managed to find us."
Roucayrol described the transfer onto the tug as: "Dangerous and frightening with very strong winds and angry and breaking waves."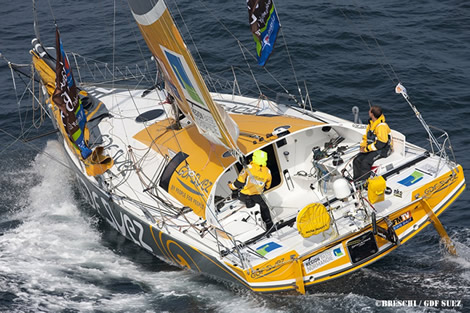 Class 40, Caterham Sail Loft Challenge

In Class 40 the pace has slackened slightly but the lead of GDF Suez (Rogues and Delahaye) remains unchecked by second placed mare (Riechers and Brasseur).
For the British duo on Caterham Challenge, Mike Gascoyne and Brian Thompson the last 36 hours have proven costly in terms of miles and distance, dropping to 13th after a sail repair marathon taking the best part of 36 hours, repairing their mainsail and gennaker:
"Finally hoisted the main at 9 last night." Gascoyne reported today, "After a conservative first night we lowered it again to repair a small area that had inadvertently rubbed against the spreaders, re-hoisted and also took the time to fix the tack line. Finally at midday hoisted the spinnaker and started racing again. It's been a tough 36hrs but it's a long race and we need to push as hard as we can to catch up our lost ground."
MOD70, Brazil Ahead!

In the MOD70 class the match race between Edmond de Rothschild and Oman Air-Musandam remains relatively even after the two crossed over the equator last night.
Pointing at Recife on the northeast Brazilian coast this afternoon, Sébastien Josse and Charles Caudrelier lead by 73 miles from Sidney Gavignet and Damian Foxall.
Back to top
Back to top