Class40s out into the Atlantic
Wednesday November 13th 2013, Author:
Andi Robertson
, Location: none selected
The Transat Jacques Vabre's Class 40 had a tough time off the northwest corner of Spain last night and this morning in strong, gusty winds and big seas which resulted in the British Class 40 Concise 8 having to retire with rudder damage. The two leaders in the class, which had 26 starters, are still just less than 100 miles ahead. PRB, sailed by 2004-5 Vendée Globe winner, Vincent Riou, along with Jean Le Cam, are challenging for the lead again in the IMOCA 60 fleet west of the Canary Islands. In the Multi50 Class Actual has halved the lead of FenetreA-Cardinal since this morning, back to 50 miles, while the MOD70s are touching the first of the Doldrums, contemplating a passage to the Equator in seven days since leaving Le Havre.
British pair out

Unfortunately British duo Ned Collier-Wakefield and Sam Goodchild know the hollow feeling of disappointment at having to retire from the Transat Jacques Vabre only too well. In the last edition of the race in 2011 from the young crew had to retire into the Azores after suffering damage in a major storm.
This morning, on the sixth day of the race, in the benign sunshine of Muros, just to the south of La Coruna they had were coming to terms with their abandonment from the present race after sustaining damage to their port rudder yesterday evening some 45 miles NW of Cape Finisterre.
Collier-Wakefield and Goodchild suffered the most terminal among several problems reported from the Class 40 fleet that was enduring some robust trade winds conditions and big, unruly seas off the NW corner of Spain.
Sam Goodchild reported: "We had a problem with our port rudder. There is some damage to the blade and it ended up being ripped off the boat. It is now below and can't be repaired or put back on. We are no entirely sure what happened or why. But we are working on it and in the meantime we cannot carry on which is pretty disappointing as you can imagine.
"The rudder came right off the boat and was only held on by the upline. There was some damage to the fittings, which hold it on. We then had to bring it back on the boat and put it down below. Fortunately we were on starboard gybe and were able to gybe and get to the coast of Spain.
"We racked our brains at the time to think if there was any way of putting it back on. They are lift up rudders so need a system to keep them down and carry on, but that was not feasible without any more risk to do more damage. And we considered ourselves quite fortunate we were at a good angle, not too far from a safe port, rather than being in the middle of the Atlantic where if we lost another rudder we might have been in a situation needing rescued. We need to be safe; we came in, had look and did the right thing.
"We are a tight team together and we are already talking about what the next double handed race we can do is, and maybe both being at the start of the Route du Rhum on different boats next year, and so it had beaten us down right now but we are definitely not going to let this affect us in the long term. The boat has been really hard to get where we got to in the race. We were quite lucky in a way to get started. It is not really a very big surprise to have a problem because we had not tested the boat very much but we are massively disappointed but we learn from what we have done. We are going to learn from what we have done we have a new boat which we think is pretty fast which we are looking forwards to going up against the top guys again soon, even if we started off a bit too slowly this time."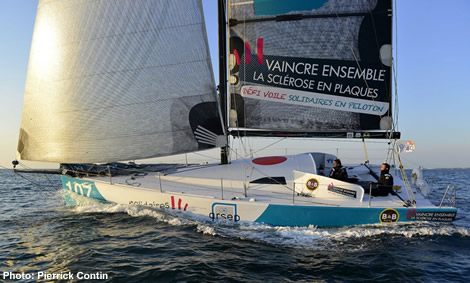 While the British boat has had to withdraw from the race, two more Class 40s – Solidaires en Peloton (Erussard and Vauchel-Camus) and Matouba (Guilloneau and Audigane) – will make technical stops soon and Italy's Fantastica (Raspadori and D'Ali) are weighing up the possibilities of a stop further down the race course.
The Italian duo Stefano Raspadori and Pietro d'Ali on Fantastica reported this morning that they broke three battens and lost their wind wand from the top of their mast during the night due to an involuntary gybe when their autopilot dropped out. After contemplating a more immediate stop, they have chose to carry on, but d'Ali says that the Canary Islands might be their best choice.
Solitaires en Peloton suffered sail damage and also lost their masthead wand and were heading for Cascais.
Meantime a smooth repair operation in Lorient, France, a couple of pizzas and a quick medical check-up for co-skipper Rob Windsor, who has strained tendons in his arm, and this morning 11th Hour Racing (Hannah Jenner and Rob Windsor) resumed their Transat Jacque Vabre, over 570 miles behind the leading boat.
"We are a tough pair and don't quit." Jenner said this morning.
The furious pace has slowed back for the leaders, GDF SUEZ (Rogues and Delahaye) were making 12 knots while the German/French pair Jorg Riechers and Pierre Brasseur on Mach 40 sistership mare were 20 miles behind.
The Spanish pair Alex Pella and Pablo Santurde on Tales Santander 2014 hold sixth and Britons Mike Gascoyne and Brian Thompson on Caterham Challenge lie 10th.
MOD70s, slowing?

Speeds had also slackened off slightly for the MOD70 match race between leaders Edmond de Rothschild (Josse and Caudrelier) and chasers Oman Air-Musandam (Gavignet and Foxall) who were starting to feel the effects of the Doldrums this afternoon.
The Doldrums or Intercontinental Tropical Convergence Zone remain relatively wide and active in front of the matched one design trimarans. Gavignet and Foxall are 90 miles more to the east and some 70 miles behind.
At their current speeds the two MOD70s will cross the equator in one week and the two boats already passed the mid-point (2,700 miles) last night off the Cape Verde islands.
PRB on the prowl

The lead of the IMOCA 60s continues to hang in the balance as they pass the Canary Islands, some 225 miles to their east. Bernard Stamm and Pierre Le Gros on Cheminees Poujoulat have been credited with the lead since last night but Le Gros told Race HQ this morning that such arbitrary calculations mean little to them in real terms, although it does boost morale on board, and for the team, which tasted disappointment in the last edition of the Transat Jacques Vabre in 2011 when their boat all but sank to the north of the Azores, and also in the last Vendée Globe when Bernard Stamm was forced to accept outside assistance. Cheminées Poujoulat was only just holding off the advances of PRB by less than two miles this afternoon.
PRB's Vincent Riou reported: "Things are not going to badly on PRB this morning and we are even getting to see some sun. The wind is very unstable in strength and direction, but overall we have very nice conditions!
"Cape Verde is not far, we not yet quite sure of where our weather routing will take us past the island and will just go with the best option the routing gives us. There is a really good fight with the leading three boats and that is what we are here for, this is what the Transat Jacques Vabre is all about. Sailing in contact with the others, bright sunshine and the trade winds makes it all fun.
"Weather models seem to indicate one long reach to the Doldrums with perhaps a small readjusting gybe. The winds should be a little more west after Cape Verde and that is when the strategic game of how to position ourselves to get across the doldrums begins. We are getting into a rhythm on board with Jean. Well this call has just woken Jean up. We work together on the manoeuvres and to look at the strategy and try and eat together, but then that is not the priority. We manage to get rest so we can keep going for the duration of the race."
Multi50s - gusty, shifty

Last night's solid lead of over 100 miles for FenetreA Cardinal (Le Roux and Eliès) has been nearly halved by the advancing Actual (Le Blévec and de Pavant). Conditions remain gusty and difficult under the clouds with big changes in wind direction and pressure, speeds dropping to less than ten knots at times in light spells.
Kito de Pavant reported: "We are having to do a lot of work on board Actual this morning as we do not have much speed. We got stuck under some big black clouts and now whilst speaking we are doing 5 to 6 knots under a huge squall when there is actually 20 knots on the other side. I hope we will get out of this quick and into better conditions because this is not good fun. We have to take care because these squalls hit suddenly and suddenly. We have not managed to get into a good rhythm on the race yet as we had a number of issues from the outset. We thought yesterday that we would be able to get some rest but the squalls have kept us busy, so not much chance. We did a lot of gains to the west yesterday so should reach the doldrums entry point on one tack with maybe a small gybe to set up. Depending on the clouds, we are keeping close to FenetreA Cardinal. We still hope to catch up on the others and then there are the doldrums to deal with and the finish in Brazil; so still a lot to cover."
The tug sent from Lisbon to two the upturned Arkema Région-Aquitaine is now expected on zone tomorrow, the two unfortunate skippers Lalou Roucayrol and Mayeul Riffet, will have spent four nights in their capsized trimaran.
Back to top
Back to top