Doldrums day for the MOD70s
Wednesday November 13th 2013, Author:
James Boyd
, Location: none selected
A hitch to the west yesterday and both MOD 70s in the Transat Jacques Vabre are now lined up on their respective courses through the Doldrums. Currently at 11°N, the two tris are due to enter the Doldrums later today which are looking relatively benign, between 6-7°N. During their manoeuvres yesterday Oman Air regained a little ground on leader Seb Josse and Charles Caudrelier on Edmond de Rothschild but at the latest sched is back to being 72 miles behind, as she was 24 hours ago.
Images courtesy of Expedition Navigation Systems and PredictWind
Impressively, the two MOD70s look likely to cross the Equator tomorrow afternoon around six days and six hours after passing Ushant. This is about the same time Franck Cammas and the fully crewed 105ft trimaran Groupama 3 took on their first Jules Verne Trophy attempt in 2008.
Sebastien Josse, reported from Edmond de Rothschild: "We are approaching the Doldrums with about 200 miles to cover. It is fast when you see the miles we have covered, it is pretty good. We gybed to position ourselves for the Doldrums. The miles pass at great speeds, always quicker than 25kts, which means we have to stay vigilant. We will refine the ETA at the finish in 24-48 hours, we said before the start we reckoned on 14 days and I think that'll be pretty much right. We should be at the Doldrums today, maybe in 10 hours. And hopefully we will get out quickly."
Some 350 miles WSW of the Canary Island, there is another two horse race between the two lead Multi 50s with Erwan Leroux and Yann Eliès on FenêtréA Cardinal having extended greatly on Yves le Blevec and Kito de Pavant on Actual, up from 33 miles to 82 miles over the last 24 hours, both boats now on what looks set to be a long port gybe down to the Doldrums. However Actual is currently in better pressure and is currently sailing some four knots faster than her rival and has recovered some considerable ground having dropped back to more than 100 miles behind at the final sched yesterday.
Erwan Leroux reported from FenêtréA Cardinal: "For an hour we have been struggling with shifts and gusts. There are a lot of clouds and the wind moves in all directions under them. It is not easy. We have looked at the rankings and are pleased not to have lost too much because its been a while under these clouds. It is fun to steer making 28 knots under gennaker."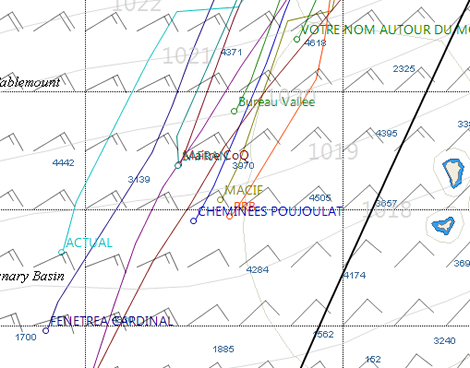 Still just 150 miles behind the Multi50 leader is the first IMOCA 60 and we are pleased to report that Bernard Stamm and Philippe Legros' Cheminees Poujoulat is finally coming good and pulled into first place in the class late yesterday afternoon. However the cavalry is coming and less than 30 miles behind and up to third place after their stopover to replace a broken rudder, Vendee Globe winners Francois Gabart and Michel Desjoyeaux on the all-conquering MACIF is up to third place, now less than 30 miles behind the yellow Swiss IMOCA 60.
The 60s are currently due west of the Canary Islands with Safran and Maitre CoQ to the northwest and PRB off to Cheminees Poujoulat's east, with less than 50 miles separating the top five in terms of DTF.
From Cheminées Poujoulat Philippe Legros reported: "I've seen the rankings and we are happy. Given the speed of everyone else I am not sure we have any advantage particularly. We are ahead in terms of DTF, but the rankings ignore the fact Maitre CoQ and Safran are in the west. We have won a bit compared with PRB and MACIF who passed too close to the wind shadow of Madeira.
"The wind shifts 30-40° and rises and falls between 12 and 20 knots, so it is not pleasant at all. You either have too much sail or not enough. So we are always monitoring the pilot and power up or depower. The trade winds are a little less established now, more gusts, more shifts. And the routing is not so clear, I am not sure it is as the computer tells us.
"The rankings are good for morale. We learn that we are first from email from our teammates. But we don't really place a great store in the rankings right now, it does not reflect the real position of the boats. Otherwise all is good with the boat, there is nothing needing fixed. And the temperatures are good now, unlike for you there!"
Behind, the two Mach 40 leaders in the Class40 are on starboard gybe diverging from the Portugese coast and are now approaching the latitude of Lisbon. Leaders Sébastien Rogues and Fabien Delahaye on GDF Suez have taken a more offshore course than Jörg Riechers and Pierre Brasseur on mare, but as a result mare has managed to reclaim another three miles out of GDF's lead, now down to 16 miles in terms of DTF. The margin between mare back to third placed Damien Seguin and Yoann Richomme on ERDF-Des Pieds et Des Mains is now approaching 100 miles and while there is a lot of race track left, the two Mach40s are going to be tough to catch.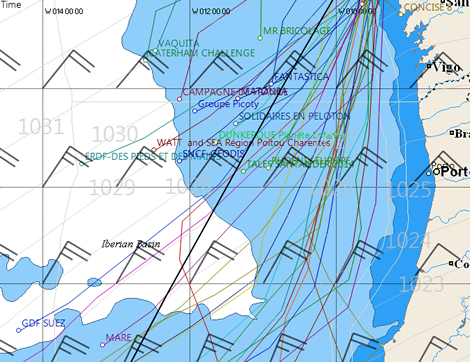 Fabien Delahaye reported from GDF Suez: "The wind and sea are big and so the sailplan is for that. We had planned the stop ever since we came out of Roscoff because we were compromised without the wind vanes. We looked at the weather and had to pick the right place to do it to lose nothing compared to the others. In 45 minutes it was done and we were still in front. It was a pleasure to start first from Roscoff.
We are not so sure where mare is, but they are going fast too, but it is good to have a boat keep you under pressure, but then we know they are there and still do our own race. We saw up to 38 knots of wind, the average between 28 and 32kts and made the record speed for the boat at 24kts. It's pitch black so it is not easy."
After yesterday afternoon's driftathon off the Bay of Cadiz, the bulk of the Class40 fleet is now past Cape Finisterre with the wind now having filled in from the northeast with a vengeance, many taking the opportunity to put some miles in on starboard gybe to get offshore. However some haven't and there is now a considerable spread between the boats as they fan out into the Atlantic with Spanish duo Alex Pella and Pablo Santurde on Tales Santander 2014 and, surprisingly, the 2008 generation Akilaria Phoenix Europe sailed by Louis Duc and Stéphanie Alran leading the charge closest to the shore and ERDF furthest out to the west of the group beind the leaders.
Also out to the west is Campagne de France sailed by Halvard Mabire and Miranda Merron and Mike Gascoyne and Brian Thompson on Caterham Composites.
Miranda Merron reported: "From no wind to plenty of it. The ominous dark grey cloud mass on the horizon yesterday afternoon was indeed a cold front, and wind speed went from 4 knots to 30 knots in seconds. Always quite exciting to reduce sail in those circumstances. Ever since then, Campagne de France has been flying down large black waves ( yes, it's dark again), gusts to 35 knots."
Meanwhile behind there is good and bad news. Good news is that Anglo-American duo Hannah Jenner and Rob Windsor on 11th Hour Racing have restarted. They set off from Lorient just after midnight having repaired their forestay. But for reasons we have yet to ascertain, Ned Collier Wakefield and Sam Goodchild on the new Forty(1)Design Concise 8, have pulled in just south of Cape Finisterre.
Back to top
Positions at 0630 UTC
Pos
Boat
Crew
Lat
Long
VMG
Crs
Dist
DTF
DTL
2hr aver
24hr
MOD 70
1
EDMOND DE ROTHSCHILD
Sébastien Josse - Charles Caudrelier
11 06.52' N
30 14.54' W
22.2
178
561.1
2608.62

2
OMAN AIR MUSANDAM
Sidney Gavignet - Damian Foxall
11 54.25' N
28 36.49' W
18.9
175
561.6
2680.82
72.2
Multi 50
1
FENETREA CARDINAL
Erwan Leroux - Yann Eliès
25 53.07' N
25 44.32' W
13.7
203
436.3
3531.32

2
ACTUAL
Yves le Blevec - Kito de Pavant
27 14.69' N
25 26.78' W
17.8
186
386.9
3614.13
82.8
3
RENNES METROPOLE / SAINT-MALO AGGLOMERATION
Gilles Lamiré - Andrea Mura
32 35.16' N
18 16.21' W
14.6
189
268.4
4042.81
511.48
4
VERS UN MONDE SANS SIDA
Erik Nigon - Samy Villeneuve
37 59.99' N
17 12.59' W
9.2
256
301.4
4361.08
829.76
ABD
ARKEMA - Region Aquitaine
Lalou Roucayrol - Mayeul Riffet

ABD
MAITRE JACQUES
Loïc Fequet - Loïc Escoffier

IMOCA 60
1
CHEMINEES POUJOULAT
Bernard Stamm - Philippe Legros
27 46.75' N
22 53.02' W
13.6
209
391
3686.14

2
PRB
Vincent Riou - Jean Le Cam
27 51.98' N
22 11.15' W
12.6
214
371.9
3695.97
9.83
3
MACIF
François Gabart - Michel Desjoyeaux
28 08.70' N
22 22.40' W
13.3
208
379.8
3715.98
29.84
4
SAFRAN
Marc Guillemot - Pascal Bidégorry
28 43.99' N
23 11.78' W
9.2
178
345.2
3734.79
48.65
5
MAITRE COQ
Jérémie Beyou - Christopher Pratt
28 44.22' N
23 10.11' W
3.5
188
365.2
3735.48
49.34
6
BUREAU VALLEE
Louis Burton - Guillaume Le Brec
29 38.88' N
22 05.72' W
11
209
354.2
3805.69
119.55
7
VOTRE NOM AUTOUR DU MONDE
Bertrand de Broc - Arnaud Boissières
30 50.94' N
20 52.75' W
13.8
206
319
3895.17
209.03
8
ENERGA
Zbigniew Gutkowski - Maciej Marczewski
32 00.32' N
20 23.06' W
16
201
323.9
3969.17
283.03
9
TEAM PLASTIQUE
Allesandro Di Benedetto - Alberto Monaco
32 43.21' N
20 32.18' W
14.8
203
305
4006.36
320.22
10
INITIATIVES-CŒUR
Tanguy de Lamotte - François Damiens
32 47.27' N
19 54.73' W
15.2
202
328
4021.63
335.49
Class40
1
GDF SUEZ
Sébastien Rogues - Fabien Delahaye
39 30.04' N
14 19.43' W
9.4
245
272.1
4499.58

2
MARE
Jörg Riechers - Pierre Brasseur
39 21.01' N
13 10.79' W
11.2
235
274.7
4515.66
16.08
3
ERDF-DES PIEDS ET DES MAINS
Damien Seguin - Yoann Richomme
41 13.54' N
13 27.53' W
9.7
251
215.1
4609.84
110.25
4
WATT

and SEA Région Poitou Charentes
Yannick Bestaven - Aurélien Ducroz
41 22.18' N
12 28.85' W
11.1
240
199
4637.75
138.17
5
SNCF-GEODIS
Fabrice Amedeo - Armel Tripon
41 15.08' N
12 07.77' W
10.8
233
195.8
4638.94
139.36
6
TALES SANTANDER 2014
Alex Pella - Pablo Santurde
41 09.07' N
11 15.86' W
11.4
228
179.3
4652.49
152.91
7
DUNKERQUE Planète Enfants
Bruno Jourdren - Thomas Ruyant
41 26.87' N
11 38.04' W
10.9
232
188.5
4659.96
160.37
8
PHOENIX EUROPE
Louis Duc - Stéphanie Alran
41 10.84' N
10 55.09' W
13.9
210
207.2
4661.73
162.14
9
GROUPE PICOTY
Jean-Christophe Caso - Aymeric Chappellier
41 45.92' N
11 55.51' W
10.1
246
184.6
4670.45
170.86
10
CAMPAGNE DE FRANCE
Halvard Mabire - Miranda Merron
41 53.06' N
12 07.53' W
13.7
197
184.5
4672.5
172.91
11
SOLIDAIRES EN PELOTON
Victorien Erussard - Thibaut Vauchel-Camus
41 37.97' N
11 21.77' W
12.3
243
194.7
4675.57
175.98
12
CATERHAM CHALLENGE
Mike Gascoyne - Brian Thompson
42 16.38' N
12 35.30' W
11.7
191
162.1
4676.8
177.22
13
MATOUBA
Bertrand Guillonneau - Sébastien Audigane
41 53.26' N
11 19.96' W
7.4
248
150
4689.59
190
14
VAQUITA
Christof Petter - Andreas Hanakamp
42 22.42' N
12 27.50' W
11.6
193
174.8
4691.55
191.96
15
FANTASTICA
Stefano Raspadori - Pietro D'Ali
42 02.32' N
10 52.91' W
12.2
190
206.8
4707.32
207.73
16
MR BRICOLAGE
Damien Rousseau - Matthieu Alluin
42 29.60' N
11 02.06' W
10.2
182
171.6
4727.8
228.22
17
PROXIMEDIA - SAUVEZ MON ENFANT
Denis Van Weynbergh - Jean-Edouard Criquioche
43 04.63' N
12 03.53' W
6.5
257
138.2
4737
237.42
18
APRIL / DELTACALOR
Lionel Regnier - Tim Darni
43 09.05' N
11 23.64' W
7.2
251
160
4754.74
255.16
19
EÄRWEN
Catherine Pourre - Goulven Royer
43 29.81' N
12 08.23' W
5.5
253
145.1
4757.82
258.24
20
CROIX DU SUD
Michelle Zwagerman

- Patrick Conway
43 04.84' N
10 51.64' W
8.4
200
164.4
4762.31
262.73
21
BET 1128
Gaetano Mura - Sam Manuard
42 50.06' N
9 38.53' W
12.1
193
81.3
4776.1
276.52
22
CONCISE 8
Ned Collier Wakefield - Sam Goodchild
42 43.76' N
9 06.60' W
0.6
126
70.9
4782.71
283.13
23
OBPORTUS 3
Olivier Roussey - Philippe

Burger
43 26.93' N
10 32.73' W
7.5
244
155.5
4788.31
288.72
24
ECOELEC-FRANTRONIC
Eric Darni - Florent Bernard
44 46.94' N
10 40.00' W
2.7
276
128.7
4855.71
356.12
25
11TH HOUR RACING
Hannah Jenner - Rob Windsor
46 26.56' N
4 42.45' W
11.8
197
45.2
5071.68
572.1
ABD
MARIE-GALANTE
Dominique Rivard- Wilfrid Clerton
Back to top