Rapid pitstops
Tuesday November 12th 2013, Author:
James Boyd
, Location: none selected
1815 miles now separates the MOD 70 leaders and the Class 40 tailenders in the Transat Jacques Vabre, but the good news is that after the heinous conditions of the last few weeks in northern Europe, the whole fleet is now into favourable downwind conditions thanks to an area of high pressure currently established at the latitude of the English Channel.
Images courtesy of Expedition Navigation Systems and PredictWind
Among the two front runners, second placed Oman Air has managed to reclaim 10 miles on leader Edmond de Rothschild, now 72 miles behind their one design rival. The tris continue to make significant speed, having notched up 600 miles in the last 24 hours. Today they will be passing well to the west of the Cape Verdes as their crew and in particular their routers ashore will be examining the best place to cross the Doldrums. The Doldrums are at present located at 6-8°N, and at their present speeds the two boats will be tackling them over the course of tomorrow afternoon.
Oman Air–Musandam's Sidney Gavignet reported: "It's going very well it was a beautiful night in ideal conditions, between 21 and 25 knots and a fairly flat sea. We're almost at the limit of the wind shadow of the Cape Verdes so we are not too worried. We just push the boat. The port pilot is not working which is a pain, because every time you want to change a setting then you have to call the other one, and that is hard. At Finisterre we had some of the worst conditions I have had, so this is a lot better. Now I'll eat a small paella in bed!"
Some 800 miles back up the course, FenetreA Cardinal, sailed by Erwan Leroux and Yann Eliès has taken the lead after yesterday's leader, Yves le Blevec and Kito de Pavant on Actual made a pitstop in Porto Santo, Madeira to replace their masthead wind vane (vital for the proper functioning of their autopilot). Actual's pitstop lasted last than an hour and they managed to get out from under the wind shadow of Madeira quickly but still their 38 mile lead yesterday is now a 33 mile deficit at the latest sched. Since leaving Madeira at around 1900 last night Actual has been on starboard gybe heading due west and has just crossed astern of FenetreA Cardinal.
Meanwhile Lalou Roucayrol and Mayeul Riffet the crew of their capsized Multi50 Arkema - Aquitaine remain on board their boat some 230 miles west of Lisbon. A Portuguese tug is set to leave Lisbon at 1000 today and will reach the upturned trimaran tonight.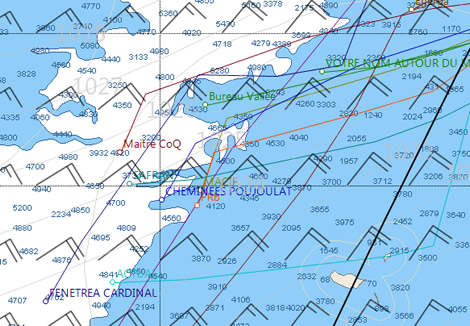 97 miles behind the Multi50 leader and to the northwest of Madeira lies the IMOCA 60 frontrunner, where Vincent Riou and Jean le Cam on PRB have at the latest sched relieved Marc Guillemot and Pascal Bidégorry on Safran of the lead. The 60s are currently gybing across the strongest band of northeasterly trades and Safran has technically lost ground because as the most southeasterly boat she has been on starboard gybe heading west since midday yesterday. Safran is now the second most westerly boat after Jérémie Beyou and Christopher Pratt on Maitre CoQ.
It is good to see Cheminees Poujoulat, sailed by Bernard Stamm and Philippe Legros in the mix, currently lying second, while Francois Gabart and MichDes on MACIF are up to fourth, clawing back miles after their pitstop to replace a damaged rudder.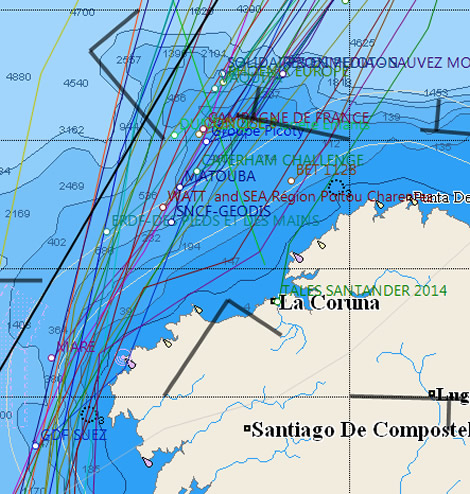 This morning the bulk of the Class40 fleet is closing on the northwest coast of Spain but are into a classic 'rich get richer' scenario.
Leader Sébastien Rogues and Fabien Delahaye on their Mach 40 GDF SUEZ made a pitstop (also to repair their wind instruments) at Muxia, just north of Cape Finisterre for 50 minutes at around 0200-0300 this morning and impressively rejoined the race course -Ferrari-style - still ahead their second placed sistership, Jörg Riechers and Pierre Brasseur on mare. While Rogues and Delahaye were 20 miles ahead at the final sched yesterday and at the latest sched their margin over their Franco-German opponent is still 20 miles.
Still holding third place behind the two Mach 40 sisterships is the new Akilaria RC3 ERDF-Des Pieds et des Mains, sailed by Paralympic medallist Damien Seguin and leading Solitaire sailor, Yoann Richomme. However while ERDF was 32 miles off the lead yesterday morning, 24 hours on this margin has now increased to 52 miles.
Seguin reported: "Its going okay, we just set the spinnaker, we don't have much wind as we approach Cape Finsterre. It is northeasterly 7-8 knots and we are not really moving fast in the right direction.
The Spanish Class40, Tales Santander 2014 sailed by Alex Pella and Pablo Santurde are back up to fourth place and also have a scheduled pitstop in the Bay of La Coruna where they plan to repair their starboard rudder bearing. Gaetano Mura and Sam Manuard on BET1128 are also en route to the Galician haven to properly restep their mast and replace some damaged electrical cables after their mast fell down day before yesterday.
Compared to the gales experienced in this region over the last few weeks, the bulk of the Class40s are approaching northwest Spain in 10 knots northwesterlies on their starboard beam. At present the further south they sail the more the wind veers into the north, although the welcome northeasterlies are due to fill in across the race course this afternoon.
Among the Brits Mike Gascoyne and Brian Thompson on Caterham Challenge are holding 8th place while Ned Collier Wakefield and Sam Goodchild on the new Forty(1)Design continue to hold 11th place, while Miranda Merron and Halvard Mabire on Campagne de France are up to 12th place from 14th 24 hours ago.

Miranda reported this morning: "2 knots of wind off the northwest tip of Spain, eerily quiet when we know that there is a cold front on its way in the next few hours, bringing a lot of wind. A few hours ago, we managed to get rid of the lobster pot marker pole that had been wrapped around the keel and definitely not helping boat speed. It had been there for a while. We can see the nav lights of Concise and Picoty. No one going anywhere fast just now."
Back to top
Positions at 0630 UTC
Pos
Boat
Crew
Lat
Long
VMG
Crs
Dist
DTF
DTL
2 hr av
24hrs
MOD70
1
EDMOND DE ROTHSCHILD
Sébastien Josse - Charles Caudrelier
19 57.23' N
27 05.79' W
25.5
196
600
3168.54

2
OMAN AIR MUSANDAM
Sidney Gavignet - Damian Foxall
21 00.31' N
26 19.88' W
27.6
197
609.3
3241.21
72.67
Multi50
1
FENETREA CARDINAL
Erwan Leroux - Yann Eliès
32 26.27' N
21 49.88' W
18.8
211
380.4
3967.57

2
ACTUAL
Yves le Blevec - Kito de Pavant
32 41.59' N
20 44.98' W
8.1
268
306.4
4001.02
33.44
3
RENNES METROPOLE / SAINT-MALO AGGLOMERATION
Gilles Lamiré - Andrea Mura
35 29.39' N
13 12.49' W
11.2
248
274.5
4311.17
343.59
4
VERS UN MONDE SANS SIDA
Erik Nigon - Samy Villeneuve
41 13.39' N
11 02.30' W
13.9
228
233.1
4661.26
693.69
ABD
ARKEMA - Region Aquitaine
Lalou Roucayrol - Mayeul Riffet

ABD
MAITRE JACQUES
Loïc Fequet - Loïc Escoffier

IMOCA 60
1
PRB
Vincent Riou - Jean Le Cam
33 43.54' N
19 23.89' W
17.8
198
316.4
4064.93

2
CHEMINEES POUJOULAT
Bernard Stamm - Philippe Legros
33 47.86' N
19 57.47' W
17.3
209
326.1
4077.13
12.2
3
SAFRAN
Marc Guillemot - Pascal Bidégorry
34 00.80' N
20 28.57' W
6.9
267
287.3
4079.97
15.04
4
MACIF
François Gabart - Michel Desjoyeaux
33 55.65' N
19 20.25' W
17.4
203
311.1
4095.82
30.88
5
MAITRE COQ
Jérémie Beyou - Christopher Pratt
34 25.84' N
20 38.02' W
16.8
203
275.6
4100.71
35.78
6
BUREAU VALLEE
Louis Burton - Guillaume Le Brec
35 03.26' N
19 15.68' W
8.9
257
268.8
4159.92
94.99
7
VOTRE NOM AUTOUR DU MONDE
Bertrand de Broc - Arnaud Boissières
35 28.96' N
17 22.73' W
7.5
265
260.5
4219.56
154.63
8
ENERGA
Zbigniew Gutkowski - Maciej Marczewski
36 17.72' N
15 56.80' W
11.3
254
305.4
4293.05
228.12
9
TEAM PLASTIQUE
Allesandro Di Benedetto - Alberto Monaco
36 50.62' N
16 30.55' W
11.4
240
282.9
4311.32
246.39
10
INITIATIVES-CŒUR
Tanguy de Lamotte - François Damiens
37 48.08' N
17 01.78' W
9.9
251
257.3
4353.57
288.64
Class40
1
GDF SUEZ
Sébastien Rogues - Fabien Delahaye
42 47.84' N
9 41.01' W
9.8
224
174.2
4773.26

2
MARE
Jörg Riechers - Pierre Brasseur
43 08.66' N
9 35.81' W
7
206
171.2
4793.14
19.87
3
ERDF-DES PIEDS ET DES MAINS
Damien Seguin - Yoann Richomme
43 38.09' N
9 18.25' W
3.7
216
153.9
4824.96
51.69
4
TALES SANTANDER 2014
Alex Pella - Pablo Santurde
43 21.83' N
8 22.87' W
4.2
187
153
4831.81
58.54
5
SNCF-GEODIS
Fabrice Amedeo - Armel Tripon
43 40.34' N
8 57.21' W
2.9
183
148.4
4834.7
61.43
6
WATT

and SEA Région Poitou Charentes
Yannick Bestaven - Aurélien Ducroz
43 43.91' N
8 59.90' W
2.6
218
148.3
4836.75
63.49
7
MATOUBA
Bertrand Guillonneau - Sébastien Audigane
43 48.47' N
8 54.40' W
3.5
244
159.6
4842.49
69.23
8
CATERHAM CHALLENGE
Mike Gascoyne - Brian Thompson
43 52.25' N
8 48.92' W
1.6
243
147.6
4847.97
74.71
9
DUNKERQUE Planète Enfants
Bruno Jourdren - Thomas Ruyant
44 00.58' N
8 56.39' W
1.6
236
138
4851.72
78.46
10
GROUPE PICOTY
Jean-Christophe Caso - Aymeric Chappellier
43 59.26' N
8 46.07' W
1.3
258
146.1
4855.05
81.78
11
CONCISE 8
Ned Collier Wakefield - Sam Goodchild
44 00.95' N
8 48.29' W
1.4
253
150.4
4855.67
82.41
12
CAMPAGNE DE FRANCE
Halvard Mabire - Miranda Merron
44 02.03' N
8 47.12' W
1.8
249
154.4
4857.03
83.76
13
BET 1128
Gaetano Mura - Sam Manuard
43 49.96' N
8 18.62' W
3.5
226
149.7
4857.38
84.12
14
VAQUITA
Christof Petter - Andreas Hanakamp
44 11.45' N
8 43.33' W
1.8
216
152.5
4866.48
93.22
15
PHOENIX EUROPE
Louis Duc - Stéphanie Alran
44 12.95' N
8 40.33' W
1.3
170
150.2
4868.9
95.63
16
SOLIDAIRES EN PELOTON
Victorien Erussard - Thibaut Vauchel-Camus
44 14.80' N
8 40.81' W
0.6
246
144.9
4870.3
97.04
17
PROXIMEDIA - SAUVEZ MON ENFANT
Denis Van Weynbergh - Jean-Edouard Criquioche
44 14.78' N
8 21.40' W
2.8
218
131.8
4877.48
104.22
18
MR BRICOLAGE
Damien Rousseau - Matthieu Alluin
44 31.61' N
8 01.08' W
2.3
196
134
4899.44
126.18
19
EÄRWEN
Catherine Pourre - Goulven Royer
44 37.35' N
7 58.19' W
1.2
261
144.5
4905.4
132.14
20
FANTASTICA
Stefano Raspadori - Pietro D'Ali
44 50.85' N
8 05.60' W
1.7
279
119.4
4914.14
140.88
21
APRIL / DELTACALOR
Lionel Regnier - Tim Darni
44 34.99' N
7 20.53' W
1.4
195
159.3
4917.62
144.36
22
CROIX DU SUD
Michelle Zwagerman

- Patrick Conway
44 55.52' N
7 39.47' W
3.7
209
153.9
4927.85
154.59
23
OBPORTUS 3
Olivier Roussey - Philippe

Burger
45 04.12' N
7 16.33' W
4.4
169
164.6
4943.84
170.57
24
ECOELEC-FRANTRONIC
Eric Darni - Florent Bernard
45 43.35' N
6 56.66' W
4.2
212
140.2
4984.36
211.1
25
11TH HOUR RACING
Hannah Jenner - Rob Windsor
47 15.37' N
4 29.60' W
-4.1
58
-67.3
5116.93
343.67
ABD
MARIE-GALANTE
Dominique Rivard- Wilfrid Clerton
Back to top