MACIF damages rudder and diverts
Sunday November 10th 2013, Author:
James Boyd
, Location: none selected
Francois Gabart and Michel Desjoyeaux, leaders of the IMOCA 60 fleet in the Transat Jacques Vabre are putting into Peniche, 87 km northwest of Lisbon, Portugal to make a technical pit stop this afternoon after damage to their starboard rudder was discovered last night.
When they were off Cape Finisterre yesterday evening, the Vendee Globe winning powerhouse crew realised that their starboard rudder had been damaged. Diverting at 1400hrs UTC this afternoon, a technical team is in situ in Peniche to assist them in replacing the blade on the damaged rudder.
The class leaders, who had built margin of up to 50 miles by Cape Finisterre after a brilliant passage across the Bay of Biscay are racing against time to get back on to the race course.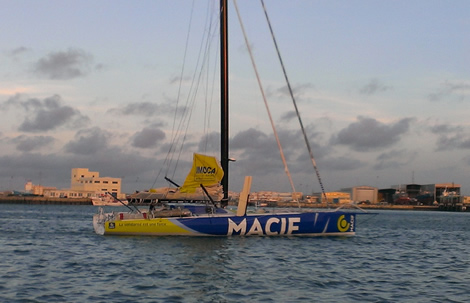 Meanwhile conditions remained very favourable for the IMOCA 60 class, racing downwind in the Portuguese trades, so adding pressure to the French duo who were considered favourites to win the ten boat class, racing the boat on which Gabart won the Vendée Globe in February. Before they stopped MACIF had seen their enforced separation from the fleet to the southeast reduce their lead to just 13 miles on this afternoon's 1300hrs UTC position report.
Tanguy de Lamotte, skipper of Initiatives Coeur reported: "Everything is good, we can just see Alessandro (di Benedetto) on Team Plastique, two miles behind us at Cape Finisterre. The wind has eased and we have 9-10 knots and a big swell which shakes us about a bit. The shift to the west allowed us to avoid the worst of the depression and so the worst we saw was 38 knots. We were both a bit sick. Now we are getting into the fun bit of the race."
Marc Guillemot, skipper of Safran added "The way out of the Channel and the crossing of the Bay of Biscay was pretty much as we expected: fast, wet and challenging. Right now we are sailing downwind along the Portuguese coast. We have had a few technical issues but nothing too serious and nothing that will not let us continue our attack. Pascal is napping because up to midway across the Bay of Biscay we have pretty much at it all time with no sleep at all over the first 24 hours, so need to recuperate a bit.
"We are getting into our rhythm and setting patterns for eating, sleeping and getting dry! There is the high-pressure area to contend with and the run down South to the Canaries to prepare. MACIF has sailed better than we have while we had our small technical issues to deal with and our navigation. Looking at the last position report, we can really see that they have made a big lead and the 3-mile advantage at Ushant has paid off, but above all they are brilliant.
"The game now is to try and rest and have clear head to think about the strategy to play out. All is going well on board and the fight continues because there are always tactical decisions that can be made. With downwind sailing there are gybes to be made and it is always better to be further towards the east than the east. Let's what the wind variations can let us do."
Class40s
After leaving from Roscoff – where they had been required to sit out a Biscay gale the full 26 boat Class 40 were back in the race by this afternoon. The order among the top boats remains very much as it was when they departed from the Breton safe haven this morning. Sébastien Rogues and Fabien Delahaye on GDF SUEZ lead by just over 7 miles this afternoon, ahead of the Spanish duo Alex Pella and Pablo Santurde on Gonzalo Botin's Spanish designed and built Tales Santander 2014, in turn just less than four miles ahead of Germany's Jorg Riechers and Pierre Brasseur on mare. After sitting out the gale Class 40 are expecting to be rewarded with a relatively straightforward passage in westerly winds of around 12-18 knots across the Bay of Biscay with the leaders anticipated to pass Cape Finisterre late on Monday night or very early Tuesday morning.
The three Class 40s which have British skippers or co-skippers were together in 11th, 12th and 13th this afternoon, less than two miles separating Brian Thompson and Mike Gascoyne's Caterham Challenge in 11th from Ned Collier Wakefield and Sam Goodchild on Concise 8 with Miranda Merron and Halvard Mabire on Campagne de France in between the two.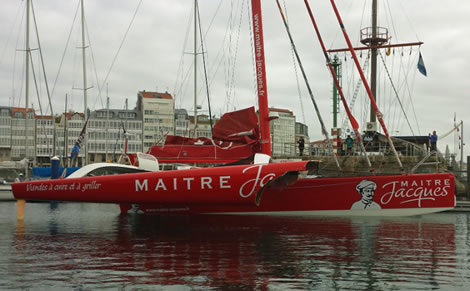 Arriving in La Coruna at around 0900 local time this morning, Maitre Jacques skippers Loic Fequet and Loic Escoffier announced their retirement from the race officially. Having lost the front of their starboard float of their 2005 generation Multi 50, damaged back to the forward bulkhead of the float, they had no alternative but to withdraw.
Meanwhile at the front of the hotly contested Multi 50 fleet, Yves Le Blevec and Kito de Pavant were back in front this afternoon on Actual, 8 miles ahead of Arkema Region Aquitaine and a further mile ahead of FenetreA Cardinal as they raced downwind in 12-14 knots some 100 miles northwest of Lisbon.
At the front of the Transat Jacques Vabre fleet, Edmond de Rothschild co-skippers Sébastien Josse and Charles Caudrelier seem to be reaping a dividend for their choice to head more to the south than their rivals on Oman Air-Musandam, Sidney Gavignet and Damian Foxall, as they pass to the south of the Azores high enjoying good, fast downwind conditions and making 22-26 knots boat speed. The class leaders had knocked in a useful 505 miles 24hours run.
Charles Caudrelier, co-skipper on Edmond de Rothschild reported: "We are not doing too badly and sailing downwind at a good speed, so it is quite pleasant. On these boats you have to be really careful, even in dream conditions. We have tried sleeping, but have not managed to get as much as we would have liked to. We had a lot of maneouvres to do get round the squalls last night and have positioned ourselves further south. Our friend [Oman Air-Musandam] has gone straight ahead. On a multihull we move really fast so our advantage can melt away very quickly. The router is not on board, but we trust him completely. We are 170 miles from Madeira with 30 knots of wind and should be there quickly."

Listen to audio from Miranda Merron (Campagne de France), Sam Goodchild (Concise 8) and Andreas Hanakamp (Vaquita).
Back to top
Back to top