Transat Jacques Vabre - Class40s
The most competitive element of the Transat Jacques Vabre, if it does finally set sail tomorrow, will be the Class40, featuring by far the biggest fleet in the French biennial doublehanded race down the Atlantic from Le Havre to Itajai.
Not only are there 26 Class40 taking part, albeit a relatively modest line-up compared to the 50+ boats anticipated for next year's Route du Rhum (thanks to the extra influx for that event of Figaro sailors and sponsor-less IMOCA skippers), but, demonstrating the strength of the class, seven of these were newly launched this year from a wide range of designers.
| | | | |
| --- | --- | --- | --- |
| Boat | Crew | Design | Built/type |
| Vaquita | Christof Petter, Andreas Hanakamp | Humphreys | 2013 Ocean Tec |
| Concise 8 | Ned Collier Wakefield, Sam Goodchild | Ker | 2013 McConaghy |
| Tales Santander 2014 | Alex Pella, Pablo Santurde | Botin Partners | 2013 Longitud Cero |
| GDF Suez | Sébastien Rogues, Fabien Delahaye | Manuard | 2013 JPS |
| Fantastica | Stefano Raspadori, Pietro D'Ali | Verdier | 2013 CN Orioli |
| Caterham Challenge | Mike Gascoyne, Brian Thompson | Lombard | 2013 Akilaria RC3 |
| ERDF - Des pieds et Des mains | Damien Seguin, Yoann Richomme | Lombard | 2013 Akilaria RC3 |
| Mare | Jörg Riechers, Pierre Brasseur | Manuard | 2012 Mach 40 |
| Dunkerque-Planete Enfants | Bruno Jourdren, Thomas Ruyant | Verdier | 2012 FR Nautisme |
| BET1128 | Gaetano Mura, Sam Manuard | Manuard | 2012 Bert Mauri |
| Mr Bricolage | Damien Rousseau, Matthieu Alluin | Finot-Conq | 2011 Pogo S2 |
| Solidaires En Peloton | Victorien Erussard, Thibaut Vauchel-Camus | Farr | 2011 Kiwi 40 |
| Proximedia - Sauvez Mon Enfant | Denis Van Weynbergh, Jean-Edouard Criquioche | Manuard | 2011 JPS |
| April/Deltacalor | Lionel Regnier, Tim Darni | Lombard | 2011 Akilaria RC2 |
| Campagne de France | Halvard Mabire, Miranda Merron | Finot-Conq | 2010 Pogo S2 |
| Groupe Picoty | Jean-Christophe Caso, Aymeric Chappellier | Finot-Conq | 2010 Pogo S2 |
| Watt & Sea, Region Poitou Charentes | Bestaven Yannick, Aurélien Ducroz | Verdier | 2010 FR Nautisme |
| Matouba | Bertrand Guillonneau, Sébastien Audigane | Owen Clarke | 2009 Stig McDonald |
| 11th Hour racing | Hannah Jenner, Rob Windsor | Owen Clarke | 2009 Jaz Marine |
| Eärwen | Catherine Pourre, Goulven Royer | Verdier | 2009 FR Nautisme |
| Marie-Galante | Dominique Rivard, Wilfrid Clerton | Lombard | 2008 Akilaria |
| Phoenix Europe | Louis Duc, Stéphanie Alran | Lombard | 2008 Akilaria |
| SNCF-Geodis | Fabrice Amedeo, Armel Tripon | Lombard | 2008 Akilaria |
| Obportus³ | Olivier Roussey, Philippe Burger | Valer | 2007 JPK |
| Croix du sud | Michelle Zwagerman, Patrick Conway | Lombard | 2007 Akilaria |
| Ecoelec-Fantronic | Eric Darni, Florent Bernard | Finot-Conq | 2006 Pogo |
The leading production Class40s, MC Tec's Lombard-designed Akilaria and Structures' Finot-Conq penned Pogo both have new models. Two new latest generation RC3 Akilarias (Mike Gacoyne and Brian Thompson's Caterham Composites and Damien Seguin and Yoann Richomme's ERDF-Des pieds et Des mains) are competing in the TJV while the new S3 Pogo was only launched this week – too late for the race. The S3's French owner intends to compete in the Transquadra, the transatlantic race from St Nazaire-Martinique starting next June, that is open to amateur sailors who are 40 years old or more.
Akilaria RC3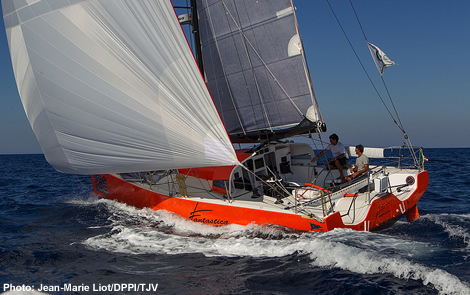 Fantastica - Tyker Evolution 3
Both designers Guillaume Verdier and Sam Manuard have new boats competing in the TJV. The latest example of Verdier's Tyker Evolution 3 is Fantastica, being campaigned by the Italians Stefano Raspadori and Figaro sailor Pietro D'Ali (who won this race in 2007 on the first generation Verdier, Telecom Italia, with Giovanni Soldini). The boat is owned by leading Italian architect Lanfranco Cirillo who campaigns the Fantastica Melges 32 and is also a keen Finn sailor. It is unclear how Cirillo wishes to use his Class40 going ahead. The newly launched boat has had little work-up time. She was built by CN Orioli in Italy, whereas to date Tykers have been built by FR Nautisme in Lorient. Hot off the press is the news that the moulds for the Tyker Evolution 3 have been acquired by IMOCA 60 skipper Louis Burton and his partner Servane Escoffier.
The most successful Class40 design by far over the last two seasons has been Sam Manuard's Mach 40, built by JPS Production in La Trinite-sur-Mer. In 2011, Jörg Reicher's mare won the Solidaire du Chocolate transatlantic race and the Atlantic Cup, his season only tainted by Halvard Mabire and Miranda Merron's Pogo S2 Campagne de France which beat him into second place in the Quebec-St Malo. See Jorg's video guided tour to mare here. Reicher's program is unusual in that he not only campaigns a Mini and Class40 but this year also acquired an IMOCA 60 (the 2008 Vendee Globe winner, Foncia). In the TJV he is sailing with fellow Mini sailor Pierre Brasseur (2nd in the 2011 Mini Transat).
Since then Mini sailor Sébastien Rogues's Mach 40 GDF SUEZ has been launched and this season she has cleaned up. She retired from the Normandy Channel Race earlier in the year, but since then has won all five of the races she has entered, both inshore events and the more significant offshore races like the Les Sables-Horta-Les Sables and the Rolex Fastnet Race. For the TJV, Rogues, an ex-leading Mini sailor, has joined forces with Fabien Delahaye, a top Figaro sailor (2nd in the 2011 Solitaire).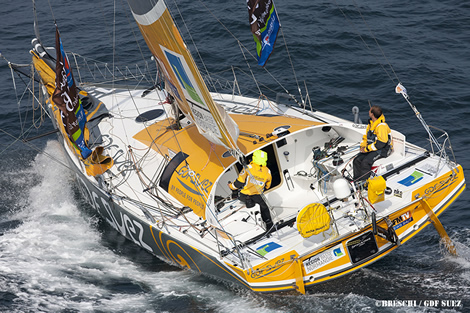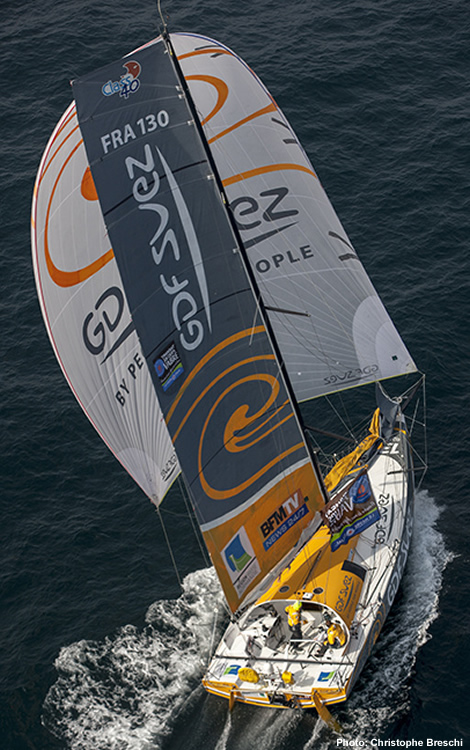 However...
There is some still newer technology competing in the Transat Jacques Vabre.
One boat to watch will certainly be Botin Partners's, first offering to the class, Marcellino Botin designing the boat for his younger brother Gonzalo. In the TJV, Tales Santander 2014 (below) is being campaigned by Spain's top shorthanded offshore skipper Alex Pella and ex-470 turned Class40 sailor Pablo Santurde. This boat led the Rolex Fastnet Race until she was finally overhauled by GDF Suez. Read more about this here.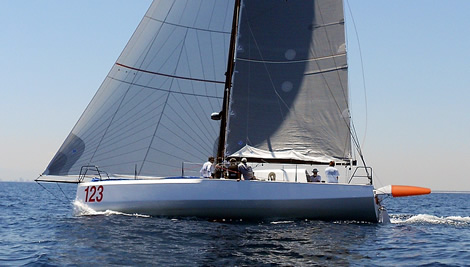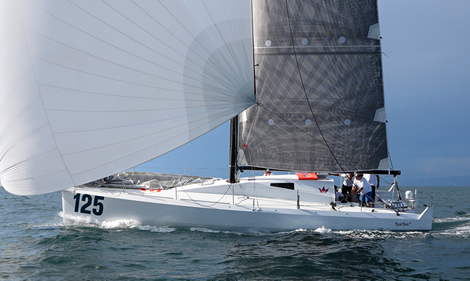 Having not seen much success with their first Class40 design, ORCA, Humphreys Yacht Design is back with what appears to be a kick-ass latest generation boat, built again by Ocean Tec in Slovenia. The new Vaquita is the second Class40 for Austrian owner Christof Petter, who's campaign is being managed by Andreas Hanakamp (who is co-skippering the boat in the TJV). Watch out for a full report on this boat in due course.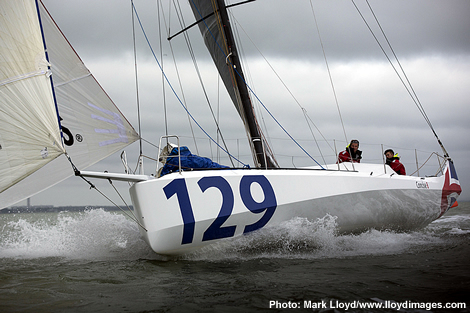 But the new boat that has the Class40 sitting up and paying attention is Tony Lawson's new Concise 8, the first example of the Jason Ker-designed, McConaghy China-built Forty(1)Design (see our video guided tour to the boat and designer Jason Ker's comments). Concise 8 also has an interesting crew in the young British hotshots (in fact the youngest crew in the TJV) Ned Collier Wakefield and Sam Goodchild. There is an element of it being 'payback time' for this duo. In the Transat Jacques Vabre two years ago they suffered a collision, forcing them to retire to the Azores, just after taking the lead in the Class40. Together they have since won last year's Normandy Channel Race in their previous Concise, an Akilaria RC2.
Rather ambitiously the 5,400 mile long TJV is their new cutting edge boat's first competitive outing and Collier Wakefield and Goodchild are still in the process of ironing out teething problems.
"I think the boat is quick, probably one of the quickest here - a lot quicker than Concise 2," says Collier Wakefield, who is also Project Manager for the Forty(1)Design – the boat is to go into production with the intention of it bridging the gap between the expensive one-off Class40s like the Botin, Verdier and Manuard designs and the cheaper production boats like the Akilarias and Pogos.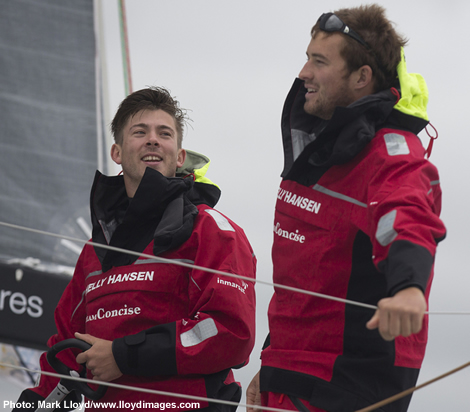 "We have done as much with the boat as we could in the time scale and we are really happy, but it is just untested. We haven't sailed the boat for more than 36 hours, so if we get out of the Channel anything after that is uncharted territory. I think it is going to be a little bit of boat management for myself and Sam. We know we have speed in the bag, so we are going to rein it in a little bit for the first week to try and get into the Trades, then we'll put the hammer down. We have solved every problem that we've found. I just hope that are not too many more!"
The TJV race organisers permitted the Concise crew to arrive in Le Havre late and this allowed them to take their boat out and push it for the first time. "Sam and I were able to go out in the breeze and test the boat and we came back feeling a lot more confident after sailing the boat for 24 hours sitting at 17 knots boat speed in reaching conditions and then slamming upwind for 24 hours," says Collier Wakefield.
Class40s are capable of reaching speeds into the mid-20s and at this pace are wet, but despite having generous volume in the bow the Forty(1)Design is particularly damp. "It is a little bit of a submarine. The cockpit protection works well, but you do get it in the face a bit. Hopefully that is a sign we are going a lot faster than we were before!"
Collier Wakefield acknowledges that the Class40 favourite paper going into the Transat Jacques Vabre is GDF Suez. "They have won everything this year and they have tested the boat a lot and then there Jörg and mare as well. They have to be the two frontrunners. And then there is the Botin, which is a really similar boat to the Mach 40 - they have to be up there. The new Fantastica boat is a bit untested, but they have got to be quick too."
Then there are the boats that are slightly older generation, but have the advantage of being more bulletproof. Once such example is Halvard Mabire and Miranda Merron's Pogo S2, Campagne de France.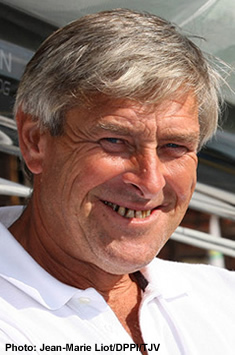 Mabire is one of the unsung heroes of French offshore racing. Incredibly, when he must still have been in shorts, he competed in Bob Salmon's first Mini Transat back in 1977 and has since sailed around the world as part of Eric Tabarly's crew in the Whitbread, raced the Solitaire du Figaro seven times, campaigned various multihulls and monohulls in 32 transatlantic races, won the 1991 Round Europe Race aboard Ville de Cherbourg, an IMOCA 60 he built and then skippered. Over his lengthy career he has notched up some 300,000+ racing miles.
But over recent years Mabire has become deeply involved with the Class40, first sailing with Peter Harding on 40 Degrees and more recently with girlfriend Miranda Merron on Campagne de France. He is also involved with the class itself and while he isn't on the Technical Committee, thanks to his wealth of experience he has been tasked with attempting to plug the loopholes in a Class40 rule – the rule was originally drafted short and simple, aimed at cruiser racers, but has since come under increasing scrutiny from some of the world's top yacht designers.
Mabire shared his assessment of the Class40...
Looking across the fleet, he observes that many of the first generation boats are now no longer competitive, though this is hardly surprising as back in the mid-2000s they weren't built to the limit of the rule and at the time it was felt hard to build down to the Class40's minimum weight of 4,500kg. They also weren't powerful enough and had too much freeboard.
"But some of the first generation boats were very clever, like the Verdier design Destination Dunkerque [originally Thomas Ruyant 2010 Route du Rhum winner], which is Earwen in this race (see below), or the Rogers. It is interesting to see how the Class 40 box rule is working very well. Someone who wants to start in the Class40 can buy a good first generation boat and refit it, put a new rig on it and have quite a good boat."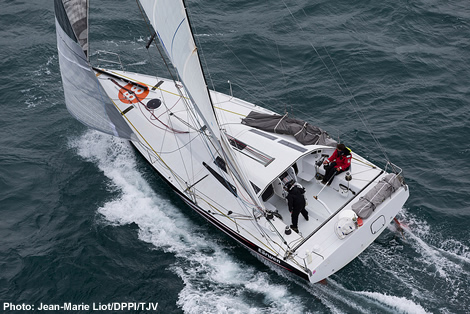 Since 2008 Mabire, observes boats were coming in at minimum weight and maximum righting moment but they weren't generating the maximum power from their hulls. This has since changed with all the boats now having chines and the latest models having considerable volume forward (moves were quickly made to add a maximum girth restriction just aft of the bow to prevent a Class40 scow from being built, after David Raison's blunt-bowed Mini famously won the 2011 Mini Transat).
With maximum stability and power, the new boats are weapons, particularly power reaching, Mabire says: "Between us and a boat like GDF they can be one knot faster."
Sails obviously also make a difference to each boat's all-round performance. Class40s can carry eight sails. An extra sail button was created in the Class40 sail wardrobe when the rule was tweaked so that boats no longer have to carry a trysail as long as their mainsail has a smallest reef of an equivalent size (ie the luff can be reduced by 70%). So today a typical inventory includes four white sails - main, Solent, staysail, storm jib (two of which can be built in exotics) - but there are variations in the remaining off the wind inventory.
"We are all doing a lot of research into the sails we use," says Mabire. "There are usually two spinnakers, very often both mastheads, a maximum and a second you can put a reef in. Our medium you can reef and use it masthead or fractional. It is more for reaching, but not very extreme as we want to have it as a back-up too. The big spinnaker can be a multipurpose or you can have more of a running spinnaker. Everyone is still working on that.
"Then there is the Code 0 – you can use it very high, but it is hard to imagine a pure upwind Code 0, and I'm not sure everyone has one. We have no Code 0. We have a big genniker, quite a flat sail, a little like the Code 0 on the VO70s, with the clew quite far back and quite big and flat. And we have built a new reaching sail. We think with the sails we have on board now, the only hole is dead upwind in less than 6-7 knots."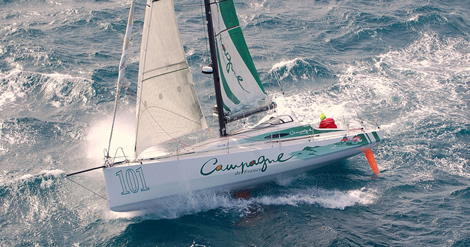 Back to boats and Mabire reckons that the very latest designs are stepping back from the brink when it comes to ultimate power. "Of the latest generation boats, the most interesting are the Botin and the Ker, because they try to find a compromise between a powerful boat while trying to take the advantage of a narrow waterline. But power is key. The Class 40 box rule has a maximum upwind sail area at the moment of 115sqm, but this rule is more or less obsolete now as we have a Code 0" (which can be used upwind in the light).
Aside from the design developments, Mabire points out that today as vital to performance is the engineering and build quality, saving weight in the structure enabling boats to be constructed right down to absolute minimum weight (although there are scantling requirements prescribed by ISO). The rule says that boats measuring under 4500kg have to have weight correctors fitted in less than favourable positions on board, however builders are pre-empting this by building light, then concentrating any weight saved by laminating it back into the middle of the boat (a practice as old as the hills in race boat optimisation).
For example the latest all-conquering Mach 40s are believed to be built some 200kg underweight allowing this excess weight to be put back into the structure in the middle of the boat. "Some people are complaining about that, but it is very very hard to control," admits Mabire.
It will be very interesting to see whether the more expensive one-off boats come out on top in this Transat Jacques Vabre. Mabire doesn't feel that the gap between the production boats and the one-offs is as great as it appears: The one-offs generally have the best crews, the most experience and the best preparation. He cites the example of the three Manuard Mach 40s, where the first, originally Jack In A Box, competing in the TJV as Denis Van Weynbergh and Jean-Edouard Criquioche's Proximedia-Sauvez Mon Enfant, never had good results because it suffered from a lack of preparation..
And these days you even have to sail them well! "The level is so high in the 40s that you are able to win races only if you make no mistakes," says Mabire. "You don't win races, it is the other people who lose them or if people break things. It is interesting to see the results between now and before. If you look at all the big races over the last three years, before you had different designs winning and it is only in this year we have one boat that is clearly above the others: GDF, which is because it is a latest generation boat, perfectly built, very well prepared with a very good crew that don't make mistakes during races. But they are not so far ahead, if you compare it to any other racing class. You couldn't imagine buying a five year old TP52, refitting it and being competitive. But with the Class40 you can."
Back to top
Back to top