Forty(1)Design UK bound
Friday August 2nd 2013, Author:
James Boyd
, Location: none selected
Hull no1 of the new Jason Ker-designed Forty(1)Design is now complete. The latest addition to the Class40 fleet left McConaghy Boats last week and is now on a ship bound for the UK, where she is due to arrive in Southampton mid-August.
Project Manager of the Forty(1)Design, Ned Collier Wakefield, who will also skipper the boat with Sam Goodchild in November's Transat Jacques Vabre transatlantic race, has spent the last six weeks at McConaghy's facility, 40km west of Hong Kong. His time there allowed him to oversee the final fit out and sign off all of the boat's systems prior to her being shipped. This included all internal features, such as the water ballast and nav station and the Forty(1)Design's unique keel tower.
Above deck the job list included checking the articulating bowsprit and the custom kick-up rudders and steering system as well as the cockpit layout.
"We dry fitted absolutely everything - so keel on, rig on, stanchions on," says Collier Wakefield. "The running rigging is ready to go and the sails have been signed off, so it will be plug in and play when the boat arrives in Hamble."
Both Collier Wakefield and the boat's designer, Jason Ker, are pleased that McConaghy Boats has managed to complete the new boat very close her design weight (the Class 40 rule specifies minimum displacement as 4,500 kg).
"McConaghy is an incredible yard," says Collier Wakefield. "I was amazed - having everything in house meant that all the custom engineering we wanted done, all the steering systems and the custom deck gear could just be made on site, and changed in hours. This meant small alterations and tweaks didn't delay the build."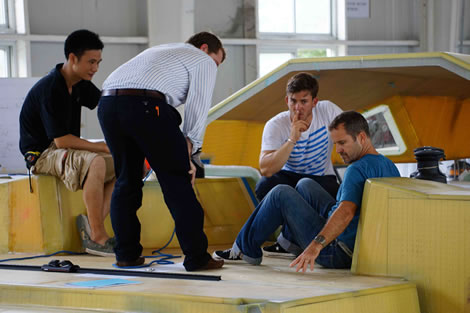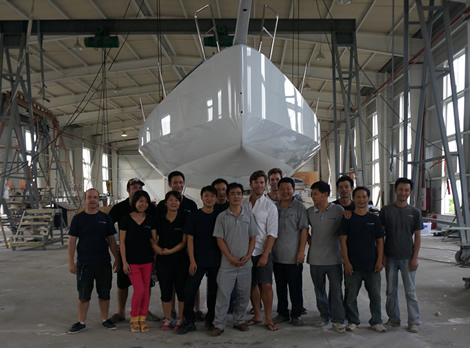 Jason Ker is more familiar with the award-winning yard. His Ker 40 and 46 IRC one-design racers are both built there. "As we have learned to expect from McConaghy, the build process has been very smooth and the resulting quality is everything we could hope for," he said. "Weights came in precisely on our estimates, allowing us to confidently maximise the opportunities afforded by the Class40 rules. We now look forward to sea trials."
Collier Wakefield, himself a trained architect, says he is pleased with the ergonomics of the boat and how clean it is, now it is complete. "We really pushed to reduce windage, keep the weight down and make sure that every component was designed and built for its specific purpose."
This came down to extensive planning and included a full-scale mock up of the cockpit being built to ensure all the leads to the winches were correctly positioned. This was then repeated once the finished deck had been released from its mould. "We had no surprises - a few tweaks, but nothing major had to change," says Collier Wakefield.
This approach has been applied to the boat's interior too, where a key aim has been to make it as easy as possible to move sails and the stack fore and aft and from side to side unimpeded. "When you go below, you can really appreciate the thought that has gone into the interior. It's really quite different to all of the other Class40s," says Collier Wakefield.
McConaghy has all the tooling complete, ready to launch into a production run, for the aim of the boat has always been to provide a custom boat spec Class40, including sophisticated items such as kick-ups rudders, articulating bowsprits, etc, for a production boat price.

Once the Forty(1)Design arrives in the UK it will be united with its mast and sails. Again massive effort has been put into these elements. American Scott Ferguson, currently heading up the wing engineering and design team for Oracle Team USA's AC72s, and who has previously been mast designer for Luna Rossa and numerous Volvo Open 70 campaigns, was employed to carry out engineering and design work on the new Class40's spar. He worked in conjunction with Southern Spars, who built the tube in South Africa, before it was shipped to Denmark for finishing.
Meanwhile the sails are being built by North UK, but have been designed by American Chris Williams, formerly sail designer with the Team Shosholoza and United Internet Team Germany America's Cup campaigns. Under Class40 rules two of the sails can be exotics and for the Forty(1)Design these are being built in North's state of the art aramid 3Di.
Significantly the mast and sail designers came up with flying shapes for all of the sails in different conditions and with different mast bend characteristics. Designer Jason Ker was able to input this into his CFD work, as he honed his final design.
Once the boat is complete, Collier Wakefield and Sam Goodchild will be taking every opportunity to work the boat up and make sure she is on the pace ready for her first major event - the Transat Jacques Vabre. This will see a fleet of more than twenty Class40s leaving Le Havre on 3 November. Ahead of them will be a month long 5,450 mile doublehanded race down the Atlantic and across the Doldrums to Itajaí in southern Brazil. This will certainly be quite some maiden voyage for Team Concise's sophisticated new Class40.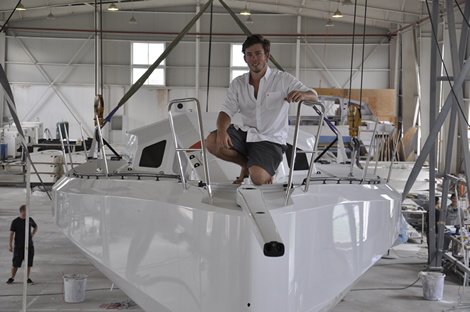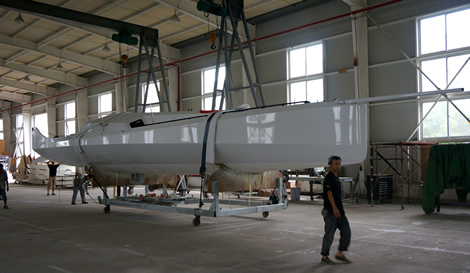 Back to top
Back to top