Artemis Offshore Academy trials
Eight inshore races, 60 miles of offshore racing, 500 press ups, 8.2 minutes of 'planking', 200 miles by bike, eight interviews, one debate and an average of two hours sleep later, the Artemis Offshore Selection Trials are over for another year.
Arriving on Thursday 18 July, the eight Academy hopefuls were put into pairs, with each double-handed duo competing in physical and mental challenges to earn miles in the title Trials race for 2013, the Fantasy Barcelona World Race.
By the conclusion of the trials on Sunday 21st July, the four pairs; Rich Mason (25) and Matt Brushwood (19), Will Robinson (24) and Alan Roberts (23), Debbie Smith (23) and Will Ayliffe (28) and Tom Barker (26) and Will Harris (19) had collectively earned over 90,000 miles during the 72 hour Trials, which are designed to spotlight those with potential to succeed on the solo offshore circuit. Earning miles in tasks ranging in everything from fitness testing, double-handed and solo racing, blog writing, orienteering and problem solving, Tom Barker and Will Harris won the Fantasy Barcelona World Race overall gaining 28,555 miles, celebrating their victory by hosing down fellow candidates with a magnum of Pol Roger champagne.
"I have learned so much from the Selection Trials, I've been through various squads before, but I've never taken away so much in four days," revealed one half of the winning team Will Harris, an accomplished 29er sailor who raced a big boat for the first time and at night during the trials. "The various squad trials I've done before have mainly focused on sailing and are no where near the level of the Academy. It's been a non-stop intensive process with very little sleep and lots of work, and I've learned that solo offshore sailing is all about preparation, whether preparing for a maneuver or your rations for a race."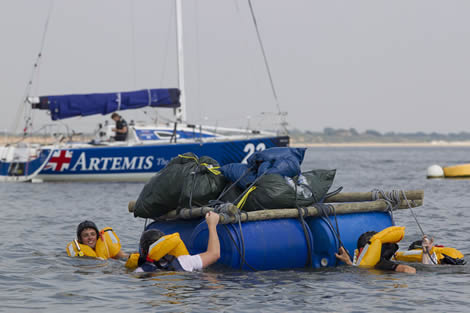 Given only co-ordinates and an arrival time, the candidates arrived at Calshot Activity Centre at 14:00 BST on Thursday and were thrown straight in at the deep end, literally, building a raft to get themselves and their kit from the beach to the Figaros moored offshore: "We decided to swim and save our kit and sleeping bags from the water," explained Matt Brushwood. "Once out on to the Figaros, I could have stayed there all day. It made me want this even more."
Sailing from Calshot to Cowes in groups of four, the candidates had the opportunity to get to grips with the Figaros for the first time, before receiving their Academy kit and beginning the first of two demanding fitness tests to measure aerobic fitness and core strength, topped off with a grueling military-style bleep test. International 14 Class sailor Alan Roberts aced the bleep test, reaching level 14.1 and beating the Selection Trials record of 13.8 set by Jack Bouttell in 2012.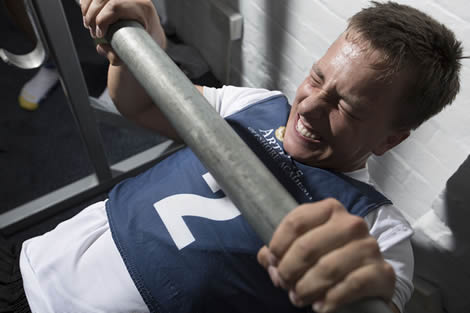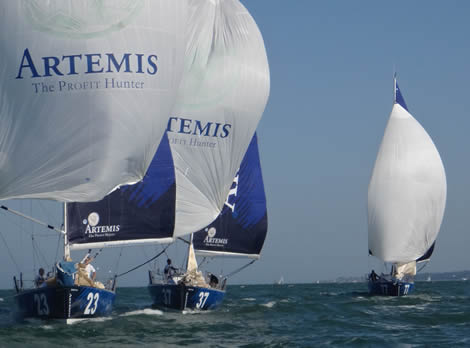 After a long night of chart work, passage planning and navigation, a first for many of the candidates, the eight sailors headed out on to the water for a day of inshore racing followed by a 60 mile night race around the Isle of Wight, a chance for the Academy Selectors to assess their sailing abilities and potential.
"The highlight of the Trials for me was the sailing, getting out on the boats and being totally in control, or out of control, but completely reliant on yourself," Alan Roberts reported. "Already a little sleep deprived after the first night, we got a slight glimpse into the intensity and physical endurance needed to race when we went solo ourselves. It's just non-stop, you get round the windward mark, ease of the main, ease off the jib, put it on autopilot, bear aware, hoist the kite, get a twist, sort it out, run back, sheet on, drop the jib… by that point we were knackered. I can't imagine what it's like racing like that for four weeks."
On day three of the Trials the candidates swapped the helm for handle-bars as they took part in the Wight Cycle Challenge, a 40 mile route around the island with 20 waypoints to locate and photograph.
The sailors then joined Selector Brian Collyer for an afternoon of team problem solving tasks. Already sleep deprived and physically exhausted, the cognitive and communication tasks proved even more of a challenge and frustrations ran visibly high.
Olympic squad 470 sailor Richard Mason found sleep deprivation and self-management the hardest element of the Trials: "The Academy Selection Trials are really different to anything I've done before, the sleep deprivation side of it is really quite a tough challenge. Normally you would go into an Olympic regatta or trials in peak physical condition, you've been monitoring your fitness and nutrition for the past week. You come into day two of the Academy trials having had two hours sleep, day three it's the same deal and it just builds up and up until the point where you're no longer tired and just keep plugging away at the tasks.
"I can definitely see how the different tasks we were set relate to solo offshore sailing, from preparation, to fitness and endurance, communication and problem solving, all while extremely tired. Every task on land or sea has linked back to an aspect of solo offshore sailing."
After a night of final mile building, an interview, a fitness retest and a tag team bleep test, the candidates celebrated surviving the trials on Sunday with fresh fruit, flapjacks and a glass of chilled Pol Roger champagne beneath world's largest Union Flag at Academy HQ. Now the waiting game for the hopefuls begins, with the 2014 Artemis Offshore Academy Development Squad set to be announced in the next ten days.
Back to top
Back to top