Honours for Hooligan
After last year's extremely windy Myth of Malham Race, this year's race provided a far more tactical affair for the 120 yachts competing in the Royal Ocean Racing Club's 230 mile race around the Eddystone Lighthouse.
Staying in the breeze and calculating the best route for tides made all the difference. The wind conditions ranged from zephyrs during the first night to 25 knot gusts on the last day of racing. Most of the fleet used the full complement of their sail wardrobe and, as many crews were exploiting the race route as a Rolex Fastnet qualifier, the Myth of Malham Race was a fine test of man and machine.
Edward Broadway's Ker 40 Hooligan VII was declared overall winner of the RORC Myth of Malham Race. "We were the last Ker 40 out of the Solent," admitted Broadway. "We chose to play the island shore and the two other Ker 40s, Magnum and Baraka, went to the mainland shore and they were both just ahead at the Hurst Narrows. However, we caught up and virtually match raced all the way to Eddystone with Magnum. This is the first season with our Ker 40 and it is such a fantastic boat to sail; really responsive and very fast. I am an old man, but just about all the crew have come from the British Keelboat Academy, including Aaron Cooper who has built the sails.
"I can't really single out any defining moment in the race, save Magnum's kite ripping, which was a big gain for us. My crew were magnificent; totally committed and extremely respectable sailors. Between the three Ker 40s, after three RORC races, each one of us has come out on top, it looks like a fantastic season ahead."
Hooligan VII was also the winner of IRC One for the Myth of Malham, Andrew Pearce's Ker 40 Magnum 3 was second by less than 15 minutes and Piet Vroon's Ker 46 Tonnerre de Breskens was third in class but still retains the overall lead of the RORC Season's Points Championship, albeit by just 2.4 points.
With 31 yachts IRC Two was the largest class in the race. RORC Admiral Andrew McIrvine's First 40 La Réponse took line honours for the class but after time correction missed out on a podium place by less than two minutes. Patrick Ponchelet's French X-40 Exception sailed a stunning leg back from Eddystone to over take two British First 40.7s to win the class. Ifan James' Cheeki Rafiki was second by just over 19 minutes on corrected time, while Pete Newlands' Anticipation took third.
Benoit D'Halluin's A35 Dunkerque Plaisance took line honours in IRC Three and the class win on corrected time. "We had a great start out of the Solent, we were really pleased with our performance and the boat was going really well," said D'Halluin. "However, between Start Point and Eddystone, we had foul tide and the wind faded. It was difficult and frustrating because as we are one of the highest rated boats and the fleet around us was gaining all the time. Once round Eddystone we went inshore at Start Point on the way back and it really worked for us, especially as the tide changed in our favour a little earlier than predicted. The run to the finish was dead downwind and we used our symmetrical spinnaker to great effect, whilst the J/109s in our class could not. All of the crew is absolutely delighted with our result."
Richard Palmer's J/109 Jangada Too was second in IRC Two and won the highly competitive Two-Handed Class. With Jeremy Waitt as co-skipper, Jangada Too was up against a 22 strong fleet containing many proven race winners in past RORC and Transatlantic races. "A very tough race, I doubt whether either of us got more than two hours sleep," admitted Palmer. "The wind was so fickle that we were constantly raising and dropping the spinnaker and we didn't use the autopilot at all. The race was very stop-start and required a huge amount of mental concentration to work out the ever-changing scenario, especially with regards to the tide. It is great to get our first win of the series."
The runner up in the Two-Handed Class was Bernie Bingham's Rogers 30 Brightwork. A terrific battle for third place was won by Rob Craigie's J/122 JBelllino, by just seven seconds on corrected time from Simon Mitchell's Sunfast 3200 Roxanne. Racing in the Two-Handed class was incredibly close with less than an hour, after time correction, separating second place from 10th.
The Class40 division produced a photo-finish: after 230 miles of racing Yvon Berrehar and Stephan Theissing, racing Al Bucq, were just 32 seconds ahead of Emma Creighton and Dan Dytch's Momentum Ocean Racing.
In IRC Four this was the first RORC race of the season for Jean Yves Chateau's one time Rolex Fastnet Race winning Nicholson 33, Iromiguy, and the French crew won class ahead of Christophe Affolter's French Sigma 33, 4 Déci. Noel Racine's JPK 10.10 Foggy Dew was third. The podium finish was just enough to put Foggy Dew at the top of the leaderboard in IRC Four for the RORC Season's Points Championship.
The Championship continues on Friday 14 June with the De Guingand Bowl Race from Cowes to Guernsey.
More photos from Rick Tomlinson/www.rick-tomlinson.com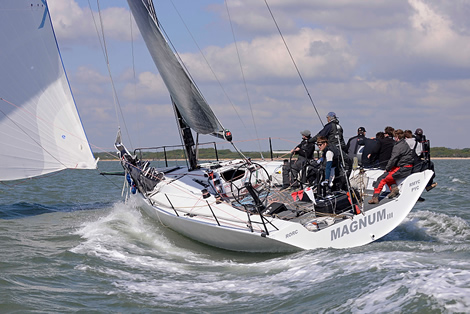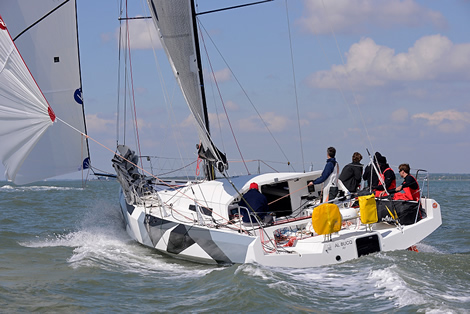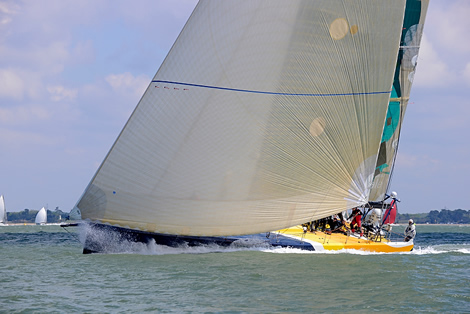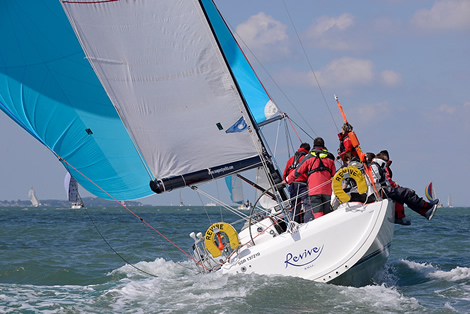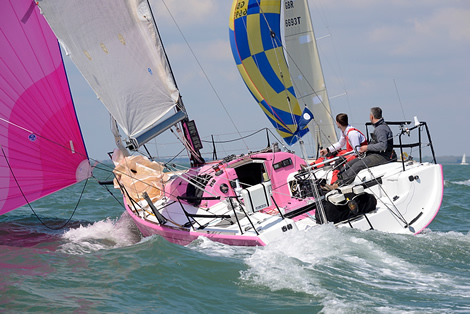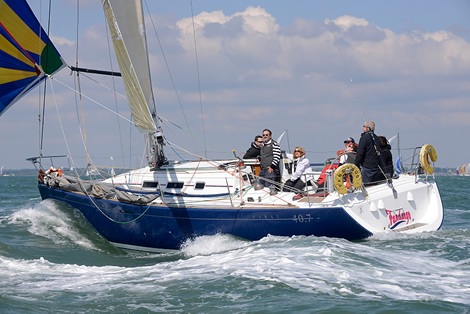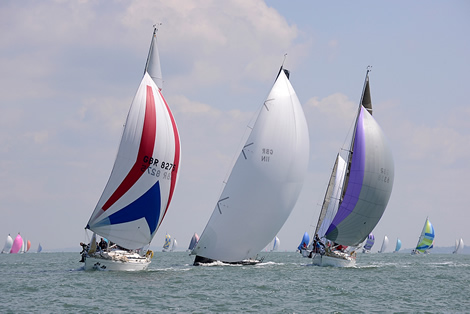 Back to top
Back to top