Victory for Morgan Lagraviere
Morgan Lagravière, skipper of Vendee crossed the finish line off Les Sables d'Olonne at 19:48 UTC to claim first place in the Figaro's singlehanded Solo Arrimer race.
The French former Olympic 49er sailor covered the 305 mile course in 1 day 9 hours 40 minutes and 43 seconds at an average speed of 9.06 knots. He finished 13 minutes ahead of Thierry Chabagny on Gedimat while last year's Solitaire du Figaro winner Yann Eliès on Groupe Queguiner Leucémie Espoir claimed third place.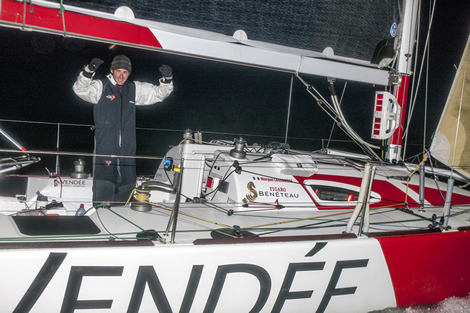 Among the Brits bragging rights will certainly go to Sam Goodchild racing Shelter Box, who came home 11th in the 26 boat fleet, two places ahead of two time Vendee Globe winner Michel Desjoyeaux, in his first race since making his return to the Figaro class this season.
Among the Artemis Offshore Academy sailors, Jack Bouttell was first home at around 22:30 BST, in 16th place but significantly claiming first in the Rookie class and rank 16th overall. Topping the Rookie podium is a great achievement for 22-year-old Bouttell, this being only his second singlehanded offshore race in his career.
"It was an interesting race, we had a lot of wind last night with around 30-40 knots and it was very wet," said Bouttell. "Everything I think I own is now wet! I didn't have the best start, but once I got myself into an alright position, I just got my head down and sailed as fast as I could until the finish. The highlights of the race were finishing, of course, and being a handed a bottle of Pol Roger champagne at the finish - it was the first time I have popped a cork! In terms of the sailing, it was probably launching the boat and sailing downwind over the big Bay of Biscay waves in 30-40 knots of wind on the way back from Belle Ile. That was pretty intense."
Just behind Bouttell, Henry Bomby and Nick Cherry finished the race in 18th and 19th with 18 minutes between them. The next Artemis Figaro over the line was Ed Hill, finishing 20th overall and stepping onto the Rookie podium behind Bouttell after 35 hours, 33 minutes and 35 seconds of racing. Third Rookie on the podium is Irish Figaro sailor David Kenefick.
The prizegiving takes place this evening, before the Artemis Offshore Academy sailors set sail almost straight away for Concarneau to prepare for the third and final race in the calendar, the Solo Concarneau on 6 May, before June's Solitaire du Figaro.

"I'm of the vein that we don't waste time sitting around after a race finishes," stated event coach Marcus Hutchinson. "Setting off straight away for the next port after a couple of days racing and just one night in a bed, will help prepare the skippers for the Solitaire come June, with its 1938nm and four short stop overs."
Solo Arrimer overall results
Position/Skipper (Boat name) Time at sea
1. Morgan Lagravière (Vendée) - 1 day 9hours 40min 43sec
2 .Thierry Chabagny (Gedimat) - 1 day 9hours 53min 45sec
3. Yann Elies (Group Queguiner Leukemia Hope) - 1 day 9hours 55min 14sec
4. Nicolas Lunven (Generali) - 1 day 10 hours 38sec
5. Jeremiah Beyou (Master Chef) - 1 day 10hours 02min
6. Xavier Macaire (Skipper Hérault) - 1 day 10hours 4min 40sec
7. Armel Le Cléac'h (Banque Populaire) - 1 day 10hours 19min 5sec
8. Frédéric Duthil (Sepalumic) - 1 day 10hours 26min 56sec
9. Alexis Loison (Group Fiva) - 1 day 10hours 27min 25sec
10. Jean-Pierre Nicol (Bernard Controls) - 1 day 10hours 27min 27sec
11. Sam Goodchild (Shelter Box) - 1 day 10hours 30min 45sec
12. Meilhat Paul (Macif) - 1 day 10hours 35min 50sec
13. Michel Desjoyeaux (TBS) - 1 day 10hours 41min 07sec
14. Julien Villion (Seixo Habitat) - 1 day 10hours 42min 6sec
15. Frédéric Rivet (DFDS Seaways) - 1 day 10hours 48min 48sec
16. Jackson Bouttell (Artemis 77) - 1 day 10hours 50min 31sec
17. Matthew Girolet (Lafont Presse) - 1 day 10hours 51min 35sec
18. Henry Bomby (Zhik - Made for Water ) - 1 day 10hours 57min 23sec
19. Nicholas Cherry (Artemis 23) - 1 day 11hours 14min 29sec
20. Ed Hill (Artemis 37) - 1 day 11hours 33min 35sec
21. David Kenefick (Full Irish) - 1 day 11hours 48min 26sec
22. Claire Pruvost (Port de Caen Ouistream) - 1 day 12hours 36min 35sec
23. Joan Ahrweiller ( Basse Normandie) - 1 day 12hours 38min 24sec and
24. Yannig Livory (Thermacote France) - 1 day 12hours 43min 19sec and
25. Gilles Le Baud (Carnac Thalasso & Spa) - 1 day 13hours 49 min 53 sec
26. Benoit Hochart (Aquarius) - 1 day 13hours 55min 55 sec
Back to top
Back to top