22 boats for the Normandy Channel Race
14 April will see the start of the fourth Normandy Channel Race. Over 20 Class 40 crews are expected in Caen for the start of this 1,000 mile race on a course will take them across to the Solent, down the southern coast of England, across Ireland and acrounss the Fastnet before returning to the Normandy shore.
In the space of four years, the Normandy Channel Race has become a classic in French offshore racing for the Class 40s.
The fourth edition is returning to its usual April slot, where it will open the Class 40 racing calendar while serving as a qualifier for the Transat Jacques Vabre.
There are currently a record 23 entries for this year's race, including Sébastien Rogues, Thomas Ruyant, Bruno Jourdren, Ned Collier Wakefield, Armel Tripon, Fabrice Amedeo, Halvard Mabire, Jorg Riechers, Pierre Brasseur, Louis Duc, Nicolas Jossier, Boris Herrmann and Stéphanie Alran.
In last year's race the British crew of Concise, Ned Collier-Wakefield and Sam Goodchild, led the fleet home ahead of Anglo-French duo, Miranda Merron and Halvard Mabire, the latest victory following in the footsteps of the likes of Thomas Ruyant/Tanguy Leglatin and Tanguy de Lamotte/Sébastien Audigane.
The Normandy Channel Race gathers inland in Caen over 11-14 April before the boat make a parade up the canal towards Ouistreham for the start.
Entries:
| | | | | | | |
| --- | --- | --- | --- | --- | --- | --- |
| Boat | No | Type | Skipper | Nat | Co-skipper | Nat2 |
| | 23 | Akilaria RC1 | Phillippa Hutton-Squire | RSA | | |
| PARTOUCHE | 113 | Pogo 40 s | Christophe Coatnoan | FRA | TBA | |
| GROUPE PICOTY | 85 | Pogo 40 s | Jean- Christophe Caso | FRA | Aymeric Chappellier | FRA |
| PHOENIX | 65 | Akilaria mk 2 (proto) | Louis Duc | FRA | Stéphanie Alran | FRA |
| GEODIS | 81 | Akilaria RC2 | Fabrice Amedeo | FRA | Armel Tripon | FRA |
| A DEFINIR | 107 | Kiwi 40 | Nicolas Jossier | FRA | Alexandre Toulorge | FRA |
| KOGANE | 91 | JPK40 | Patrice Bougard | FRA | Gilles Dadou | FRA |
| OBPORTUS3 | 60 | JPK40 | Olivier Roussey | FRA | Philippe Burger | FRA |
| RED | 59 | Rogers | Mathias Blumencron | GER | Boris Herrmann | GER |
| TBD | 102 | Kiwi 40 | Piers Tyler | NZL | James Stableford | GBR |
| JASMINE FLYER | 112 | Akilaria RC2 | Thibault Reinhart | FRA/SUI | Nicolas Boidévezi | FRA |
| MOMENTUM OCEAN RACING | 93 | Akilaria RC2 | Dan Dytch | GBR | Emma Creighton | USA |
| SOLO | 36 | Express 40 | Rune Aasberg | NOR | Simen Løvgren | NOR |
| AL BUCQ | 124 | Akilaria RC3 | Brieuc Maisonneuve | FRA | Ned Collier Wakefield | GBR |
| LA BELLE EQUIPE 2 | 55 | Tyker 40 Evo | Bruno Rzetelny | FRA | Vincent Duguay | FRA |
| MARE | 115 | Mach 40 | Jörg riechers | GER | Pierre Brasseur | FRA |
| LORD JIMINY | 119 | Tyker 40 Evo 3 | Jourdren Bruno | FRA | Thomas Ruyant | FRA |
| MR BRICOLAGE | 109 | Pogo 40 s | Damien Rousseau | FRA | Benjamin Develay | FRA |
| TBC | 68 | Pogo 40 s | Pierre-Yves Lautrou | FRA | TBC | FRA |
| SWISH | 52 | Rogers | Roderick Knowles | GBR | Paul Peggs | GBR |
| EÄRWEN | 88 | Tyker 40 Evo | Catherine Pourre | FRA | Goulven Royer | FRA |
| GDF SUEZ | 130 | Mach 40 | Sebastien Rogues | FRA | Sebastien Rogues | FRA |
| CAMPAGNE DE FRANCE | 101 | Pogo 40 s | Mabire Halvard | FRA | Miranda Merron | GBR |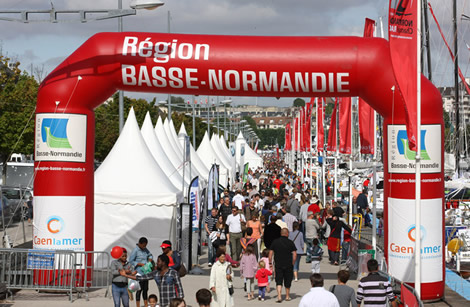 Back to top
Back to top