Solitaire du Figaro course finalised
Wednesday February 13th 2013, Author:
James Boyd
, Location: none selected
The course of the 44th Solitaire du Figaro - Eric Bompard Cachemire has been unveiled.
In addition to the French cities of Bordeaux, Dieppe and Roscoff, Pen Duick, organiser of the event, have now unveiled the final stopovers of this year's Solitaire du Figaro - Eric Bompard Cachemire.
For the first time in the history of La Solitaire, the race will visit Portugal. Porto will be the first stopover port at the end of leg one. The fleet will then sail to the Spanish city of Gijón on leg two. It will be the 13th time the race has visited Gijón. Leg three will take the Figaros back across the Bay of Biscay to Roscoff, before the concluding leg up the English Channel to Dieppe.
Race Director Gilles Chiorri notes: "The first leg is the longest of the four and one of the main difficulties will arise from sailing the first 26 miles out of the Gironde estuary, in a strong neap tide, while avoidoing going aground on sandbars and other obstacles. We will start at low tide to ensure maximum safety."
Competitors then cross the Bay of Biscay, east to west before having to tackle Cape Finisterre, the northwestern tip of Spain. "We know that the wind and currents can be very strong along the coasts of Spain and Portugal and the last few miles in these conditions will certainly be very demanding," continues Chiorri. "Finally, a last point, this first leg cannot be shortened. It will go to Porto." ETA into the Portugese stopover is 5 June.
After a few days of rest, the fleet will set off on 8 June for the 452 mile long passage to Gijon, where they are expected to arrive on around 11 June and as usual the boats will be berthed in the heart of the city, in the old port.
While the second leg is the shortest, it is also perhaps the most tricky. "There are two possible route to the second leg - the first is the direct route, around 298 miles, while the second is 452 miles if we go via ODAS Nord Gascogne buoy."
44th Solitaire du Figaro - 24 May to 26 June 2013
Total distance: 1938 miles
Leg 1: Bordeaux - Porto
Departure on 02/06/2013 - 13h
Distance: 536 miles
ETA: June 5, 2013
Leg 2: Porto - Gijón
Departure on 08/06/2013
Distance: 452 miles
ETA: June 11, 2013
Leg 3: Gijón - Roscoff
Departure on 13/06/2013
Distance: 436 miles
ETA: June 16, 2013
Leg 4: Roscoff - Dieppe
Departure on 20/06/2013
Distance: 514 miles
ETA: June 23, 2013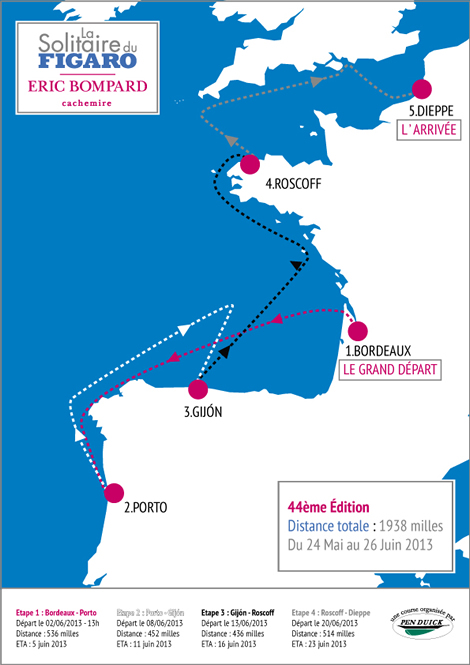 Back to top
Back to top