Solo sailing's latest star
With MACIF's Vendee Globe win, so the shorthanded offshore sailing world has its latest hero in a blonde haired 29 year old, Francois Gabart.
Gabart, heralds from Saint Michel d'Entraygues in the Charente region, in land from La Rochelle and is the youngest of three children, his parents Dominique and Catherine, a dentist and a magistrate respectively.
The young Gabart showed a strong competitive streak on the water from an early age, winning the French Optimist Nationals aged 13, then the Moth National Champion two years later, before jumping into the Olympic Tornado catamaran. In the Tornado he was junior World Champion in 2004 and while studying for his degree in Engineering at INSA in Lyon in 2007, he was also training for an Olympic campaign in the catamaran.
Gabart's first pro sailing job was racing with Antoine Koch with the young crew aboard the ORMA 60 trimaran Sopra Groupe in the 2006 Round Europe Race from London to Nice. That same year he made his debut in the Figaro class, finishing second with Laurent Pellecuer in the 2007 Cap Istanbul race.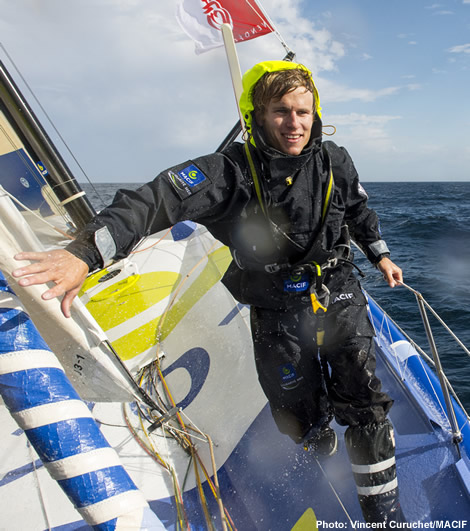 2008 was a significant year for Gabart winning the Challenge Espoir Région Bretagne, a scheme similar to the Artemis Offshore Academy scholarship. It's past winners have included Franck Cammas, Yann Eliès, Sébastien Josse, Armel Le Cleac'h, among others luminaries of the French shorthanded offshore racing scene. During this time Gabart also gained his first IMOCA 60 sailing experience with Groupe Bel skipper Kito de Pavant, the two competing in the 2009 Transat Jacques Vabre in which they finished second.
The insurance company MACIF, the largest vehicle insurer in France, also runs a competition to gain a Figaro sponsorship, aimed at more accomplished Figaro sailors and for the 2010 season, Gabart was able to continue his Figaro campaign having won this. 2010 was his most successful season in the Figaro class, finishing second in the all-important Solitaire (ironically behind Armel le Cleac'h) but winning the Figaro season championship overall. This was also the same year that Gabart began to work on his Vendee Globe campaign.
Initially Gabart approached Michel Desjoyeaux to get the blessing for his campaign, and after Desjoyeaux first told him he was too young and that he should gain more experience first, the double Vendee Globe winner relinquished. Gabart meanwhile had approached his sponsor MACIF and between the three parties an agreement was reached for MACIF to back Gabart's Vendee Globe campaign, run by Mer Agitée, signed during Paris Boat Show in December 2010.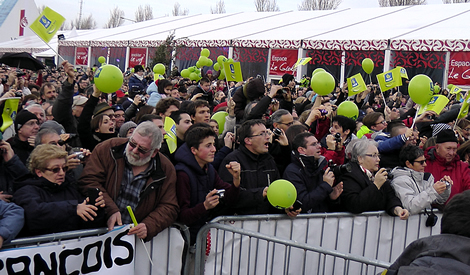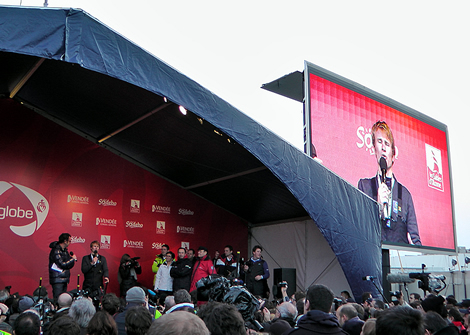 The deal, worth 8 million Euros, was spread over four years, and culminates in the 2014 Route du Rhum. Just a few days after the signing Gabart and Desjoyeaux set off in the Barcelona World Race aboard the latter's then new IMOCA 60 Foncia (now Banque Populaire) as the team back at Mer Agitée set about conceiving the new 60 MACIF, using Foncia's hull moulds.
According to Jean-Paul Roux, who works for Mer Agitée, but is Team Manager of the MACIF IMOCA 60 campaign, Gabart is thoroughly 'an engineer'. "We joke about him at Mer Agitée because whenever we say something to him, he takes his computer and he puts everything into an Excel spreadsheet. That's his way of organising everything." The best example of this behaviour is a little grid of boxes drawn on to the inside of MACIF's cockpit bulkhead. These have been crossed out, indicating that Gabart has remembered to brush his teeth every day. "For his food it is the same," advises Roux.
Very much of the modern day Figaro school and in particular Port la Foret's elite Pol Atlantique training centre, Gabart is fully an athlete. After the numerous training sessions, he would subsequently go out on his kayak to work up a sweat.
Unlike Desjoyeaux and Vincent Riou, the substantially younger Gabart is more of the internet generation and as he amply demonstrated during the Vendee Globe, is a natural communicator.
Working with Mer Agitée certainly helped Gabart's campaign on many levels. Their involvement almost certainly oiled the wheels when it came to MACIF initially agreeing to the sponsorship. And in Vendee Globe terms there is no more successful boat management company, having been behind Desjoyeaux's victories in 2000 and 2008 as well as Vincent Riou's with PRB in 2004. In addition to this Mer Agitée also worked with Seb Josse on his successful VMI campaign in 2004-5 and of course originally built Banque Populaire that came home second in this Vendee Globe.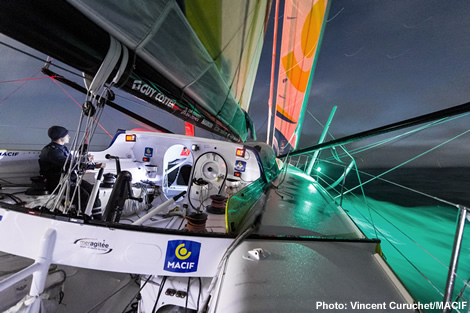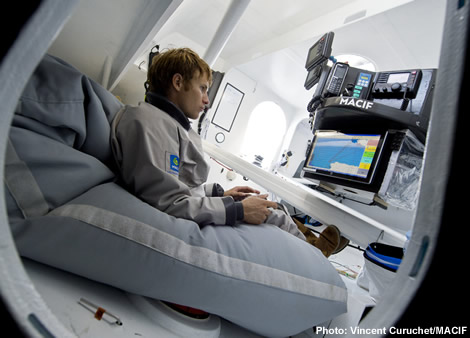 However while Desjoyeaux has certainly been instrumental in Gabart's rapid growth as an IMOCA 60 sailor, in fact he was not so hands on as we have been led to believe as during Gabart's training period with MACIF, he was occupied developing and campaigning the new Foncia MOD70 trimaran.
Roux says that the involvement of CDK Composites, the boatyard in Port la Foret, run for many years by Desjoyeaux's elder brother Hubert and which put together MACIF after her build by Green Marine, was also a vital ingredient to her success. "For us it is easier to work with a shipyard that is 100m from us than to build in New Zealand or China. We are used to working together so I think that is part of the success of the project - for Michel it is very important. They have built a lot of Michel's boats, multihulls, etc and it is essential for us to be confident in their technology and HDS' engineering."
Given Mer Agitée's track record and the lessons learn, it is perhaps not so surprising that MACIF came through all 78 days of racing in the Vendee Globe practically unscathed. "With all of the boats we've done, the breaking list has been getting smaller and smaller," says Roux. "But we were also lucky because we don't have problems with whales and we didn't hit anything in the sea. That is why the list of breakage isn't long."
Roux adds: "Francois read everything he could [about competing in the Vendee Globe]. When Michel arrived back from winning the [2008-9] Vendee Globe we gave to the press the list of breakages on Foncia. I think that became Francois' regular bedside reading!"
With Roux overseeing the project, also recruited to the MACIF team were a number of experienced, but relatively young individuals from other campaigns.
One of the key appointments was Technical Manager, Antoine Gautier, who previously worked as part of the in-house design team for Banque Populaire during the development of their maxi-tri. MACIF's boat captain is Sebastien Gladu, who was with Jeremie Beyou for the last Vendee Globe and then with Foncia for the Barcelona World Race. Clement Rive, who handled the electronics, electrics and charging side, was with Desjoyeaux's 2008 Vendee Globe winning Foncia campaign while Jimmy Le Baut, who came from the MACIF Figaro campaign, was responsible for the safety equipment on board. For the six months leading up to the campaign they were joined by a 23 year old engineer Guillaume Combescure, who concentrated on the performance analysis. Co-ordinating the team with Jean-Paul Roux was Tiphaine Champon.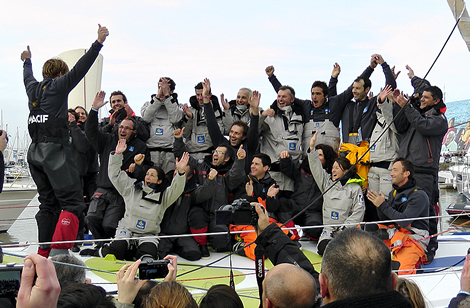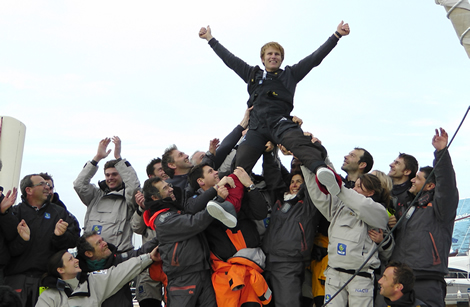 And what of the man himself? When we hooked up with Gabart this afternoon he seemed to be firing on all cylinders. He hadn't lost weight during the race nor had he broken anything. Even his hands didn't have that calloused reptilian quality normally associated with offshore sailors. "I used up so much energy on this race that I am on very low battery right now," he admitted, as eloquent as ever. "I am still okay – I can still walk and talk with people because of the adrenalin, but I think when everything quietens down a little bit..."
While this is his first Vendee Globe (and given he's 29, probably not his last) Gabart reckons it could take months before he recovers fully. "When you run marathons it is the same - you run two or three marathons a year, not more because each time you need two, three, four months to get back into good shape. If a marathon is two hours for the best guys, we are doing 78 days, so maybe we need one or two years. Maybe we never recover from this?"
He reckons the most fatigued he got during the race was at the end of the Pacific and that was less due to being forced to remain alert because of the threat of running into ice, than the non-stop competition with Banque Populaire and her skipper Armel le Cleac'h. "It was a very very tough time. It was difficult conditions and the boat was going fast, fast, fast all the time without a break."
When he was at his lowest, Gabart says he would sleep for two to a maximum of four hours to recharge his own batteries.
Aside from the issue on day five when his engine got drowned in salt water and he had to separate out the salt water from the oil, Gabart confirmed that the gennaker lashing that broke five or six times during the race was his biggest issue, each time taking around an hour to fix. Otherwise smaller breakages were almost a daily occurrence. "The only thing was it didn't all happen at the same time which might have been enough to make me stop my race."
During the Vendee Globe Gabart says he steered very little, perhaps just a few hours during the whole race. "There is no point, because it [the autopilot] is faster. There were maybe times when I was in the cockpit for two or three hours and I would be trimming or changing the sails to make the boat as fast as possible and I took the helm to see if the trim was right whether it was balanced or not."
The pilot (B&G) was able to steer the boat in virtually all conditions save for times in the Doldrums when he had to negotiate around big clouds and there were sudden giant gusts or when he had to sail very deep, when he says he was better than the pilot. And he admits occasionally he would helm just for fun.
During the race he says MACIF experienced all manner of knock downs and broaches, round-ups, Chinese gybes, etc. None resulted in any serious damage. "You cannot sail around the world without that. Even on the last night I had something wrong with the electronics on the [masthead] wand [amenometer], and I was under pilot set to TWA and it just went out and I did a 360..."
The lack of damage on MACIF when she returned to Les Sables d'Olonnne on Sunday was impressive and Gabart echoes the thoughts of his team and Roux that this was certainly due to the experience within the team and the lessons learned from Mer Agitée's past three winning Vendee Globe campaigns. "That 15 years of experience makes a boat that is ultimately much more reliable than they were 10 years ago. But we are going faster, so it doesn't mean that we didn't break anything but I think we have reached a new level."
This lack of downtime is one reason Gabart reckons why they got around the world so quickly this time. Plus he and the group of IMOCA teams in Port la Foret put in an unprecedented amount of training over the course of the two year build-up to the Vendee Globe and during this they had broken most things that were likely to break. "When we went to Barcelona before the Warm-Up, we [MACIF and Banque Populaire] did 2000 miles and we learned a lot from this and we were the only boats that did that. We broke a lot of things during all that time but it makes a boat that is ready for this tough competition." Before the start of the Vendee Globe, Gabart reckons he and MACIF had sailed around 22,000 miles together.
Gabart said that during the race he would speak to his family, including his eight month old son once a week, but was in regular email contact with them. Did he communicate with le Cleac'h? "A little bit but not so much. We sent a few emails."
However he and le Cleac'h are firm friends ashore. "We did all this preparation together, so we were together all the time and my girlfriend was with his wife two days before the arrival. They had tea together at home, when we were in competition! We are friends and that makes the race fun, because we were in this tough competition and we didn't give anything to one another one and I respect Armel so much and I know he respects me the same. That makes for a good spirit in the race – a good vibe between us."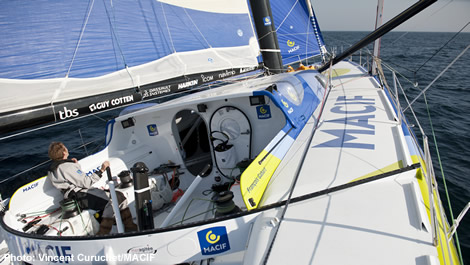 All the same, Gabart is convinced MACIF is faster than Banque Populaire. "I am proud of that because it is part of the job we did with the team before. But I think we did a little better job in the preparation than them. Ours was also an evolution of their boat and of course we learned a lot from the first boat, so when we launched the boat it was a little bit better. And then we changed things over the winter that they didn't do, like the water ballast configuration. We had another technology on the keel [ie its steel not carbon] and the sails were a little bit different. I think all that made the boat a little bit faster."
Looking ahead Gabart, as mentioned, has two more years to go in his sponsorship with MACIF and this will include the Transat Jacques Vabre this autumn and the Route du Rhum in 2014. He says he has no intention of getting back into the Figaro this year.
"I've learned a lot about managing an IMOCA class boat and I really want to sail on the IMOCA circuit for another two years to reach a good level, but I can improve still more. I am in a good position. The two next big races, the TJV and the Route du Rhum are very important and I think I can do something good, so I will just focus on them."
However looking ahead the front end of the IMOCA 60 fleet will be changing with Armel le Cleac'h moving to three hulls set to campaign the former Groupama maxi-trimaran singlehanded in next year's Route du Rhum. Meanwhile Banque Populaire's IMOCA 60 is believed to have been sold to Jeremie Beyou to become the new Maitre CoQ.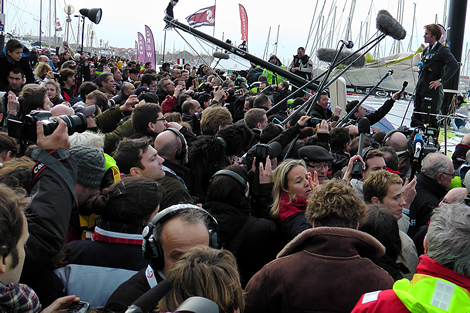 Back to top
Back to top