Why MACIF won the Vendee Globe
Tuesday January 29th 2013, Author:
James Boyd
, Location: none selected
We admit Francois Gabart was not thedailysail's pre-race favourite for the Vendee Globe win. In MACIF he certainly had state of the art hardware, being a latest generation VPLP-Verdier design, complete with considerable input from two time Vendee Globe winner Michel Desjoyeaux. However the 29 year old was the second youngest skipper in the race (and ultimately would become the Vendee Globe's youngest ever winner). Compared to his rivals, such as Armel le Cleac'h, who finished second in the last race, Vincent Riou who won in 2004-5, or the likes of Jean-Pierre Dick, Mike Golding or Jean le Cam - Gabart, a Vendee Globe rookie, had the least experience.
In addition to boat speed and the skill and experience of the skipper, the Vendee Globe is constantly a battle against attrition and the weather. While outbound at the Equator six boats were in contact with the leader (at this point, Armel le Cleac'h on our race favourite, Banque Populaire), by the time they were passing the Cape of Good Hope, this was down to four with Alex Thomson on Hugo Boss dropping behind and PRB dropping out following a collision with a stray buoy. At this stage MACIF had pulled into the lead and spent the remainder of the Southern Ocean match racing with Banque Populaire, the two boats swapping the lead on a seemingly daily basis, doing a horizon job on the chasing pack as they escaped an area of high pressure to the southwest of Australia.
The significant moment occurred just after the two boats had passed Cape Horn when MACIF was leading Banque Populaire by 30 miles and was in the Strait of Le Maire. As Banque Populaire skipper Armel Le Cleac'h recounted: "I managed to catch up a little bit. At one point I was just 10 miles behind Francois, according to my AIS. We were downwind and gybing. I had the big genniker up and at one point in the night the sea was large and the lashing for the genniker broke. So the sail ran up the cable in 25 knots and it was impossible to furl. So I had to find some way to bring the foot back down and relash it. It took me a good couple of hours to get that sorted out, and during that time Francois took off. As a result I got caught up in the high pressure system and that accounted for a little bit of a gap which grew going up the Atlantic..."
Banque Populaire did manage to close crossing the Equator but from there on MACIF was regularly 100 miles ahead, a situation which remained all the way to the finish, MACIF slowing slightly on the approach to the finish line with Banque Populaire arriving just 3 hours 17 minutes later – the closest finish between the two lead boats in Vendee Globe history.
Compared to Foncia in the last race, when there were a catalogue of issues on board by the time she finished (read the article here - sorry, some of the pics aren't working), MACIF looked a little bit weather beaten, but arrived in Les Sables d'Olonne on Sunday virtually unscathed.
While Gabart never mentioned any problems during the race, only on his arrival did the few issues he experienced during the race finally emerge.
One problem that could have ended MACIF's race just five or six days in was when her engine became flooded with sea water. The sea water and engine oil mixed to form 'a mayonnaise'. As MACIF's Technical Manager Antoine Gautier explains: "Francois had to remove all the oil and then tried to remove the water from the oil." How they managed this Gautier won't divulge (if you have any thoughts, please share them below), but he says that back in their base in Port la Foret they tried experimenting with very good results which they then conveyed to their skipper. Once Gabart had separated the salt water out of the oil, he replaced the oil in the motor, topping up with the spare litre he was carrying on board. And, et voila, it worked.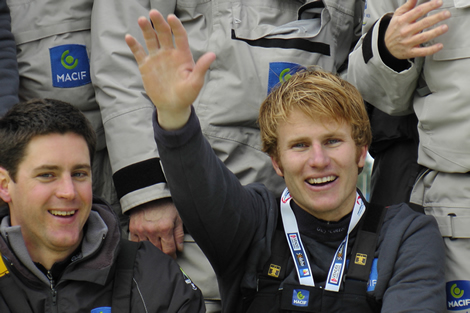 Antoine Gautier (left) with Francois Gabart
While several teams relied on their Watt&Sea hydrogenerators (often with disastrous consequences, the mountings frequently breaking), MACIF only used them as a back-up and was relying on her engine for generating power. As Gautier states if they hadn't found a solution: "With this problem just six days into the race - it would have been pretty tough to continue."
After this Gabart seemed invincible when it came to fixing any technical issues. As Gautier says: "Our biggest concern at the start of the race was whether Francois could manage everything technically but he did. We were really amazed by how well he dealt with the problems."
A reoccuring problem during the race was the Kevlar/polyester cover on the genniker tack line breaking. This happened four or five times, on each occasion forcing Gabart to climb out to the end of the bow sprit to reclaim the tack of the sail. This first happened around the time he was passing the first gate, then when he was south of New Zealand, again right before Cape Horn and later on his way to the finish.
"That was probably the biggest problem he had," says Gautier. "It's not very big, put its pretty time consuming and when you are changing the tack line he was not [sailing at] 100%."
Just before Cape Horn there was an additional problem with the bobstay running between the bottom of the stem to the end of the bowsprit. The fitting holding the lashing to the end of the bowsprit broke causing the lashing to shift aft causing the bobstay to go slack. There were several occasions coming back up the Atlantic when Gabart had to effect a running repair on this.
Impressively Gabart had almost no issues with his sails save for some small tears along the leech of the J2. Apart from going aloft to fix this, Gabart never had to go the mast head, a good an advertisement for Karver hooks as you could wish.
The only other issue was the rudder where the 8mm autoclaved carbon plate, the bracket holding in the inboard end of each rudder's kick up axle, delaminated as MACIF was passing south of Australia. Gabart attempted to make up a new one in 3mm carbon plate, but this didn't work and he ended up solving the issue by rotating the plates.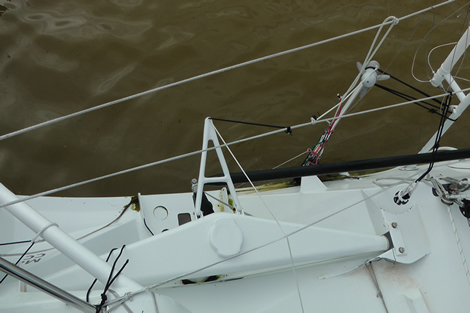 Sistership dust-up
The match race between Banque Populaire and MACIF was certainly an interesting one. Both boats are sisterships designed by the union between VPLP (Marc van Peteghem and Vincent Lauriot Prevost, best known for their multihulls) and Guillaume Verdier's office (Verdier himself now being one of Emirates Team New Zealand's designer). Their hulls were moulded at Green Marine and the boats put together by CDK Composites in Port la Foret.
In terms of the division of labour, VPLP typically ran the organisation of the design and drove the sail plan and deck arrangement and stability, while Verdier concentrated more on the hull shape and structure. HDS was also involved in the structural engineering of Banque Populaire (originally Michel Desjoyeaux's Foncia). According to Verdier, because they were under a tight time constraint to build Foncia, her hull below the waterline forward of the keel is in foam sandwich, with more longitudal structure, whereas on their other designs like Virbac Paprec 3 and PRB this area is in monolithic carbon fibre.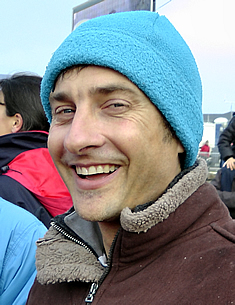 "All the boats we designed usually have a single skinned bottom with many ribs. We try to make it like a leaf, with a very thin structure with many frames, so that if it breaks it doesn't go very far," say Verdier. "It makes a lighter structure, but it is more difficult to build."
One significant difference between the two leaders is that while MACIF went around the world with a steel keel foil, to a similar design and construction (alarmingly) as that of Virbac Paprec 3, Banque Populaire went around with a carbon foil. Banque Populaire was originally fitted with a carbon foil, but ironically this was replaced with a steel foil for safety reasons until the team experienced some issues with it, causing them to revert back to a carbon foil last summer. Both the MACIF and Banque Populaire steel foils were built by Gelert Industries in Quimper.
Obviously two VPLP-Verdier designs have suffered broken keel issues in this Vendee Globe. On the first evening of the race Safran's titanium underwater masterpiece ('jewellry' as Mike Golding described it) snapped outside of the hull just below the rotation point. Since analysing this it has become quite apparent why this keel broke, says Guillaume Verdier: "There was a weld point that we could not see after construction that was the weak part. It was a conjunction of four or six mistakes that happened on that point – machining and then a butt joint that concentrated the loads which were higher than we expected – the machining was too thin and made a concentration point at the weld and we couldn't inspect that. We thought it was fine, but when we saw it afterwards we knew why it happened."
Virbac Paprec 3's keel is believed to have broken inside the boat, as Verdier adds, clearly most embarrassed by this incident: "JP said that there was only part of the keel left inside. He doesn't see much of the keel left... We don't know why it broke yet - it could be corrosion stress. It is the original keel made in New Zealand, so it has done 3.7x round the worlds now. We are very disappointed for Jean Pierre. It is very tough for him. It is not his fault."
Back to the lead duo and both MACIF and Banque Populaire have similar wingmast and deck spreader rigs (both at the IMOCA rule's new maximum mast height limit of 29m) – as have the past three Vendee Globe winners. Gautier describes why they went for this configuration: "A standard wing mast weighs 410kg today and a good spreader mast is 360kg. So there is 50kg difference, but in the 410kg you have the deck spreaders so the wingmast's centre of gravity is definitely lower. So you are just thinking of moment and in that case the wingmast is better."
The reliability of wingmasts is marginally worse than it is for conventional fixed masts, the statistics not helped by the dismasting of Sam Davies' Saveol in this race. Wingmasts are also trickier to set up and to get the right headstay tension. "But for what we need to do in terms of the Vendee or the transats, it is enough," says Gautier.
On MACIF they didn't make the transition to carbon rigging as some boats did, instead using Navtec PBO rods, but this is expected to come when they install their new mast this season. This already exists, built as a spare for the Vendee Globe, and Gautier says this is more optimised and lighter than their present one. Both masts were built by CDK.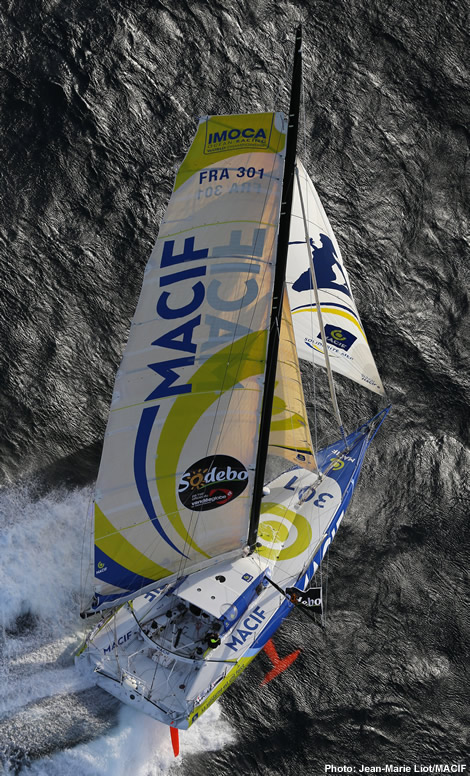 All-important sails
Upwind the boats have similar sails, although Banque Populaire has a larger J2, the stay attaching to the mast higher up. But off the breeze their sail wardrobes are quite different, with Banque Populaire's optimised for slightly lighter conditions, than the race winner.
"Because we don't have a Code 0, we made a huge J1 compared to them," says Gautier of MACIF's inventory compared to Banque Pop's. "We both have an A2 spinnaker and an A2.5, maybe the same design even. Then we have the same A7 which is the fractional genniker. Then there are two other sails. Banque Populaire has an A3 genniker and a Code 0."
MACIF's killer sail is known as the 'MDTK' (named after Michel Desjoyeaux). This is a small staysail-like fractional sail of around 90sqm that tacks on to the bow (although in the last Vendee Globe Foncia's downhill sails were all masthead). Two of her other sails (the A7 and another flatter sail) are also fractional, but tack to the end of the bowsprit, giving them a very low centre of effort.
According to Gautier, Banque Populaire's A3 is very efficient at 110-130 TWA, which he reckons is MACIF's weakest point. However further off the breeze he maintains that MACIF is stronger in all conditions. "We discovered that with the fractional sail you are sailing so much faster and easier than with the big sails up."
Interestingly Verdier says that the MDTK looks horrible in the VPP. "Aerodynamically it is not an interesting sail to have. They are not efficient on paper, but terribly efficient singlehanded. In the Indian Ocean when you have big waves it is a good option."
Of significance this time was that of the 20 starters, 15 had sails from North France and of these, 11 were 3Di. On MACIF they used Kevlar (rather than carbon) 3Di, while downwind sails were in Cuben. "It is cheaper and it is good enough for solo sailing I would say," says Gautier of why they didn't go for carbon 3Di, as was used on Cheminees Poujoulat and Gamesa for example. "Maybe next year we'll get a carbon J1 or something like that."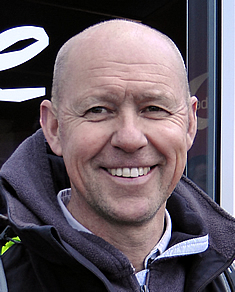 3Di wasn't used in the last Vendee Globe, Virbac Paprec 3 later pioneering its use in the subsequent Barcelona World Race. According to North Sails France boss Bruno Dubois (left), the boats that went to 3Di typically didn't make lighter, instead making them stronger which perhaps explains the surprisingly small amount of sail damage that both of the leading boats experienced.
However one side effect of moving to 3Di was that the substantially stiffer sails were taking their toll on the deck hardware.
As to why MACIF beat Banque Populaire, Antoine Gautier reckons that Armel le Cleac'h boat was the better prepared, but they spent more time developing MACIF's performance, particularly her sail wardrobe (already mentioned) and her water ballast configuration.
Banque Populaire has five water ballast tanks each side, while MACIF has four. On MACIF there are two ballast tanks forward, one in the middle and the fourth aft. Banque Populaire has an extra tank mounted in the compartment for her canting keel. The ballast tanks typically follow the waterplane of the boat with the aim of being 'neutral' as the boat is tested with for the '10deg' rule (the boat at rest must heel no more than 10deg with all movable ballast deployed). So the mid-tank is wider than the forward and aft tanks - although the aft tank, does extend further outboard.
While some skippers such as Mike Golding have said they are using their forward ballast less and less, the latest generation IMOCA 60s are typically fuller around the bow and need to bring water ballast on forward to help them blast through waves.
Compared to some of the other designs, Guillaume Verdier observes, they attempted to keep the water ballast as low as possible.
"Our ballast configuration is very different," says Gautier, without getting too specific of how it compares to Banque Pop's. "We optimised it a lot last year and I think that is what gave us a small edge. I know that Francois was really comfortable with this boat, especially reaching, compared to Banque Populaire." Apparently the mods MACIF made to her water ballast allowed them to increase the cant angle of the keel, but Gautier won't divulge by how much.
Alongside their sail inventories, water ballast configuration was an area which most of the top teams spent much time optimising prior to this Vendee Globe.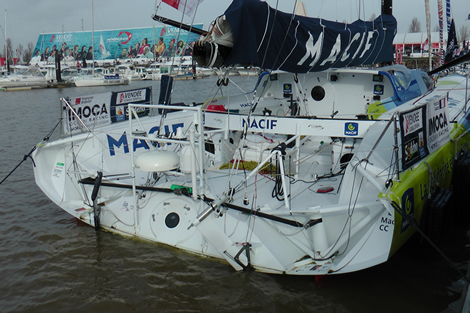 Not breaking
While the race leaders didn't see overly terrible conditions, a lot of their reliability in this race stemmed from the skippers giving their boats a sound thrashing during their training and races before the start. This threw up a number of issues particularly with Banque Populaire, when during the summer of 2011 she developed an alarming crack laterally across her deck down her topside, thanks to there being no bulkhead down below between the main bulkhead to half way back along the length of the cockpit. This was repaired and on MACIF the structure was modified from the outset when she was built.
Both boats and PRB suffered damaged during the Transat Jacques Vabre and/or the return Transat BtoB. On MACIF the bottom of one of the forward bulkheads delaminated due to slamming believed to have been cased by the added volume in the bows of the latest generation boats (similar to what was experienced by some boats in the last Volvo Ocean Race).
According to Guillaume Verdier on Banque Populaire they worked a lot last year on reinforcing the structure down below with carbon UD taping. "We decided to sacrifice around 100-150kg to make sure there would be no risk on little details, by making little cross frames on the longitudinal bulkheads for the water ballast tanks in case they broke - as happened in the TJV - to stabilise it in case of buckling and to prevent catastrophic failure. We made some stoppers and improved the continuity of the frames and the junctions of the bulkheads - we reinforced everywhere."
Tomorrow we speak to Francois Gabart and get the low down on solo offshore racing's latest star.
Back to top
Back to top