Stamm makes a pitstop
Sunday December 23rd 2012, Author:
James Boyd
, Location: none selected
Lying in fifth place in the Vendee Globe Bernard Stamm has stopped Cheminees Poujoulat in the Auckland Islands to the south of New Zealand in order to effect repairs to his hydro generators. He then intends to continue.
Interestingly this is the exact same issue as Alex Thomson has on Cheminees Poujoulat's rival, Hugo Boss, indicating that there are some vulnerabilities to the Watt&Sea transom-mounted units. This is a signficant problem for the skippers as in their pre-race preparation they have cut down on the amount of fuel they are carrying on the basis that they can rely on the hydrogenerators. With reduced power this limits the amount of electronics they have been able to use from communications, the ability to download weather information, but most importantly the long term use of the autopilot.
Stamm says he has had issues with his hydrogenerator since he was passing the Portugal coast several weeks ago. All the running repairs Stamm has attempted to make haven't held. Since then with the ability to charge his batteries reduced, so Stamm has been eating into his fuel reserves and is unable to charge Cheminees Poujoulat's batteries fully.
While he's moored Stamm is probably going to attempt to fix some of the other items on board such as the central winch column which broke two days ago.
Stamm stopped on the sheltered side of island late afternoon yesterday (UTC). After struggling to find a protected spot, Stamm is ended up moored in Sandy Bay, on the side of south of Enderby Island, to the northeast of the main Auckland island. This has offered him protection from the 25 knot northwest wind. He has reported sightings of whales and sea lions.
The islands represented the last possibility of shelter before Cape Horn, 4,000 miles away.
While the Vendee Globe prohibits physically 'outside assistance', Stamm is in contact with his shore team who are advising him on the best course of action to effect the repairs. The Swiss will no doubt be thinking about the last Vendee Globe when he attempted to put into the Kerguelen Islands in the Indian Ocean to effect repairs to his boat, only for his boat to be destroyed when it was washed on to the rocks.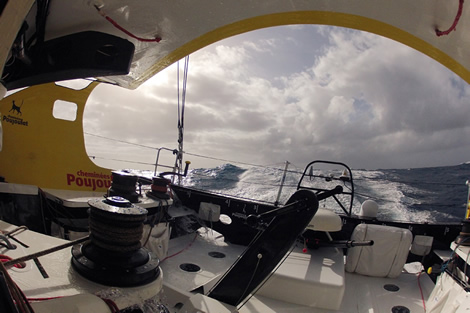 Back to top
Back to top