Brian Thompson on the Vendee Globe
Tuesday November 27th 2012, Author:
James Boyd
, Location: none selected
Getting bored of hearing ourselves drone on about the Vendee Globe, we thought we might get the view of Brian Thompson, who competed in the 2008-9 Vendee Globe, successfully singlehanding the giant Bahrain Team Pindar around the planet.
Thompson had hoped to compete in this Vendee Globe, but was unable to secure the necessary funding. However he says he is following it avidly and hopes to do the next race.
Of the latest split among the Vendee Globe leaders, with Armel le Cleac'h and Banque Populaire charging off to the southeast and the rest in the west, Thompson says he likes where Jean-Pierre Dick and Virbac Paprec 3 are (ie in the west). "To me it looks like Jean-Pierre is doing the classic 'get south' thing and the new northwesterlies are going to come in and he's clearly going to get into them first. Whereas Armel is heading for the ice gate directly and Francois Gabart has put some gybes in to get out.
"My gut feeling is that Jean-Pierre is going to come out ahead, but Armel is never going to do something stupid. He is my favourite and I'm sure he is doing a smart thing. If it wasn't Armel, I'd put my money on Virbac going south, hooking into that wind and then running along beneath them. I don't know how fast the front is going, if they can keep up with it... and there is always stronger wind to the south and once the guys are hooked into that they can keep going southeast."
"I think J-P [Dick] enjoys going to the south. On the last Vendee he was always pushing south the most."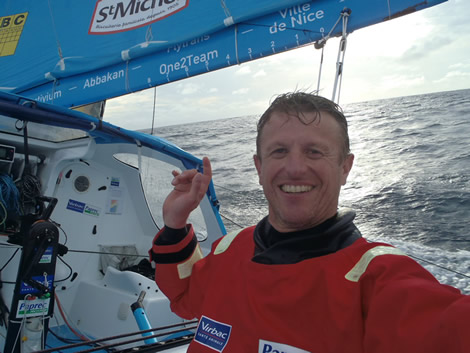 An exciting prospect is that because the frontrunners out to the west are having a hard time getting through this 'transitional' phase before they hook into the pre-frontal northwesterlies, it has provided an opportunity for the boats behind to play catch, resulting in a substantial compression in the fleet. "Going through the first ice gate, they could all be really close together," Thompson observes.
Big respect goes to Alex Thomson who has managed to hang on to the leaders coat tails throughout this. "It is really amazing," says Thompson. "And all the French commentators are being fair and saying he has done an amazing job to keep up with the newer boats. He has sailed a perfect course and not broken anything – that hydrogenerator wasn't his problem. If he gets south and just keeps going in a safe way, he'll be on the podium without a doubt. Not all of the other four boats are going to finish..."
Much commented upon is that the Hugo Boss skipper has 'matured' since the last Vendee Globe. Thompson believes that this may have been the influence of Alex Thomson Racing's MD Stuart Hosford. "Over the last two years Stuart has just kept going on about reliability and what is important to the program: To finish the Vendee. Before Alex didn't really have anyone else in the camp to temper him. It is also being older and married and having the kid. Every other race, even four years ago, it was 'I'm out here to win' and there wasn't anything about finishing. So therefore he didn't finish!"
Meanwhile Mike Golding on Gamesa is on a charge and while he might be in a lighter patch than the wily Jean le Cam out to the west, both boats have been eating into their deficit on Virbac-Paprec 3, now down to 200 miles on the water. "He has been gaining all the time and going fast," says Thompson. "I think there is all to play for in the south. You have the front 'peleton' but they could all merge into one with eight boats I guess now."
Obviously it was devastating to hear of the dismasting of Sam Davies' Saveol. "She was right in the middle of the low," says Thompson. "I think it must have been a secondary low on the front people had been going through earlier. Then she would have had the same thing that happened on the first night of the 2008 race when the wind went from southwest to northwest quickly and then she had to tack and head into the seas and jumped off a big wave and something failed."
So yet another wingmast failure? "Actually although I would have always picked a wingmast to do the Vendee up to now - it is easier to sail, you have got an overlapping headsail that is good for reaching and good for sheet leads - I've never thought it is very good for the class. Because of all the other things, like swing keels and daggerboards, have some relevance for other boats, but outriggers [deck spreaders] are never going to have relevance for other boats - so why have they persisted with them? I don't think anyone can say that one is quicker. Quite a few years ago they should have said 'no more wingmasts'."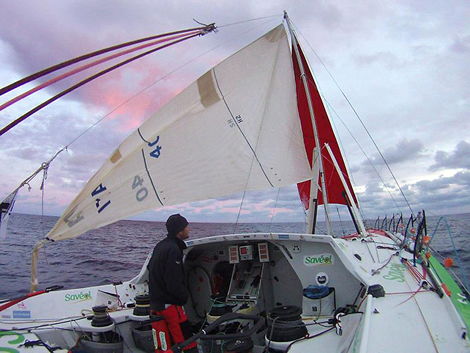 As to the attrition in this race, with already seven boats out of the running at this stage, Thompson does find this surprising. "The last time there were five boats out almost on the first day, but that was due to a big low and a big wind shift from the southwest to the northwest and everyone was pounding into that, reaching into big seas and their masts fell down. But relative to 2008 it has been quite benign weather this time.
"But there have been three collisions, which didn't happen last time. Had those not happened there'd be four boats out which you'd think would be about normal.
"The buoy thing was absolutely bizarre. But off that coast of Brazil, of all the bits around the world that is the bit with the most rubbish. I don't know if they throw a lot into the water there or if it is the currents that means everything in the South Atlantic ends up there.... It is not as if every 100m you see stuff, but you'll see two or three things a day, big plastic barrels and things like that... But that buoy might have been drifting for a year. That was a really bizarre one."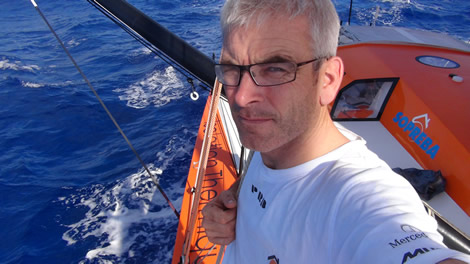 Still it is also unusual that in such a vast expanse of ocean that collisions should occur. The ones suffered by Kito de Pavant's Groupe Bel and Louis Burton's Bureau Vallee were both with fishing boats. "There seems to be a kind of magnetism," says Thompson. "You don't see a boat for days and then you are right on a collision course." Perhaps a marine version of Newton's Law of Gravitation?
"It is strange that they didn't hit ships, but they hit fishing boats, both of them," muses Thompson. "And Bureau Vallee was way out to sea - 400-500 miles – a very unusual place for a fishing boat."
In addition to maintaining a visual watch as best they can, IMOCA 60 skippers have electronic aids. In the past this has included active radar reflectors but typically today they use AIS (Automatic Identification System) and zone alarms on their radar. However it is left to the skipper as to when this equipment is turned on.
"Not all fishing boats have their AIS on," adds Thompson. "I think it is important that all the boats have really good AIS systems. It should be a rule that it is on all the time. They probably would have seen something every day up until now, but from now on they probably won't see another ship probably. But that first bit, that critical bit with all those ships down the Portugese coast..."
Thompson believes that IMOCA 60s should have their AIS on all the time. "It uses almost no battery and they should also test the range of the antenna, rather like they do the engine pull test. They should go out in a RIB and see how far you can see it. It should be around 10 miles. It was amazing on the MOD70s how on some boats AIS did not work even if you were 100m from them, while Foncia had a very good AIS and you could see it from 5-6 miles away. But even on those, the AIS transmitter should be on top of the mast, not somewhere on the backstay. Key to it is having a really good antenna so that people can see you."
Radar is also vital – but would it have picked up the substantial metal buoy PRB collided with? However compared with AIS, radar is power-hungry. "They do use quite a bit of power," admits Thompson. "Radar is good if you have enough power. You'd leave that on all the time as well but also it will tell you if a squall is coming. Some people, when they are low on power, obviously have to switch the radar off and often have to switch their computer off too. But most boats seem to leave their computer on a lot, maybe the screen goes to sleep. So you could easily have the right software so that it would send an alarm if anything comes up on AIS. That should be a mandatory system."
But as to whether or not having these aids on board makes skippers lazy in maintaining a visual watch in accordance with the ColRegs is an interesting point, says Thompson.
Boats were obliged to be fitted with AIS in the last Vendee Globe, but Thompson says he still maintained a look-out. "Less people had AIS then, but even if every single boat had it you'd still have to keep a look out for boats where the AIS wasn't working or their antenna was down. The seamanlike way is that you shouldn't look out any less. You should use every means possible to avoid a collision especially when you are shorthanded in a fast boat."
Thompson says that if he does the Vendee Globe again he'd like to use more alternative energy, in the same way as Javier Sanso's Acciona has in this race. "If I was on Acciona I'd have the radar on 100% of the time. They went one step further in having an electric drive which has cost them quite a bit of weight I think. But with solar panels, you hardly need any more batteries than people have now, maybe a few more as a buffer. Even in the Southern Ocean I was making a lot of electricity with my solar panels, which is something Javier was worried about. Even though it was cloudy there was enough UVA or UVB, whichever it is , so it was pretty effective.
"Maybe that is another rule. You have to have a certain amount of watts of solar panel that the boats needs to have and that's it, job done. That would be interesting because then people would be coming up with the most efficient system. I'd definitely have a lot of solar panels because they are 100% reliable, assuming you have the sun following you..."
As to how this Vendee Globe is going to pan out, Thompson reckons that there will be less than 10 finishers for sure (ie more than 50% of the fleet will retire). "We are one sixth into the race or something. There are lots of twists and turns to come I think."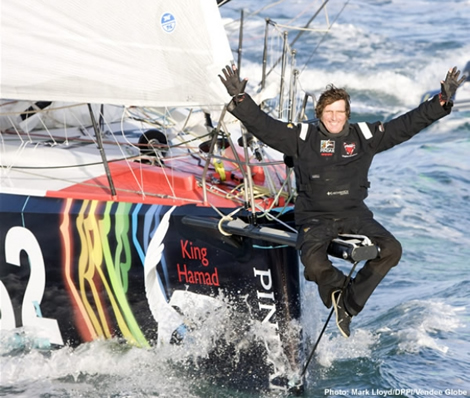 Back to top
Back to top