Sid Fischer's latest ride
Australian yachting legend Syd Fischer has announced he will skipper last year's Rolex Sydney Hobart Yacht Racer line honours winner, Investec Loyal, in the CYCA's annual 628 nautical mile race which starts at 1.00pm on Boxing Day.
Fischer, who took line honours in the 1988 and 1990 races and won overall under IOR in 1992 with two different Ragamuffins, joked this morning: "They say in yachting that the length of your yacht should reflect your age – so now I have to live to 100!"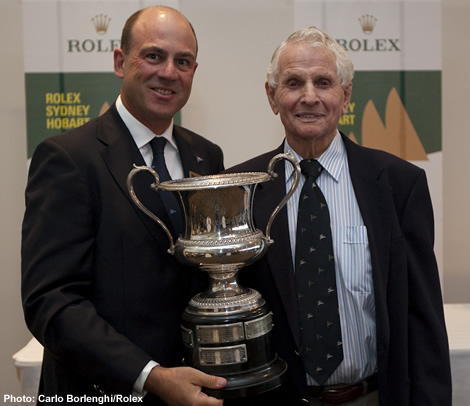 The 85 year-old, who turns 86 in March, has leased the 100ft super maxi from its owner and last year's line honours victor, Anthony Bell. "I've leased it for two years and then I'll buy it," confirmed Fischer who has renamed the yacht Ragamuffin-Loyal.

Although he would not be drawn on whether they could pull off two sequential line honours victories, he did confirm that Anthony Bell could be along for the ride. "Anthony looks like joining us - he's keen to keep promoting his Loyal Foundation this way - so we'll have some celebrities aboard too," he verified.

"He (Bell) is a team player - he's played footy like me – and he's a good bloke. Like him, I also like to support charity," added Fischer, who backs Stepping Stone House (via an annual regatta on Sydney Harbour), which houses teenagers who find themselves homeless through no fault of their own.

Fischer, who has self-funded a record five America's Cup campaigns, said celebrities were yet to be decided, but did say long-time friend Tony 'Ace' Ellis would definitely be along for the ride.

"Tony's on his 46th Hobart and we're doing our 40th together – I don't think anyone else has done that. I missed a few while I was at America's Cups," said Fischer, who is about to tackle his 44th race, a feat only achieved by four other yachtsmen in the history of the race.

Among the crew will be one of the yachtsman's former America's Cup crew members, Andrew Crow, or 'Crowbar' as he is more familiarly known in the yachting fraternity.

"There'll be a few more of my regulars, I'm not sure who yet," said Fischer, who has represented Australia multiple times, including at the Admiral's Cup and Clipper/Kenwood Cup, captaining Australia multiple times and taking the teams to several wins.
Ragamuffin-Loyal is now at Fischer's Sydney City Marine at Rozelle, where it will remain until Boxing Day when it will go head-to-head with Bob Oatley's Wild Oats XI and Grant Wharington's Wild Thing. In the meantime, Fischer said little will be done to the yacht, which he describes as: "In great shape. The only thing I might do is enlarge the galley – it's a bit small.

"I'm looking forward to sailing it," he said of the boat and the Rolex Sydney Hobart. "We're going out for a bit of familiarisation on Friday, because a lot of the crew haven't sailed a big boat before. After that, starting Saturday, we'll be training inshore and offshore."

And what of his TP52 Ragamuffin and the CYCA's Blue Water Pointscore Series, which Ragamuffin is on equal points with second place and leading under ORCi with three races completed?

"The TP52's for sale, so I have to forget about it this year. I've won it (the BWPS) a few times before, so I'm satisfied with that," he says of his record ninth victory in 2008 and multiple podium finishes which has earned him the CYCA's prestigious Ocean Racer of the Year award on a few occasions.
Back to top
Back to top