Multi50 match race
On Friday, Loïc Féquet skipper of Maitre Jacques predicted that the outcome wouldn't be decided until the very end of the Multi50's Trophée du Port de Fécamps and how right it proved.
Maitre Jacques won the only race of the day, despite constant pressure from FenêtréA-Cardinal on her transom but this was not enough to secure Féquet to defend his title at this regatta and with four bullets over the three days of racing it was FenêtréA-Cardinal skippered by Erwan Le Roux that came out on top overall, providing a fine conclusion to the Multi50's 2012 season. Yves Le Blévec and Actual came home in third place.
A very good performance in the race was put in by Delirium, the home built catamaran of Hervé de Carlan. She finished sixth in the race, behind Towards a World Without AIDS (Erik Nigon), Nootka (Gilles Buekenhout) and Fondation pour l'Enfance (Pierre Antoine).
FenêtréA-Cardinal, winner of this year's Québec Saint-Malo race this summer, was generally untouchable in Fécamps, especially downwind, with crisp manoeuvres with good tactical choices being made by former ORMA 60 crew and Tour Voile competitor, Daniel Souben.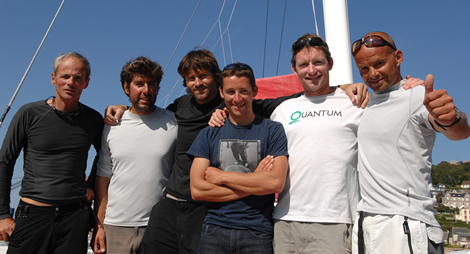 Unfortunately only one race could be held on the final day. By lunchtime the waters off Fecamps ressembled a millpond and mid-afternoon the race committee threw in the towel.
"We're really fast downwind, but Maitre Jacques is quite fast in light air and upwind," said Erwan Le Roux. "Our new gennaker has filled a small hole in our speed downwind. We were expecting a good fight today - too bad it didn't take place due to the lack of wind. We owe our victory to our consistency also. We won four of the eight races. We never gave up until we crossed the finish line and on two occasions we managed to overtake Maitre Jacques just before the line. We are beginning to become familiar with this boat and its set-up. There is a cohesion within the crew that is essential to run the boat. Tonight I will take the boat to La Trinite, the port we left in July to do the delivery to Quebec. Then I will do a little singlehanded training to prepare for our goal of victory in the next Route du Rhum [in 2014]. I will return to Fécamp next year to defend my title!"
Loïc Féquet skipper of Maitre Jacques commented: "We made ​​some mistakes - we had a small deficit downwind which we sorted out in part after making some minor adjustments ​​yesterday. This regatta is very good - it's pure and we can showcase our boat to the public and guests on board. Technically we must move forward. When one is overtaken, it prompts you to find out why!"
Of this year's regatta, Bertrand Duboys-Fresney, President of the Chamber of Commerce Fécamp-Bolbec added: "This is a great sailing weekend and has been very successful on the waters off Fécamp. The Salon Nautique de Normandie worked very well and the multihull regatta with eight beautiful boats has been a gift. The public was very interested and many people visited from outside the département. Fécamp is a city of sailors."
Multi50 racing now resumes in April 2013, with the addition of a new boat for former Banque Populaire ORMA 60 skipper Lalou Roucayrol due for launch this December.
Results:
1- FenêtréA-Cardinal (Erwan Le Roux) – 10 pts
2- Maitre Jacques (Loïc Féquet) – 12 pts
3- Actual (Yves Le Blévec) – 20 pts
4- Prince de Bretagne (Lionel Lemonchois) – 24 pts
5- Vers un monde sans SIDA (Erik Nigon) – 41 pts
6- Fondation pour l'enfance (Pierre Antoine) – 43 pts
7- Nootka (Gilles Buekenhout) – 44 pts
8- Groupe Martenat (Pascal Quintin) – 50 pts
9- Aquaera Coach Académie (Julien Mabit) – 64 pts
10- Delirium (Hervé de Carlan) – 71 pts
11- Citoyens du Monde (Jean-François Lilti) – 73 pts
12- PiR2 – Port de Fécamp (Etienne Hochedé) – 84 pts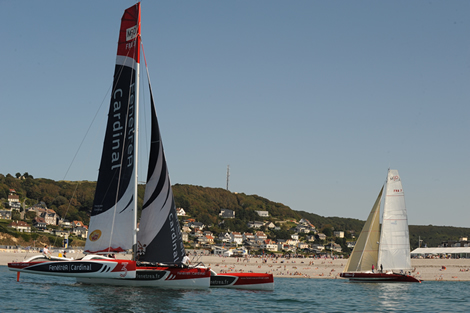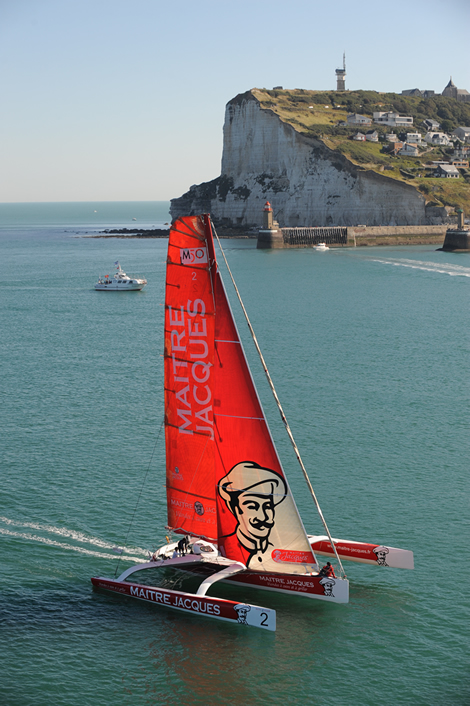 Back to top
Back to top