13 Multi50s for the Trophée du Port de Fécamp
The fourth Trophée du Port de Fécamp to be held of 7-9 September will see thirteen Multi50s go head to head under the cliffs of the Normandy coastline.
CCI-Fécamp Bolbec is welcoming around 100 crew, professional or amateur, over this three day regatta.
Among the 13 boats are Erwan Le Roux' FenêtréA-Cardinal, recent winner of the Transat Québec Saint-Malo, who will be up against play its the Loïc Féquet-skippered Maître Jacques, winner Fécamp last year. They will be jockeying for the lead with Yves Le Blévec's Verdier-designed Actual, winner of last year's Transat Jacques Vabre and Prince de Bretagne of Route du Rhum winner Lionel Lemonchois.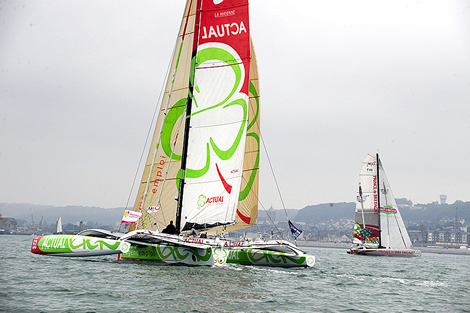 Pending the launch of his new Multi50, former Banque Populaire ORMA 60 skipper Lalou Roucayrol is skippering Vers un monde sans SIDA, while another long term multihull skipper, Pierre Antoine, takes the helm of the 20-year-old boat Fondation pour l'Enfance, which Philippe Laperche campaigned in Fécamp in 2011. is offering a second round, with a boat 20 years ... Dany Monnier and his Victorinox returns to Fécamp after a two year absence while Julien Mabit and Aquaera will compete at the Trophée du Port de Fécamp for the first time.
Making return visits to the regatta are Nootka (Gilles Buekenhout) Delirium (Hervé de Carlan) Citoyens du Monde (Jean-François Lilti) Itoha (Pascal Quintin) and the local star of the regatta Etienne Hochede and PIR2.
The regatta coincides with the La Mare à Thon rock festival including Olivia Ruiz and Brigitte with musicians and multihull sailors sharing their respective passions over three days.
Line-up
Maître Jacques (Loïc Féquet)
Actual (Yves Le Blévec)
Prince de Bretagne (Lionel Lemonchois)
FenêtréA-Cardinal (Erwan Le Roux)
Nootka (Gilles Buekenhout)
Vers un monde sans SIDA (Lalou Roucayrol)
Fondation pour l'enfance (Pierre Antoine)
Citoyens du Monde (Jean-François Lilti)
Aquaera (Julien Mabit)
Delirium (Hervé de Carlan)
PiR2 – Port de Fécamp (Etienne Hochedé)
Victorinox (Dany Monnier)
Itoha (Pascal Quintin)
Read more about the Multi50 class here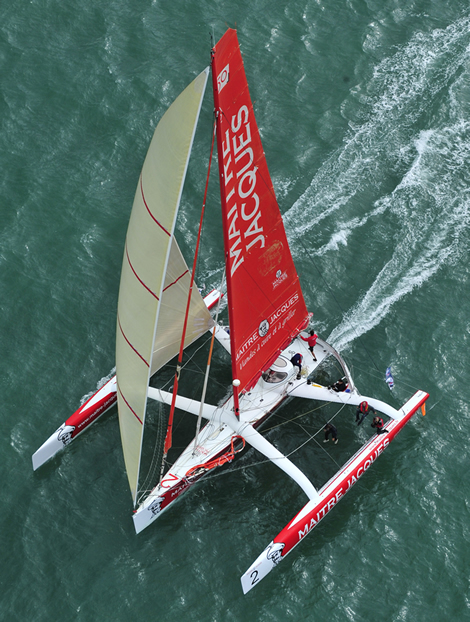 Back to top
Back to top