Round Britain in a Wayfarer
Ludo Bennett-Jones, 21, who set sail on 28 April from Cowes, in his BT-sponsored doublehhanded Wayfarer dinghy, on a 2500 mile circumnavigation of the coastline of Great Britain, completed his epic voyage at 12.30 on Thursday in East Cowes. At the dockside to greet him was former international yachtswoman, Dame Ellen MacArthur, who herself launched her sailing career sailing round Britain in 1995.

Commenting at the finish on his incredible achievement, Dame Ellen said: "Ludo is now a hero of mine. The boat that Ludo sailed round Britain in is a dinghy with no cabin - most people would go and sail one of those for an hour, maybe two, but to sail one for 47 days is really quite extraordinary. When I sailed round Britain aged 18 I took a little boat with a cabin and it took me 4½ months, so it's blown that out of the window. We have an amazing coastline, but it's covered in treacheries from rocks to currents to sandbars and to get a tiny dinghy round as Ludo has done, is really something quite extraordinary."

Ludo has achieved two records with his unique sailing challenge. He is now the youngest and fastest person to have sailed around the coastline of Britain in at 16ft dinghy. In addition to breaking records, Ludo has been raising funds for the Ellen Macarthur Cancer Trust and Sport Relief. To date close to £50,000 has been raised of the targeted £100,000. Donations can still be made here.

An accomplished sailor, Ludo has demonstrated enormous determination and great skill to complete his task in some of the worst weather conditions Britain has experienced in over 200 years.
Crossing the Bristol Channel, one of the UK's busiest shipping lanes, rounding Cape Wrath, one of the most unpredictable corners of the Scottish Isles and visiting all four UK countries in three consecutive days in May (possibly another first in a dinghy) are just some of the extraordinary highlights from his journey. Ludo has been away for 76 consecutive days and sailing for 47 of those. He has had several different crew members to help him complete his challenge. His exploits and experiences are well documented in Ludo's blog, including his rescue by the RNLI when his rudder broke just days before the finish.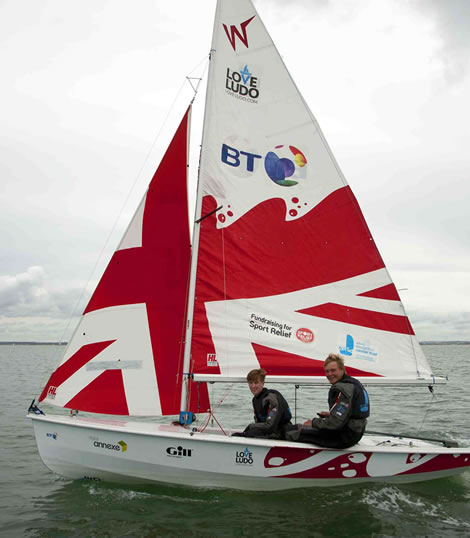 Back to top
Back to top