Spindrift Racing clinches victory
Yann Guichard and his five crew on the MOD70 Spindrift Racing, crossed the finish line at 12:08:37 UTC to take overall victory in the inaugural Krys Ocean Race.
The French trimaran took 4 days 21 hours 8 minutes and 37 seconds to complete the 2950 miles course across the North Atlantic from New York to Brest in north west France via the Scilly Isles. Spindrift Racing sailed 3284 miles on the water making her average for the passage a rather impressive 28.04 knots.
Spindrift Racing finished around hour an half ahead of Sébastien Josse's Groupe Edmond de Rothschild with the Michel Desjoyeaux-skippered Foncia another quarter of an hour behind second, after a blistering downwind drag race across the North Atlantic in which the wind rarely dropped below 20 knots...
At 38, Yann Guichard, the former Olympic Tornado catamaran sailor, who finished fourth in the Sydney Olympics in 2000, has amassed considerable multihull experience offshore with the likes of Marc Guillemot, Bruno Peyron and Franck Cammas, before racing solo across the Atlantic in the 2010 Route du Rhum aboard the maxi-trimaran Gitana 11, as well as inshore on the Swiss lakes aboard Dona Bertarelli's D35 Ladycat. He has also completed on the Extreme Sailing Series and is a helmsman/coach for the Peyron brother's French potential America's Cup contenders, Energy Team, with whom he has raced in the America's Cup World Series.
On board with Guichard were his brother Jacques, Leo Lucet and three former Banque Populaire maxi-tri crew, Pascal Bidégorry, Jean-Baptiste Le Vaillant and Kevin Escoffier, who set the outright record for the Atlantic from New York to the Lizard in August 2009 with a time of 3 days 15 hours 25 minutes and 48 seconds. On a boat twice the size of the MOD70s and leaving in the optimum weather conditions, Banque Populaire's average point to point speed was 32.94 knots, comparable to 25.03 knots for Spindrift Racing in the Krys Ocean Race.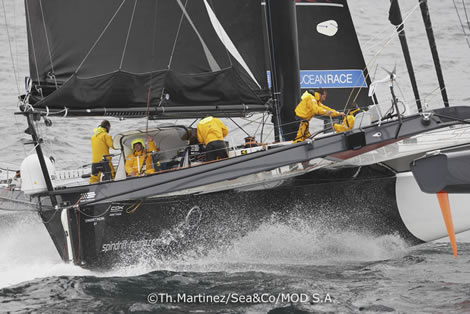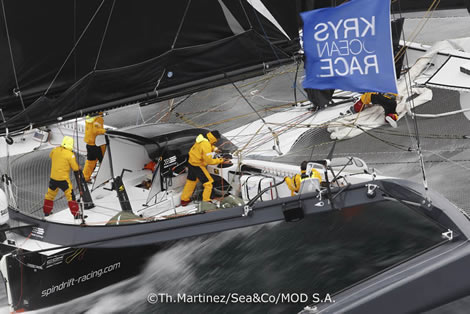 Back to top
Back to top