Race for Water sneaks home in first
Steve Ravussin and crew of Race for Water won the Krys Ocean Race prologue from Newport to New York, passing the Seb Josse-steered Groupe Edmond de Rothschild half a mile from the finish line.
Ravussin, one of the founders of the MOD70 class, could not contain his delight as he hugged his crew, which included class President Marco Simeoni.
In very light winds, Ravussin and his team looked to have slowed badly on the Coney Island shore, snared in a big calm zone. But when they extracted themselves they were able to sail a more direct course to the finish, accelerating past the race leader to steal a morale boosting first gun, just ahead of the Gitana team which led out of Newport last night.
Race For Water completed the course in 12 hours, 53 minutes and 20 seconds, just 2 minutes and 30 seconds ahead of Groupe Edmond de Rothschild. Spindrift racing skippered by Yann Guichard was third with Michel Desjoyeaux right behind her. The Sidney Gavignet-skippered Musandam-Oman Sail brought up the rear after 16 hours of racing.
The fleet completed the race with a parade of sail up the Hudson River to their base at North Cove Marina in on the South of Manhattan, where the trimarans will be based until the start of the Krys Ocean Race from New York to Brest starting on Saturday 7 July.
British helmsman-trimmer Brian Thompson said: "We didn't have a great start because we were fixing our winch system but we got away and within an hour we were in second place and within two hours we were in first. All night it was us and Spindrift battling for the lead, with the others up to ten miles behind. They went inshore and we decided to cover them but the wind died so we were both becalmed. But that is yacht racing for you. We had a really good race and learned that as a contender, we had good speed and good tactics. It was very encouraging."
A weary skipper Sidney Gavignet said there were many positives to take from the race but spoke of his disappointment in finishing last after making good progress among such a high class fleet. "It is a shame because we were leading for a lot of the race but the wind dropped and the current increased and the other boats went around us in a bit more wind. As a team, we worked well together so I'm more confident ahead of the Krys Ocean Race. The result here does not really matter but it was disappointing to finish like that and it is important that the team's confidence was not affected because we had a very good race.
"When you consider that we were the last boat in the water only two months ago with limited experience compared to the other teams, we were expecting to be last. To be leading for a lot of the race, showed that we will be in contention."
Krys Ocean Race provisional results
1) Race For Water ( Stève Ravussin) finised at 10h53'20'' (UTC)
2) Groupe Edmond de Rothschild (Sébastien Josse) finished at 10h55'50'' (UTC)
3) Spindrift racing (Yann Guichard) finished at 11h35'08'' (UTC)
4) Foncia (Michel Desjoyeaux) finished at 11h38'44'' (UTC)
5) Musandam-Oman Sail (Sidney Gavignet) finised at 12h04'01'' (UTC)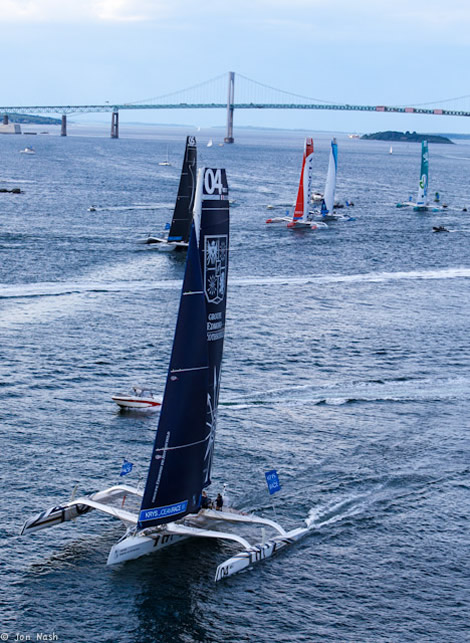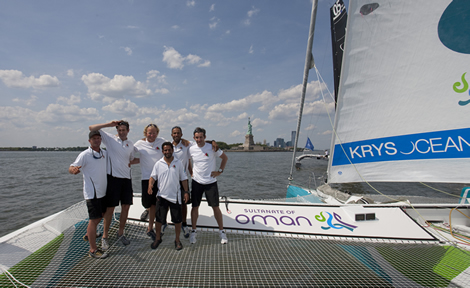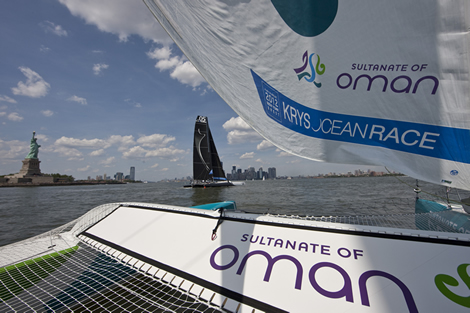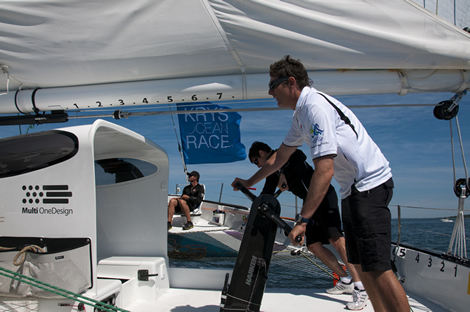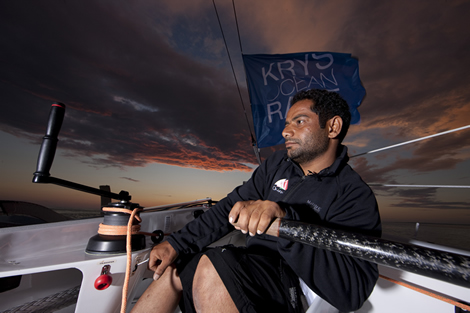 Back to top
Back to top