Artemis Offshore Academy in La Solitaire
Thursday June 21st 2012, Author:
James Boyd
, Location: none selected
La Solitaire du Figaro, the effective world championship of singlehanded offshore racing, set sails this Sunday from Paimpol in northern France.
This year the event is divided into three, not four legs:
Leg 1 (24 June) - Paimpol (FRA) to Gijón (ESP) via NW Jersey and Les Birvideaux - 504 miles
Leg 2 (1 July): Gijón (ESP) to Saint Gilles Croix de Vie (FRA) via the Occidental de Sein, Vandree and Raz de Sein - 442 milles
Leg 3 (8 July): Saint Gilles Croix de Vie (FRA) to Cherbourg - Octeville (FRA) via Wolf Rock - 486 milles
These are hard economic times in Europe at present and so the entry this year is down to 37, 10 less than 2011 and the year's previous when numbers were typically around 45-50. However while the size of entry is down, the quality of the fleet isn't, with numbers mostly dwindling from the bottom of the fleet.
This year many of the regular faces return with probably 10 of the 37 capable of overall victory in this combined elapsed time competition.
These largely fall into two groups – the ol' timers and the young hotshots. Among the former is Cercle Verte skipper Gildas Morvan, who is one of the most capped Solitaire sailors, having 16 under his belt already. Morvan has so often been the bridesmaid, having finished 2nd in 2008 and 3rd from 1999-2001. However could this be his year – he's already struck gold once in 2012, winning the Transat AG2R with fellow competitor Charlie Dalin. Also among the more seasoned Figarists, is former IMOCA 60 skipper Yann Elies on Groupe Queguiner/Journal des entreprises. Elies has 12 Solitaires behind him, including second placed finishes in 2004 and 2009, his first Solitaire back in 1997.
Fred Duthill on Sepalumic and Erwan Tabarly on Nacarat should also be in the mix, Tabarly having come home third last year.
Among the youngsters favourite is probably 27-year-old Fabien Delahaye on Skipper MACIF 2012, who this year sails his third Solitaire having previously finished 10th in 2010 and second last year – a pretty amazing result from this French sailor, who is proving himself to be one of the most talented of his generation. Of similar age and skill are Nicolas Lunven and Generali, who won the Solitaire in 2009, Anthony Marchard, the Bretagne Credit Mutuel Performance scholarship winner last year, and 25-year-old former French 49er squad sailor Morgan Lagraviere on Vendee, who finished 7th in last year's Solitaire on his first attempt.
International competition
La Solitaire is a bit thin on non-French competition this year. We are waiting for Portugal's former Laser sailor Francisco Lobato on ROFF to make his mark in the Figaro, having so roundly demolished the opposition in the Series class of the 2009 Mini Transat. From Norway is 35-year-old Kristin Songe Moller, who's raced extensively in the burgeoning Scandinavian short-handed offshore racing scene but who is on her rookie year in the Figaro class.
And then there are the Brits. While last year there were four British participants including Artemis Offshore Academy scholarship winner Sam Goodchild, plus old hands Conrad Humphreys, Nigel King and Phil Sharp, this year of these only Goodchild returns for his second stab with his Artemis-backed boat.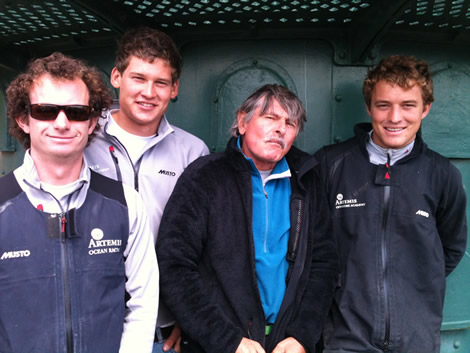 With Cowes Week not conflicting with the Solitaire this year, so the Artemis Offshore Academy are fielding three boats, with Goodchild joined by his Transat AG2R co-skipper and British match racing champion Nick Cherry and 21-year-old Henry Bomby, the youngest competitor in this year's Solitaire, who was one of the Artemis Offshore Academy's 2011 recruits.
Goodchild comes into this year's Solitaire with substantially more shorthanded sea miles under his belt than he had last year. He competed in the Transat Jacques Vabre last year aboard Team Concise, then won leg two of the Global Ocean Race into Wellington aboard Conrad Coleman's Cessna Citation and finally coming home 12th in the Transat AG2R.
"I have done a lot of sea miles," says Goodchild. "I'm fairly comfortable with the boat after the Transat AG2R, but I am a little bit concerned about the type of training I've done until now. Hopefully that won't let me down too much. I don't know how it is going to go. I try not to think about it as much as possible. It would be nice to finish in the top half..."
A downside of having competed in the Transat AG2R, is that his boat only made it back to France two weeks ago and while the short job list for the boat was quickly carried out – replacing forestays, stanchions, etc, his solo training time has since been further curtailed by dislocating his shoulder.
While he did a lot of sailing over the winter this was all doublehanded and the lack of solo practice is weighing on his mind. "That was my biggest concern - because we are in the Figaro it is all about psyching yourself out and that is what is psyching me out at the moment! So the AG2R was a) doublehanded and b) it was not contact sailing like the Solitaire. You don't muck up a gybe and lose two places."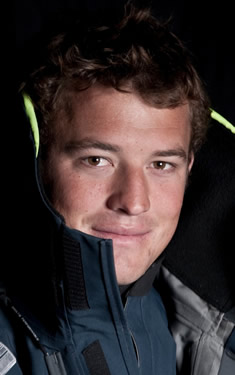 Having sailed La Solitaire before is a definite bonus and Goodchild says he knows now what he is letting himself in for, but then you walk down the dock and see the calibre of the competition and you realise you have to be at the same pace as the likes of Gildas Morvan and Nicolas Lunven for the next four days to stand any chance at all....
"The biggest difference between guys like myself who are progressing and the top guys, is that they are always fast," says Goodchild. "For sure we can do speed tests with them in training and be within 98-99% of their speed most of the time, but then when the sun goes down and you get disorientated at night, they carry on going fast... So it is about trying to conquer that and making sure you are not slow for too long.
"A good example was in the Solo les Sables - I spent ages reaching alongside Nicolas Lunven and didn't lose anything on him, which was quite encouraging. Then I went around the next mark and in my head it was like 'he is going to pass me anyway, so I might as well get it over and done with'. It was just a thought that lasted five minutes, but I let him overtake me and it was like 'if I'd tacked, I would still be ahead of him now.' But I didn't."
At the end of the day the skippers are racing 32ft long Figaro Beneteau IIs, average white boats although they do have two rudders. "They are not a complicated boat to sail, but keeping you head screwed on for three days in a row without any sleep is as much as a challenge as keeping the boat going fast..." says Goodchild.
The course this year is very different, not visiting Ireland for example and with three legs that take in the southwest Brittany coast, familiar waters for the majority of the fleet. According to Goodchild the course this year is slightly a less coastal, but getting to know the course was one reason why he and Nick Cherry decided to run their training out of Brittany this year, rather than with the rest of the Artemis squad in the south of France.
The Artemis shore set-up has also changed slightly with the additional gravitas of former Figaro sailor Marcus Hutchinson brought on board as the Artemis Offshore Academy's 'Event Coach', in addition to the three boat team's two shore crew and their 'stagiere'. "Having someone who is quite strict and comes up with a plan and making sure everyone knows who is doing what and no one is running around redoing what has already been done, is quite useful," says Goodchild of Hutchinson's appointment. " His experience in the America's Cup and Volvo and in big teams is massively useful, because all of us here are inexperienced in that. Plus he speaks French and knows most of the guys here, including the Race Director – so, no end of usefulness..."
Otherwise they have a meteorologist from Meteo France helping them on the weather side this time and former Figaro sailor turned coach Nicolas Berenger is assisting them on the routing pre-race.
As to his prospects this year Goodchild says he hopes he can stop breaking things, in particular spinnakers, having destroyed two in the Transat AG2R and three in last year's Solitaire. "If I can stop doing that and feel like I have had a good race, then hopefully an acceptable result will come with that, but we'll wait and see. I can't really blame that on anyone else..."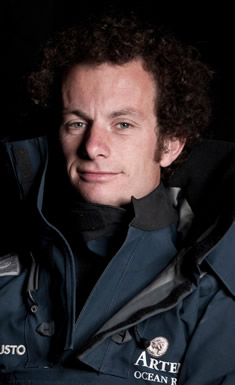 For Nick Cherry, this will be his first Solitaire du Figaro. "I'm pretty excited. I have spent since the end of last year thinking about this moment. I am pretty well prepared. There is nothing I'm worried about with the boat. We've done all the leg homework, we've had the course for plenty of time. We have covered enough in training. I am in with a decent chat of sailing alright."
Compared to Goodchild, Cherry was able to compete in more local Figaro events in France earlier this season. "I have learned a hell of a lot," he says. "It is all very well doing races in training, but it is so different when you come to do an actual race."
Cherry admits that he has a tendency to start strongly and then drop off the pace. This certainly happened in the Solo Massif Marine, the season opener, but his performance has since improved and in the Solo Basse Normandie he came home third (albeit in a field of just nine). "I felt I finished that one well," he says. "I am usually in alright shape early on and my weakness has always been towards the end and obviously this [leg 1 of La Solitaire] being longer than any solo leg I've done before, that is a slight unknown, but I have tried to address the issue to that over the period of these shorter races at the start of the year."
Cherry admits he likes his sleep and managing this is his biggest hurdle. "I can go to sleep at any time on the boat, even if it is the first night. In the last race I did pretty well sleeping the first night, knowing that there was going to be a front coming over on the second night and that it would be a lot windier. Then I didn't sleep at all on the second night and made up quite a lot of places as a result of that."
Unfortunately it seems that there is no real practice for this other, than out on the race course.
Another concern is keeping the boat together. There is a lot of sailing around the southwest coast of Brittany and of diving inshore, rock hopping to avoid the tide. "The guys who are local to the area can be a bit more confident in that," says Cherry. "There are enough stories of people waking up hitting rocks or righting their boats off, so it is a matter of balancing that. In the last race a French guy did a serious amount of damage hitting a rock when he was tacking close up the shore. This being my first race, I definitely want to finish it. I don't want to leave too much lead on the Brittany coast..."
Then on the racing side there is the perennial question of risk management, staying with the fleet or banging a corner. "Even if you did do well like that – it wouldn't be as satisfying as staying with the fleet, sailing fast and grinding away and doing everything in the conventional way, and taking a mature, grown-up approach to it and doing alright, instead of potentially jagging a result. It is a better way of learning your craft around here."
Cherry says that you should always have your own plan, however if 25 boats are going one way and you are going another then you have to start questioning yourself.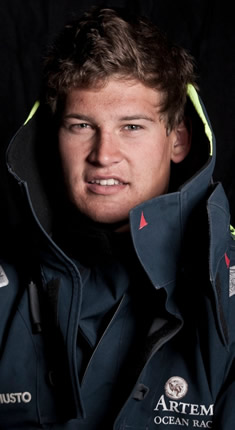 While Cherry, like Sam Goodchild, has been part of the Artemis Offshore Academy since 2010, Henry Bomby has only been part of the squad since November. Over the winter he has been part of the Academy's training program down in La Grande Motte in the south of France, where they learned how to sail the Figaro Beneteau II and carrying out the manoeuvres singlehanded. They subsequently joined Cherry in competing in a few races around the Atlantic and Channel coasts of France.
First up was the Solo les Sables. "That was quite daunting for me, because it was the longest I'd been at sea solo in the Figaro and in a race and it was before the AG2R so there were a lot of good guys there," recalls Bomby. "But then after that I had a month training in Lorient, which was speed testing the whole time which is where I really learned to sail the boat fast. Then we had three races after that."
Bomby was only selected to compete in La Solitaire a fortnight ago, based on his results, culminating in a fourth in the Solo Basse Normandie. "I feel like I have been getting a lot better each race. I am learning an unbelievable amount each time," he says. "It is trying to make a note of everything I am learning because there is so much to pick up. La Solitaire de Figaro is so different to any sailing you do. You can take the other bits of sailing you have done, but it is a very, very different - it is a very special event and it takes a bit of time to get used to. The sleep deprivation factor and the extreme fatigue that is the hardest part of it - dealing with that. And it is purely just time spent doing these races that you get used to it, and the more you can just think about the racing rather than everything else you try and do on board - that is where the experience pays."
But two weeks isn't much of run into La Solitaire? "Yes, but in my head I have been preparing as if I am going to be doing it for the last two months. If at the last minute they had said I wasn't doing it, at least I would have taken some benefit from having done the preparation and the nav and preparing mentally as if I was. So it is not like it came through as a shock. I left confident I would have a good chance having done reasonably well in the last three races."
Going into la Solitaire, being part of the Artemis Offshore Academy team has helped Bomby with the prior experience of both Goodchild and Marcus Hutchinson alleviated some potential areas to stress about. "The first time you do this race, it is a bit of a whirlwind and we have been fortunate enough to have support in everyone around us to take a lot of that out which is good.
"This first leg at 500 miles will be the longest we have done solo for Nick and myself, so it is another step. We have done very close to that, so it is not going to be an issue. The only thing that will be an issue – I am not great at eating. For two nights, I can get away with eating badly, but for four nights I will see the effects much more. So I need to be much more vigilant and disciplined about my routine for that."
So, not just Mars and Haribo in the rope bag.
Beyond that it is a case of ensuring that boat speed remains at 100% for the four day duration of the leg. "You can be up with a group of guys for ages and then if you are slower for a bit and they get away from you, then one hour of being slower translates into them making a tidal gate and all that sort of thing. It is about thinking ahead and putting your boat and yourself into the right position for the next thing that's going to happen whether it is the tide or the wind, a shut down crossing a ridge, a shift in the breeze, increase in the breeze – whatever is going to happen."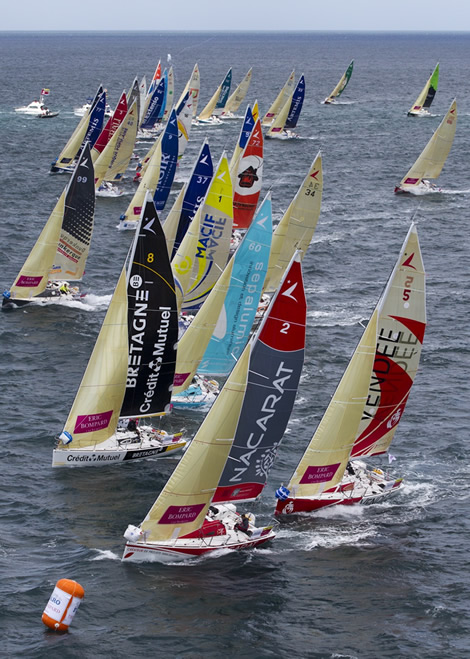 Back to top
Back to top