Kito de Pavant recounts Groupe Bel's mast breakage
Wednesday May 30th 2012, Author:
James Boyd
, Location: none selected
After his Groupe Bel IMOCA 60 dismasted just before midday this morning (UTC+1), skipper Kito de Pavant has no choice but to acknowledge that his Europa Warm'Up race is over.
In the early morning, he passed the race's first turning mark of Santa Maria in the Azores in fifth place, de Pavant was beginning a long leg towards Fastnet when he heard a crack. Groupe Bel's mast had broken in two and Groupe Bel's technical team informed the race management and made it clear that de Pavant was fine and that he had set a course towards Ponta Delgada on the Azores island of Sao Miguel 50 miles away.
The upper part of the mast remained attached and the skipper had taken the necessary measures to make the yacht safe. It has not suffered any other damage. Naturally disappointed, Kito's priority is to remain focused on getting the boat to safety as quickly as possible.
De Pavant recounted: "I was sailing in a 20-25 knot southwesterly under gennaker, with one reef in the mainsail. The yacht was making good headway and on automatic pilot her seakeeping was rather good. Suddenly, she accelerated and I heard a crack. The mast immediately broke in two, just above the hounds of the ORC forestay. This meant that I no longer had a forward sail and that the mast was being held up only by the lower shrouds and the forestay.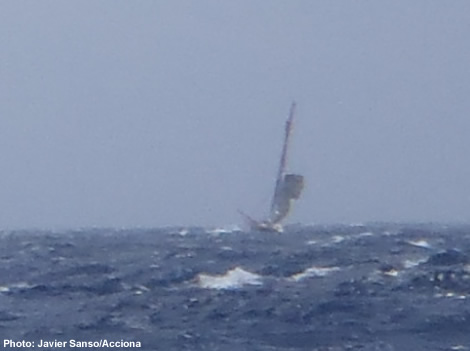 "I made the yacht safe and observed that, apart from the mast, there was no other damage. The mainsail was still hanging from the mast and Groupe Bel was still being driven forward at low speed. I turned on the engine to set her in the right direction since she cannot be manoeuvred under sail. I still have roughly 30 liters of fuel, which is about six hour's worth. My technical team and the race management are currently looking into a way of supplying me with fuel or towing me the last few miles.
"A completely new race is now beginning. I am currently progressing to the north of Sao Miguel Island to find shelter from the wind and sea. I am currently heading west at a speed of 4/5 knots. The situation seems to be under control although not very comfortable.

"For once, we were about to race downwind, but it stops here for me. I am inevitably annoyed and angry, but it could have been much worse. There is no damage to the boat, or the man sailing her. My priority is to bring the yacht back safe and sound and to get her back to Port Camargue as quickly as possible.

"I hope that the other contenders do not have any problems and that they will continue this fine battle. Send them all a hello from me!"
It is an especially cruel blow for De Pavant who had spoken only a couple of hours earlier, to the radio vacation with Race HQ, of how he had been looking forwards to finally making some fast miles downwind after so much upwind work on Leg 1 of the race, from Barcelona to Cascais, and subsequently from Cascais out to the Azores.
Vincent Riou on
PRB
himself is no stranger to Azores stops, having been forced to retire into Horta during November's Transat Jacques Vabre, but today he made the best of the strategic options passing to the west of Sao Miguel gain more breeze and a better angle on the downwind leg towards Fastnet Rock. Since he passed Santa Maria, Riou has gained more than 30 miles on his nearest rivals and this afternoon leads the race, ahead of Armel Le Cléac'h by 11.5 miles. That choice is all the more clever given that commonly used software routing indicated the easterly option to be preferred.
But Riou is of course something of a meteo ace, having routed for Michel Desjoyeaux during his Route du Rhum victory, and showed great strategic choices when he won the 2004-5 Vendée Globe.
"Last night when I saw them going the east of Sao Miguel, I was surprised," reported Riou. "It's not what I considered. Trying to set the VMG spinnaker or gennaker in the dark between the islands was not very appealing at all. Not solo in any case! I went fast enough (to the west of the island) and at the tip, I set the gennaker and since then we've been flying! I came this way for the angle and I have it. Nice going, I'm pretty happy with the way the boat goes in these conditions. This is why we do this, these are great times of great pleasure. Clearly going west was not the quickest on the routing but we'll see in a few hours. So we'll see what happens. It will be down to who can maintain the best speeds over time."
The Gang of Four, as they are now - Riou, Le Cléac'h, third placed Francois Gabart and Bernard Stamm, who is fastest of the fleet this afternoon on fourth placed Cheminées Poujoulat - is expected to hold the strong southerly and SSWerly winds all the way to the next turning mark at the Fastnet Rock, the wind then veering more to the SW, and so the work rate will remain high and intense, with boats touching 20 knots a lot of the time.
Armel Le Cléac'h from Banque Populaire said: "The wind came up and it is going well downwind. This morning I had a small problem with my mainsail. So I had to haul down the mainsail and repair it before re-setting it again. With my technical problem, François (Gabart) was just off me this morning. We will still be downwind tomorrow and then it will drop and veer. We will not have great options to Fastnet. It is a thousand miles to the light there, so there's plenty on "
The skippers asked for a warm up, and for sure they are getting conditions which are a good dress rehearsal for the Vendee Globe.
Positions at 1800
| | | | | | | | | |
| --- | --- | --- | --- | --- | --- | --- | --- | --- |
| Pos | Boat | Skipper | Lat | Long | Spd | Crs | DTF | DTL |
| 1 | PRB | Vincent Riou | 40 16.88' N | 23 42.20' W | 19.5 | 40 | 1352.5 | 0 |
| 2 | MACIF | Francois Gabart | 39 57.76' N | 23 41.40' W | 18 | 41 | 1367.6 | 15.1 |
| 3 | Cheminées Poujoulat | Bernard Stamm | 39 51.24' N | 23 29.80' W | 18.5 | 34 | 1367.7 | 15.2 |
| 4 | Banque Populaire | Armel le Cleac'h | 40 06.04' N | 24 00.96' W | 16.9 | 37 | 1369.7 | 17.3 |
| 5 | ACCIONA 100% EcoPowered | Javier Sanso | 38 11.28' N | 24 43.76' W | 12 | 6 | 1482.6 | 130.1 |
| ABD | Virbac-Paprec 3 | Jean-Pierre Dick | | | | | | |
| ABD | Groupe Bel | Kito de Pavant | | | | | | |
Back to top
Back to top