Sam Goodchild and Nick Cherry on the Transat AG2R
In the Figaro class, the top event remains the annual Solitaire. However following close behind is the doublehanded Transat AG2, this year celebrating its 20th birthday since a young Jacques Caraes and Michel Desjoyeaux won the first race to St Barts in 1992.
While the first races started from Lorient, since 2006 the event has set sail from Concarneau close to the French shorthanded offshore racing stronghold of Port la Foret.
When the race sets sail on Saturday, 15 boats are due to take part, substantially down on the 25-30 boats that traditionally compete in this event - an unfortunate sign of the times. However the fleet remains strong with at least half of the boats capable of reaching the podium, based on past form.
If there is a favourite it is probably Fabien Delahaye on Skipper MACIF, who won this biennial transatlantic race when it was last held in 2010. Although the 27-year-old from Caen was on that occasion sailing with Armel le Cleac'h, last year Delahaye proved himself singlehanded when he came second in La Solitaire, a race in which his Transat AG2R co-skipper Paul Meilhat was sixth.
Also in the frame for the Transat AG2R are Anthony Marchand, sailing Bretagne Credit Mutuel Performance with Romain Attanasio (aka Mr Sam Davies). Attanasio has always done well in this event, finishing 4th in 2004 and coming third with her indoors two years ago. Figaro legend Gildas Morvan on Cercle Verte is sailing his eighth Transat AG2R having podiumed twice, and on board him on this occasion ex-Mini sailor and naval architect Charlie Dalin. Thierry Chabagny and Christopher Pratt are also expected to do well, as are the longest standing crew in this race, Jeanne Gregoire and Gerald Veniard on Banque Populaire.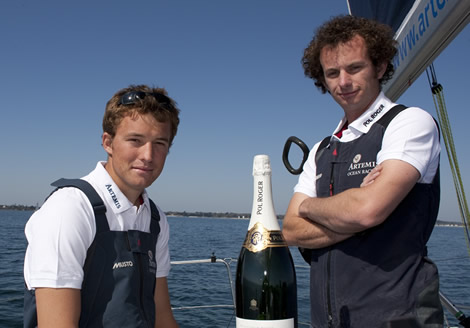 The sole crew representing the UK are this year's Artemis Offshore Academy Solitaire du Figaro contenders, Sam Goodchild and Nick Cherry, who kindly answers our questions this morning:
Thedailysail: How is it in Concarneau?
Sam Goodchild: It was a really impressive weekend. There were masses of boat out on the water, three spectator boats full to the brim and then loads of other pilot boats. It was impressive. It is generally going alright.
TDS: Did you team up or were you teamed up?
SG: A bit of both...
Nick Cherry: We were selected as the two skippers that were doing the Solitaire this year and we wanted to train in the north, and the other guys who had had less time in the boat decided to train the south, because they get better weather all through the winter. So it worked quite well really...
TDS: How was the prologue on Sunday – you finished sixth?
SG: It was quite windy - 25 knots-ish. The start went quite badly and then the first beat was okay and we were stuck in fifth or sixth for the rest of it. But it was only 45 minutes long. It was very close to the shore in the Bay of Port la Foret so it was good for spectators and there were loads of spectator boats out there. So five or six really short legs – it was quite exciting. Nacarat won with Erwan Tabarly...
TDS: Superstition dictates that you're not supposed to win the Prologue?
NC: We had that discussion. We were definitely trying to win it!
TDS: The Artemis Offshore Academy has five Figaro Beneteau 2. Which boat have you got? Presumably you had a choice of five?
SG: We have got 23 which is the boat I did the season with last year. This year one of the big changes with the Academy is that we have got ownership of boats, which we didn't have last year and we generally think is a much better thing. So we chose to use my boat. It had a lot more preparation time put into it last year having done the Figaro and the rest of the season. We spoke about it before and Nick said he'd prefer not to use his boat and I said I would prefer to use mine.
NC: It also means I can get back and do two races [before La Solitaire], which Sam might be able to do in someone else's boat [as his boat is shipped back from St Barts]. They are the Transmanche and Solo Basse Normandie - both singlehanded. Having done less solo races, doing the short warm-ups is more important for me than Sam, who might need a break after all the sailing he's done.
TDS: How much support from the Artemis Offshore Academy have you got in Concarneau?
SG: John [Thorn} is down here. Marcus [Hutchinson] is arriving tomorrow. We have a preparateur who has been with us for the last couple of weeks working up to the start.
NC: And we have a stagiere, a student from OC, who speaks French and is coming to help out later today. So it is quite a big team. A lot more helpers than sailors...
TDS: Tell us about your training...
Sam Goodchild: We've been training since January in Brittany with [coach] Tanguy Leglatin mostly. As far as sailors go Adrien Hardy, Thomas Ruyant, Isabelle Joschke, David Sineau and a few others were there. Nick and I were the only Brits and then the other three Artemis guys from the south joined us a couple of weeks ago.
TDS: You've been Figaro sailing for 18 months now, which areas do you feel you've improved at most?
SG: There is a lot to know about the Figaro and just spending time on the water is quite useful. The French have been doing it for a long time so there are a lot of small tricks they've got. And learning how to manage being shorthanded makes a big difference in the Figaro.
TDS: Can you be more specific?
NC: This year we have done a lot straight line sailing, speed testing, especially reaching, whereas earlier last year we spent more time working on the boat handling and sailing around short courses. We have got that at least to a passable stage now, so it has been a lot more about the details of making the boat go a slight bit faster on a long reach.
TDS: All normal one design stuff or are there unique things to this with the Figaro 2?
NC: The only unique thing - and something I have never done a lot of - is trying to get the most out of a boat on a reach and all the little details of that. People take that to a pretty high level of details – calibrating things, etc.
SG: The speed differences reaching are significantly smaller than anything else, because everyone is going the same way. It is not like upwind or downwind where you have got a variation in angles as well as speed. Reaching it is just speed, and because they are one design there are very small differences in speed. It is hard to make any small gains.
NC: But reaching with the kite, the good guys who do it well can take a lot out of you quite quickly. There is a lot of technique there. It is a combination of boat handling and set-up. If you can get set-up quickly and sailing your highest angle, you can make a jump on people quite quickly.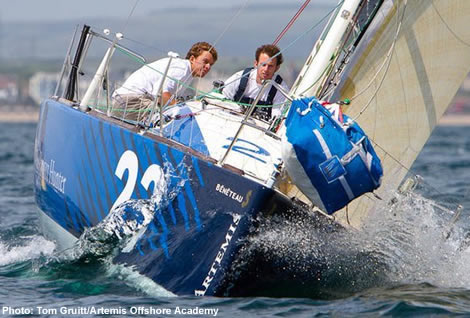 TDS: Have you done any two handed races apart from the Prologue?
SG: We did the UK Nationals last year. We haven't sailed much together this year, but all the training we have done we have been doing [singlehanded] in boats alongside each other.
NC: We figured it was better to be training singlehanded against each other rather than doublehanded together. We could learn faster that way.
SG: ...and the focus of the season is the Solitaire and that starts only four weeks after we finish this race. So we haven't got a lot of time to hang around and certainly not a lot of time to train.
TDS: How do you sail the boat doublehanded?
SG: You sail it fairly similarly to how you sail singlehanded in that one person drives and one person does most of the manoeuvres. Mostly it is run like that. So there's the driver, which would effectively be your pilot when you are singlehanded, or a tiller between your legs, and someone who does the manoeuvres.
NC: They are a bit quicker, but it is not that all that different to singlehanded. The mechanics are basically the same.
SG: The biggest different comes when there are problems - there are a few more hands to fix it.
TDS: Is there any difference to the way you sail the boat doublehanded that you can't or aren't confident doing singlehanded?
SG: We'd probably be more confident gybing in stronger winds but, not otherwise. In the Solitaire you are limited by number of hands on deck and in the AG2R we will be a lot more conscious about looking after the gear
TDS: So you'll be peeling kites, etc
SG: Yes, we have two big kites and a small kite so, we will be peeling big kiies regularly I reckon.
TDS: And unlike the Mini Transat you can carry comms on board?
SG: Yes, we have email and sat phone. We can download GRIB files when we like through UGRIB Pro, although we are limited to GFS and CEP models and surface analysis charts. So we'll download those twice a day and we also get the four scheds each day.
TDS: How do you run the sleep side of things?
NC: We have a bit of a watch system, a bit of routine, with the understanding that the guy on deck can always wake the guy downstairs
SG: ...and not feel guilty about it.
NC: If you are not performing then you just wake the other guy up and you are both happy about it.
TDS: So you do all the manoeuvres doublehanded?
NC: Yes.
SG: There is no point risking it. We can all do manoeuvres singlehanded, but there is no point in doing that, because there is definitely more risk in it. If it goes fine and smoothly, there is probably no difference, but if you get a twist in the kite or something gets caught somewhere, if you have got another person on deck to solve it, you are much less likely to break something. It is not worth the risk when you are going to be at sea for three weeks.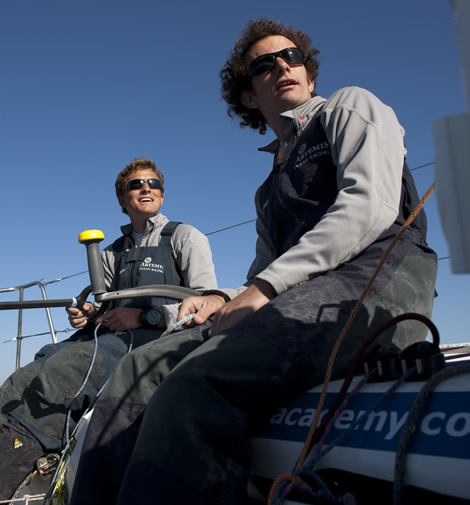 TDS: Will someone be steering the whole time?
NC: We steer when it is faster to steer. There are a lot of times when you are reaching when the pilot will do a straight line better than we will. So on a beam reach you would definitely use the pilot. We'll probably be steering 80% of the time, something like that.
TDS: What are your prospects?
SG: A top half of the fleet – we would probably be happy with that. If we had a good race we could do better than that, and if we have a bad race, we could easily fall worse than that.
NC: There are probably seven or eight boats that fancy themselves to win and would be disappointed if they weren't on the podium. And maybe they wouldn't quite include us in that, but if things went well there is no reason why we couldn't be near the front.
TDS: Is there a race favourite?
SG: Not that we can see. There are probably four or five boats with two strong sailors in with a good chance of winning and another four or five who if they had a good race there is no reason they couldn't be there too.
TDS: There are not many teams who've raced together doublehanded before?
SG: No, but there are lots of people who have done lots of Figaro sailing and the training in Port la Foret alongside each other, and all the training in Port la Foret has been doublehanded this year.
TDS: How confident are you feeling? Do you feel you have done enough training for this?
NC: The first time Sam and I got on a Figaro together two years ago, we could happily sail downwind in 35 knots and do gybes without screwing up. We have definitely always been confident on the boat handling side. And we have been preparing a lot for it. We haven't got anything to do this week that is serious.
TDS: Have you done met courses specifically for this race?
NC: We have done a bit of that, working with Chris Tibbs. We did stuff with him beforehand. And also the coach from the centre in the south, Nicolas Berenger, we had a good session with him two weeks ago when we did some two handed training. We talked a lot about the weather and the details of that. And the French approach to two-handed division of labour.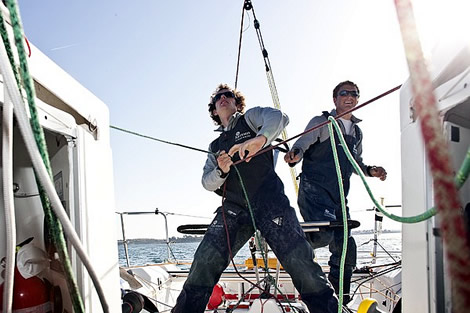 TDS: Which is what?
NC: He is really keen that you always have a helmsman and you always have a crew and every manoeuvre you do like that and you don't swap around, so it is the same every time. And you have one person who has got the overall decision and does the navigating, so you don't end up just talking and getting into an endless loop. We are going to run it, that we talk about it and we both have a look, but if there is a big disagreement or we really can't be sure, then Sam gets the final call. He has got a bit more experience at that.
TDS: That works?
SG: We'll find out! I think we are both fairly comfortable that it won't be a one-sided thing and Nick will sail the boat the whole way and I will sit on the computer the whole way and make all the calls. We are happy to talk about it, but it is just that there needs to be a default to fall back on if there is a disagreement. And for manoeuvres it is much easier if you are always aiming for the same place and there is no 'who's going to do what?' There is a fixed method and a fixed position and it's logical. So Nick will always helm for manoeuvres...
NC: Yes, I get to just sit there!
SG: ...but at the same time, if something goes wrong we are both fairly confident that we can do the other person's job. So if I hurt myself, I am happy that Nick can do the bow and vica versa.
Food-wise - it will only be freeze dried?
NC: We have to carry our own water, we don't have a water maker, so we have a bit of freeze dried for a variation. So we have freeze dried and boil-in-a-bag and a lot of dried fruit. Sam loves dried mango.
What's the forecast for the race?
SG: Upwind, tight reaching to Finisterre.
NC: It is quite windy early on.
SG: We have a waypoint just north of Las Palmas. So we'll be turning left at Finiesterre. So it is almost two races: 1500 miles to Las Palmas then turn right and 2,500 miles to St Barts. We are provisioning for 23 days give or take.
NC: On Friday we might take a couple of days of food off. So 18-25 days....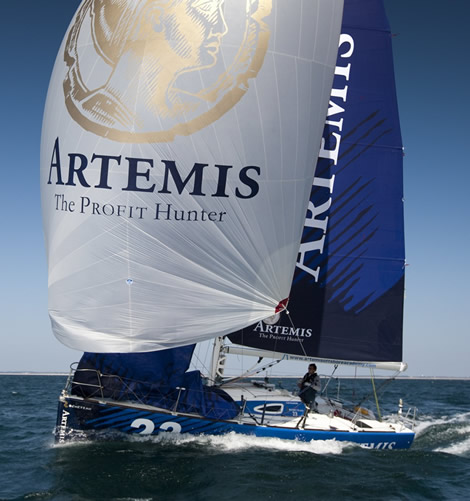 Back to top
Back to top