Liz Wardley gets unexpected Vendee Globe sponsorship
This year's Vendee Globe is to have two female competitors. In addition to Sam Davies, Papua New Guinea's Liz Wardley announced today that she is to compete in the race, with an as yet undisclosed sponsor and boat.
Wardley, who is based in France, admitted to thedailysail that this has development has fully come out of the blue. She had been planning this year on becoming the first person to cross the Atlantic in an outrigger canoe, a project she unveiled at Paris Boat Show in December.
"I wasn't expecting it. I had just announced the project for the Atlantic crossing and a week later I got contacted for this. So it was really unexpected."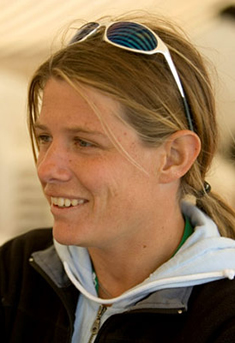 Full details of the project are to be announced at a press conference in the Vendee on 9 March, but it seems likely that her sponsor will be a local company from the Vendee region.
At present her backers are trying to find her a boat and rumour exchange suggests that this might be the Finot-Conq designed DCNS, belonging to former Vendee Globe competitor Marc Thiercelin.
The Vendee Globe marks a return to solo sailing for Wardley, who originally broke into international yachting when she did bow on board Lisa MacDonald's Amer Sport Too in the 2001-2 Volvo Ocean Race. Since then she has dabbled in the Mini (she didn't quite make the start of the 2003 Mini Transat due to the late delivery of her boat) and spent almost five seasons campaigning a Figaro backed by her sponsor Sojasun.
Since then her sailing has been limited to catamarans. She has been part of Dona Bertarelli's LadyCat team in the D35s on Lake Geneva and otherwise has been crewing for former Amer Sport Two team mate Carolijn Brouwer on the Viper 16 beach cat.
But her real passion recently has turned to paddling – either stand up or in outrigger canoes - and this is where plans for her Atlantic crossing stemmed from. Wardley confirms that this project hasn't been cancelled, just delayed by a year. "We are going to do it the year after the Vendee. It will have an exactly one year delay."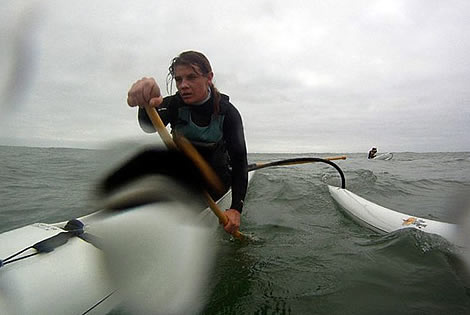 An outrigger canoe is perhaps appropriate for someone from Papua New Guinea as these were the vehicles that the locals used to populate Micronesia and then Polynesia some 3000 years ago.
Wardley's Atlantic crossing will set sail from the Canaries, to somewhere yet to be ascertained in the Caribbean. Apparently this will be the first time anyone has attempted this voyage by outrigger canoe, although Wardley tells us there are some people setting records in the Mediterranean aboard them.
However in the meantime there is the Vendee Globe ahead of her. Wardley says that she had for a long time hoped to do the race. "It has always been on my radar. I got involved with Bahrain Team Pindar for the last Vendee in 2008 and I was pretty keen to get involved in 2012 and I did try very hard for about two years to try and find a sponsor and that didn't come off, so I lost a bit of heart and started paddling and decided I loved that. It was always in the back of my mind but it wasn't something that had to be done straight away. So Santa Claus does exist!"
Her new IMOCA 60 will be the first time Wardley has sailed solo for a while. Since departing the Figaro class, she became involved in the SolOceans project, and sailed the Open 50-style one design prototype half way around the world with a crew led by Solitaire du Figaro winner Charles Caudrelier (now on the Groupama VO70). She set off to sail the boat around the world singlehanded in 2009, but after two knock-downs the boat dismasted to the west of Madeira. To date her only IMOCA 60 racing has been with Dee Caffari on board Aviva in the fully crewed 2009 Calais Round Britain Race.
To carry out her Vendee Globe campaign Wardley is joining forces with Jean-Baptiste Dejeanty and his Sensation Sailing Team. Like Wardley, Dejeanty also has a sponsor who is yet to be announced, but who is believed to be backing his campaign for five years (ie two Vendee Globes). So Wardley will be working up her new IMOCA 60 with him.
In terms of racing Wardley says they won't have time to compete in the IMOCA class' Europa Race. "I need to do a qualifier, so I am talking to Denis [Horeau – the Vendee Globe Race Director) at the moment about how and when about how to do it."
Back to top
Back to top