BSL claims hard won second place
At 10:38 on New Year's Day in New Zealand (21:38 GMT 31 December), the Kiwi father-and-son team of Ross and Campbell Field took second place in Leg 2 of the Global Ocean Race with their Class40 BSL. They crossed the finish line in Wellington harbour after 32 days 11 hours 38 minutes and 40 seconds and 7,000 miles of racing from Cape Town - just over one and-a-half days behind Leg 2 winners, Conrad Colman and Sam Goodchild on Cessna Citation.
Leg 2 has been a relentless battle for the New Zealand duo, balancing intense competition with preserving their Verdier-designed Class40 and both the boat and the crew bare scars from 32 days of Indian Ocean combat. However, the final stage of the 7,000-mile leg through Cook Strait was a tough finale for the duo. The Fields rounded Cape Farewell at midday GMT on Friday - in the middle of the New Zealand night - and ran straight into the southeasterly Force 7-8 howling through Cook Strait. BSL tacked briefly onto port towards Golden Bay lying behind the 15-mile long Farewell Spit jutting east into the strait from the cape, with slow and painful progress.
By midnight GMT on Friday, BSL was off the tip of d'Urville Island on the South Island shore at the gateway to the jaws of Cook Strait and following a brief call to the GOR Race Organisation during which Ross Field reported that the breeze had built even further, BSL found shelter on the North Island shore. "We saw between 50-60 knots," confirmed Ross Field as he stepped ashore at Queens Wharf in Wellington. "But it wasn't just the wind, but the gale on water was just foaming and it was the rollers and breaking seas that were dangerous," he explains. "We got down to storm jib and three reefs in the main and then just down to the main," says Ross. "You could have got your surfboard out," added Campbell. "We got down to about 15 knots and just tacked down the shore when we found shelter."

BSL tacked south through the night between Foxton and Porina, sailing offshore off Kapiti Island, rounding Cape Terawhiti at 19:00 GMT entering Wellington Harbour at 10:00 local, bearing away for the final time in Leg 2 and crossing the finish line off Worser Bay on the harbour's northern shore.
"It's been bloody hard work," admitted Ross Field, reflecting on 7,000 miles through the Indian Ocean's high-latitudes. "We did quite a lot of damage and lost a very critical sail," he adds. The Class40's masthead spinnaker has been destroyed and the loss caused the complete removal of the pulpit on the portside with buckled stanchions either side of the port shrouds. "There were enjoyable parts and other parts were a pain in the ****," he confirms.
Campbell Field, sporting a black eye from head-butting the forestay, explained the breakages: "We made a few errors, but most of the damage came from just pushing really hard," he says. Between 19-20 December at 47°S, the Fields produced a 24-hour run of 355.6 miles as they chased Conrad Colman and Sam Goodchild on Cessna Citation through the Southern Ocean. "You can avoid breaking anything and just toodle along quietly, but when you're pushing to the limit you do run the risk that something is going to give."
Despite the hardship, stress and fatigue, there have been immense highlights during the 32 day voyage from Cape Town to their home country. Campbell recalls an unexpected guest on board: "The whole Leg 2 has been great, but wrestling with an albatross in the cockpit was quite a big moment," he says, recalling the surprise of finding his father on deck entwined with a vomiting seabird. "Seeing the Southern Alps was incredible," he adds, savouring the moment four days ago when BSL arrived off the western coast of South Island. "We hadn't seen a piece of land since leaving Cape Aghulas behind us when we left South Africa and we haven't seen a ship or even a plane for weeks, and then all of a sudden, these beautiful mountains just pop up; then there was a pod of killer whales herding fish…."
For Campbell Field, the list is endless, but his father has identified one precise moment. "Definitely seeing the Green Flash," says Ross Field of the mysterious, sunset anomaly that both Fields witnessed 100 miles west of New Zealand. "I couldn't believe it," he continues. "I've sat there on boats my entire life at sea looking for the Green Flash, and I really wasn't sure it existed," says Ross. "We were in a big swell and then there was the flash, we went down into the trough and came up again, and there it was a second time – just un-bloody believable - it was as green as a beer bottle and was just on the tip of the sun as it went down."
Bill Buckley, head of Buckley Systems Ltd (BSL) the Fields' sponsor, is delighted that Ross and Campbell Field have made it safely to New Zealand in second place: "Ross and Campbell pulled-off an outstanding win in Leg 1 and I've been gripped following them on Leg 2 in some really tough and demanding conditions in the Southern Ocean," says Buckley. "They have pushed themselves to the limit and have kept their boat in one piece in very strong conditions, which is real test of endurance and seamanship and I'm already looking forward to Leg 3," he confirms. "Meanwhile, welcome back to New Zealand and very many congratulations, Ross and Campbell."
With two of the GOR Class40s berthed in Queens Wharf, three teams remain at sea. In third place with Campagne de France, Halvard Mabire and Miranda Merron have turned the corner at Cape Farewell and entered Cook Strait, but are still dogged by lack of breeze as Marco Nannini and Hugo Ramon in fourth on Financial Crisis pile in from the southwest reducing Mabire and Merron's lead to 48 miles at 02:00 GMT on New Year's Day. Currently 350 miles west of South Island, Nick Leggatt and Phillippa Hutton-Squire in fifth with Phesheya-Racing are making the best speed of the three Class40s as they ascend through the Roaring Forties towards the finish line.
GOR leaderboard at 02:00 GMT 1 January:
1. Cessna Citation 30d 22h 20m 40s
2. BSL 32d 11h 38m 40s
3. Campagne de France DTF 97 4kts
4. Financial Crisis DTL 48 9.2kts
5. Phesheya-Racing DTL 600 9.3kts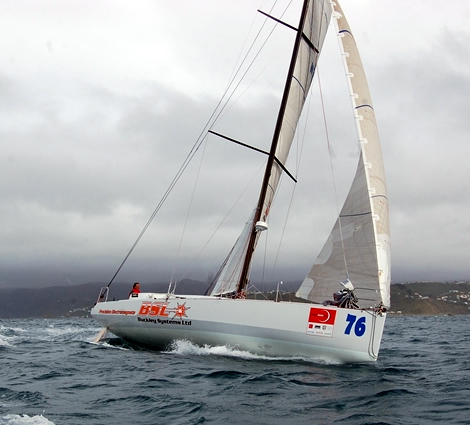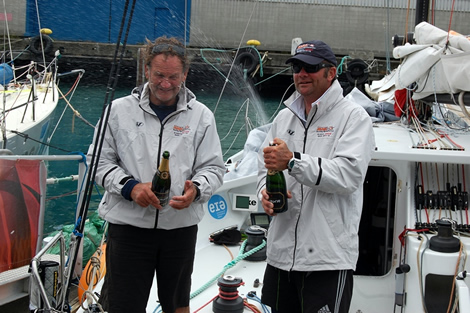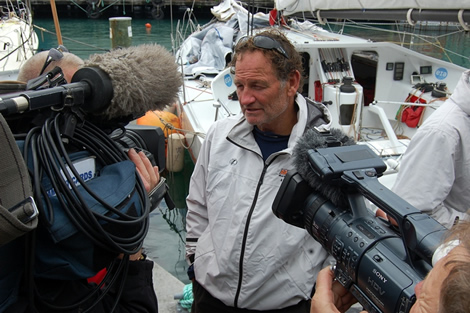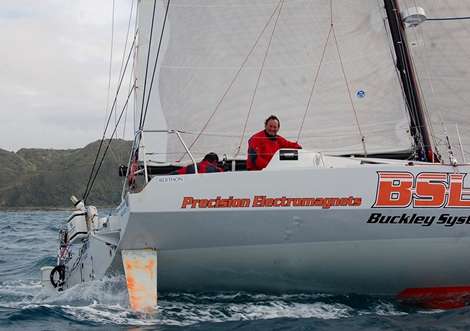 Back to top
Back to top