Loki's Rolex Sydney Hobart win
With the wind having died at the crucial time for the smaller boats, so Stephen Ainsworth and his Reichel Pugh 63 Loki have been announced as the IRC handicap winners of the 2011 Rolex Sydney Hobart Yacht Race.
At a presentation on board the white hulled Loki, Ainsworth and his crew were presented with a Rolex Yacht-Master timepiece Patrick Boutellier of Rolex Australia and the Tattersall's Cup, for IRC handicap honours by Garry Linacre, Commodore of the Cruising Yacht Club of Australia, and Graham Taplin, Commodore of the Royal Yacht Club of Tasmania.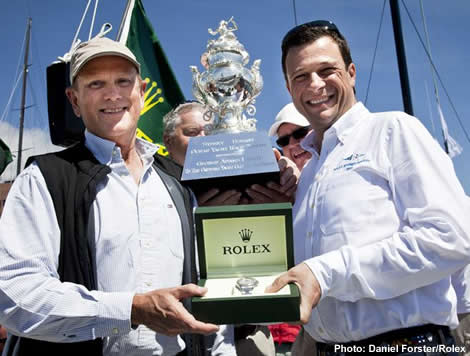 "Wonderful, elated, it is a fantastic feeling, a huge thrill to win this race," said Ainsworth on receiving his prizes. "This is my 14th race, so I know how hard it is to win. I have been trying for a long time. So many things have to go right for you and the wind gods were with us.
"Our race went extremely well. I think the hardest part was down on the Tasmania coast from a navigational point of the view. The aim for the navigators was to avoid stopping and we successfully did that. We never once stopped, although we came close a couple of times. The navigators did a very good job getting us through. Look at what happened to Wild Oats XI - that could easily have happened to us."
For the Rolex Sydney Hobart this year, Loki was fitted with a new, bigger mainsail and for the first time they had an on board weather expert to assist Bellingham in the form of Hamble's own son, Will Best. (See Gordon Maguire's video guided tour to the boat here)
According to Maguire, during the race they were always in contention, but of particular concern this year were the 100ft maxis. "We are one of the smaller big boats and we needed to be able to hang on to them. We were starting to lose them as they accelerated down the east coast of Tasmania. They were getting out to 120 miles in front of us and at that distance it would be hard to stay in touch on handicap. But they all parked up at Tasman Island and that park up brought us right back into them. We took 60 miles out of them that morning. So for us the handicap win was when the big boats parked up. We were always very confident that we had time on the boats behind us, particularly with how the weather patterns were going to shape up from half way down the east coast to the finish."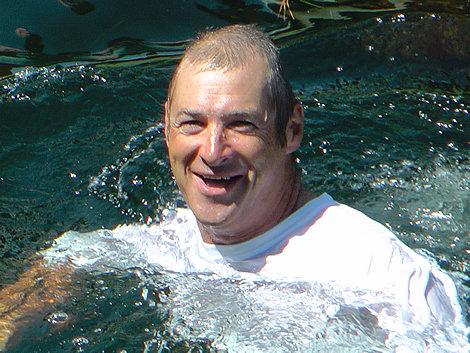 However at the end of the day the prospect of achieving the overall win in the Rolex Sydney Hobart is heavily (and perhaps overly) weather dependent, as Maguire explains: "The last times we have always turned up with the best crew and best preparation we could do and the best sails and equipment we could put on the boat and the weather didn't allow the boats in our division to be the overall victors. This year it suited this size of boat and we won our division and ultimately won it overall. The handicap victory in this race is very weather dependent. The race fleet gets spread out massively. You have 100 footers racing 35 footers and they can be 250 miles apart. They are all the time sailing in different weather conditions, so there is a big element of randomness to it.
"You turn up and the only realistic expectation you can have is to win your division, to beat the boats around you in your size, and if your division is the one that is going to be looked up kindly by the weather gods, then you win it overall. You can win your division by miles, and lose out to the smaller or bigger boats."
With no Limit this year, Loki sailed the race pretty much on their own, although they rolled Hugo Boss on the way down the Tasman coast. "Apart from them, we were out there on our own. We saw some dolphins and we hit an unidentified fishy object, but we don't know what it was," said Ainsworth.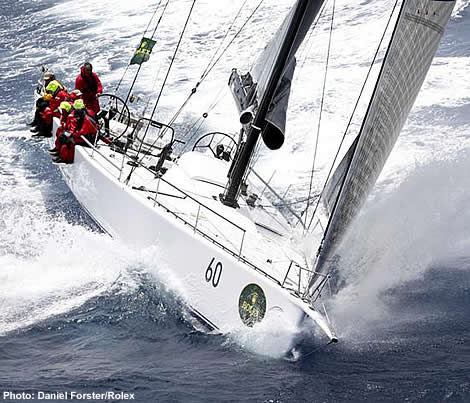 The campaign
The present Loki was launched three years ago after Ainsworth's previous boat was lost after she was abandoned in severe conditions when her rudder broke during the 2007 Rolex Middle Sea Race. The new boat was built for offshore racing and specifically to win the Rolex Sydney Hobart.
Business-wise, like many captains of industry in Australia, Ainsworth's interests are diverse, although he describes himself as "sort of semi-retired" and thus can spend a lot of his time sailing. One of his businesses is in outdoor supplies, including tents, backpacks and ski equipment, but he is perhaps best known for his significant interest in Aristocrat, which manages slot machines (or 'poker machines' as they are known Oz).
Ainsworth and Loki are one of the most successful teams racing in Australia at present. Last year they won the Australian IRC Championship, the Audi Sydney Gold Coast Yacht Race and this year Audi Hamilton Island Race Week. Personally, this month Ainsworth was voted the Cruising Yacht Club of Australia's joint Ocean Racer of the Year.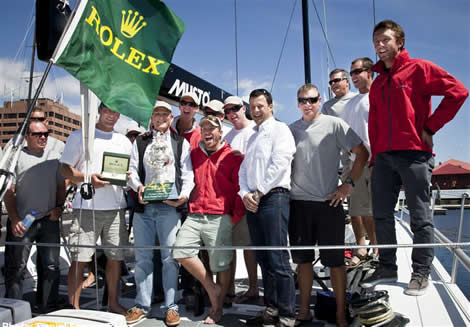 Perhaps a little surprising is that while typically they sail offshore with 18 on board, of these only one third are professional, led for the last two years by Irish Volvo Ocean Race veteran, Gordon Maguire. On board typically Maguire helms and is skipper while Ainsworth trims the main sheet. The other pros on board for the Rolex Sydney Hobart included other much capped round the world race sailors Anthony Merrington (who's brother Billy won line honours on Investec Loyal), sailmaker Alby Pratt and Kiwi legend Jeff Scott who's latest nickname we understand is 'honey badger' (check it out here). In typical form, this year Scotty did the Hobart race in only his crew top – not his foulies...
As ever, on board was also Ainsworth's long term navigator Michael Bellingham.
While there are a large number of 'amateur' crew on board, Maguire points out that many of them are among the most talented sailors in Australia. "We have really good sailors from all walks of life. It makes it more rewarding when you line up against fully pro crews." He indicates to one of the crew – "JD is a financial adviser for one of the banks, but he has an intuitive feeling for sailing boats. Managing amateurs is one of the keys to our success."
Ainsworth agrees: "They are very very good amateurs. We have ex-pros who come sailing with us for nothing, because they enjoy sailing with us. Gordon is very good as a sailing master. He is very good at building teams and making it is a pleasant place to be. We don't apportion blame if something goes wrong. The aim of the game is to treat it as a game. It is sport, not business, so it has got to be fun. To win races and have a fully professional crew who are there just because they are being paid to be there and then to walk off the boat and have no other involvement in it - that is not the way I want to do it. The professional sailors are being paid because they are very good, but if they can bring something, and others can learn from them and it raises the level of the boat... Gordon is particularly good at that because he has been a professional for a long, long time but he is very happy to sail with people and help them and meld them into a great team. It is the old sailing - it is champion team rather than a team of champions."
Despite being largely amateur, Ainsworth says he is a great believer that if you are going to do something, then do it well, particularly as yacht racing is hardly the cheapest of pastimes.
Ainsworth says that he and Loki will return to defend their title in the Rolex Sydney Hobart next year. As he says: "The only harder thing than to win the Rolex Sydney Hobart is to win two. Very few people have won it twice. Realistically I will be sailing on the Australian east coast for some years yet. The world economy is a bit shaky at the moment, so I don't know that it is the right time to be spending lots of money on launching off overseas."
But of their achievement this year Maguire summarised: "I won this race in 1991 on Atara with Harold Cudmore. It was an IOR 2 tonner. It was my second Hobart, I won it and I thought 'easy'... It has been 20 years since I won it again. I have won an awful lot of regattas in between and I do this race almost every year, so it is not an easy race to win. You can't just come down here with the best boat in the world and win it. The Ràn boys realise that now. You have to come down here with the best boat in the world and have all the luck in the world – and have that all happen in the same race. It is a very unusual beast."
Back to top
Back to top