Big boat arrivals
While all eyes today in Rolex Sydney Hobart land were focussed on whether or not Investec Loyal would survive her protest by the race committee (which she did), so over the course of today the rest of the big boats have been trickling in.
Home in fifth, earlier this morning (local time), after the maxi Lahana and 2 hours 18 minutes behind Loki was Britain's Alex Thomson and his Juan K-designed Hugo Boss.
Thomson recounted how Stephen Ainsworth's Reichel Pugh 63 Loki got past them: "It was a shame to lose Loki. About 20 miles from Tasman Island it went down to nothing and they just ghosted past us and there was nothing we could do. They were right next to us. We came in [to the Tasman coast] together and then they went out and we weren't moving unfortunately... For us the boat doesn't move in under 6 knots of wind. We had 0.00 for a couple of hours yesterday evening.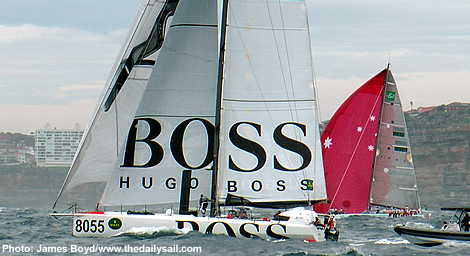 "But I was really happy to have been in front of them to be honest. And I was really pleased to be in front of [Matt Allen's VO70] Ichi Ban, honestly. They were the two we really wanted to beat. But it's weird - from a rating point of view we give Lahana time! In theory we should have been the third boat to finish! So from an IRC point of view we haven't done very well but from a pure performance point of view I am really happy."
Thomson sailed six up, including one journalist (who's legacy could still be seen spattered on the transom on their arrival), while he was on a floating watch. "For me having just done two races I felt really in the swing of it having just done 9,000 miles of racing and I really enjoyed the strategy side of this race. I think we did a good job with that. We ended up too far to the east in the end just before Tasman. In Bass Strait we reached off a bit too much."
Pretty much all the boat crews we spoke to today had suffered damage. In the case of Hugo Boss they struck something hard off the Tasman coast and at present their port daggerboard is stuck in its down position...
If Thomson wondered why his 10ft shorter yacht was ahead of the first generation VO70 Ichi Ban, then her skipper Matt Allen provided the answer. "We had a few issues along the way. The first night, when we tried to reef, the locks on our main halyard weren't working and they weren't working the whole race, so we virtually had to go without a mainsail on the first night. So we put three reefs in it and had a guy up the mast that night to get it down and then he went back up to put the sail back up the next day, as we had to wait for daylight and calmer seas because it was too dangerous to put him up during the night."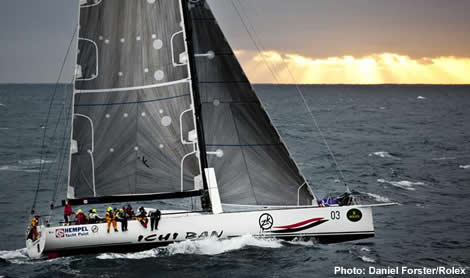 Allen said that following that first night they never recovered. Last night they also broke one of their D4s – peculiarly this was one of several standing rigging failures that occurred on the lead boats. "Luckily we picked it up before otherwise we would have lost the mast."
Allen said they were expecting conditions to be tricky on this race and for there to be big windshifts off the Tasman coast, but hadn't quite expected this to the same degree in his previous 22 races. "We had all sorts of breeze directions and so actually trying to position the boat for three different winds is really difficult. The Tasmanian coast was very different from what I have ever seen before, but the run we had from Tasman Island to the finish was probably the best run I've ever had in my entire life. We had wind the whole way and we never stopped."
We put it to Allen that was about time he got himself a 100 footer. "We were debating that on the way down. I think the world of building 100 footers isn't going to happen any time soon. There might be someone courageous enough." There have been the vaguest rumours of a one design 80 footer but Allen isn't overly confident about this. "I think that would be a good concept, but then you'd only be one design for a minute and then someone would modify it to make it quicker." Otherwise known as the maxZ86 syndrome.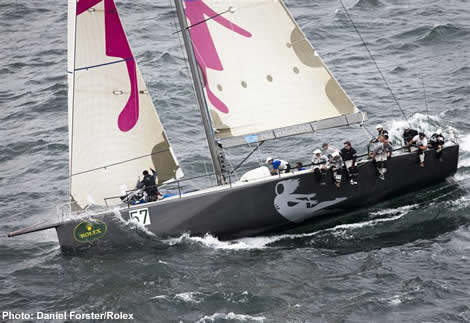 Finishing 12 minutes before Ichi Ban, to take sixth place was Michael Hiatt's Farr 55 Living Doll. Hiatt felt he had been pipped at the post by Loki on handicap in the very last miles.
"It got back up to 30 knots and then we had a nice run up here, but it faded at the end of the Derwent," said Hiatt. "We lost about 15 minutes up there and that could have been the difference between winning and losing. It was a good race. I think everyone put in an amazing effort."
Hiatt believes that on the strong first night of the race they may have seen gusts of 40 knots but described the conditions as 'spooky'. "It would drop off to nothing and all of a sudden we'd get a lot more, so we had to handle that, but all of the transitions were really good. We just needed a tweak more speed."
Living Doll's crew includes some legends such as Whitbread/Volvo Ocean Race winners Steve Cotton (Yamaha) and Noel Drennan (Illbruck) and also included their own on board meteorologist in the form of Canadian Eric Holden. Also in the crew line-up was well known Spanish Finn sailor Rafa Trujillo (who didn't seem to appreciate overly the Bloody Mary, Investec Loyal crewman and fellow Finn sailor Anthony Nossiter had generously brought him down from the Customs House). While they won't win under IRC, it looks possible they may finish on the podium.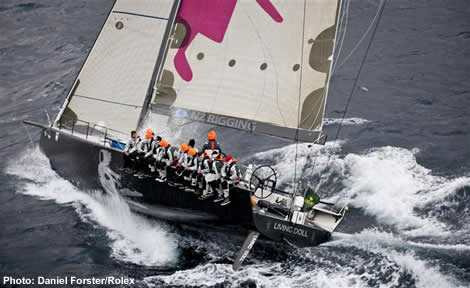 First of the competitive '50ft' fleet into Hobart was Jason Van Der Slot and John Williams' Farr-designed TP52 Calm, formerly Stuart Robinson's first Stay Calm TP52. After a good start Van Der Slot said they also had a rigging issue with their D1, which caused them to go slow for around six hours.
"From there we pumped the boat pretty hard and we managed to get in front of Ragamuffin and Jazz up the river," said Van Der Slot. "[That was down to] a bit of local knowledge – I was born and bred here. We stayed on the eastern shore until we got to White Rock and then we came across with breeze and we managed to put it through the line. We are happy with how the boat performed – it was a good event."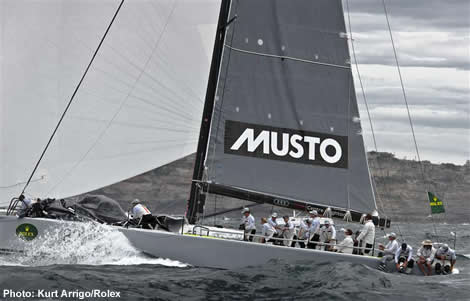 Robert Date's Reichel Pugh 52 Scarlet Runner did well until they lost all their instruments on the first night (later discovered to be a short in the mast displays). "So we had to sail like blokes used to do about 50 years ago! Dead reckoning and a sextant. So unfortunately we lost about 15-20 miles on our competitors and that's where we finished I think. That put us into a different wind pattern. It was unfortunate, but that's what happens."
They too suffered rigging damage, nearly losing one of the lower Ds when its pin came out. "One of the crew managed to spot it and we grabbed it and changed on to the opposite tack and put that all back together. If we hadn't spotted that in time, we would have lost the mast. We were a bit lucky in that area."
Date said that on the first night they saw winds in the high 30s and he admits it was rough. "It was wind against current and standing waves and a lot of bashing with the boat." Off Tasmania they never lost wind, which Date attributed to his navigator: "We have got a very good navigator on board. Jess Sweeney was finding our way through holes. She talked to us about having a little spot where we had some breeze. It's beyond me all that stuff but she's very good at it."
While there are still some vague prospects for potential handicaps winners, it seems most likely that Stephen Ainsworth's Loki will win the title, which will be announced formally by the CYCA at some point tomorrow.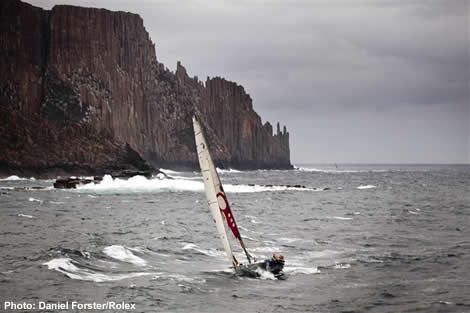 Back to top
Back to top