Protest against Investec Loyal dismissed
Following a three hour hearing at the Royal Yacht Club of Tasmania before the International Jury, the Race Committee's protest against Investec Loyal was dismissed and Anthony Bell and the crew of his 100ft maxi were at last declared the line honours victors in the 2011 Rolex Sydney Hobart Yacht Race, following their victory by just 3 minutes 8 seconds over Wild Oats XI yesterday afternoon (local time). This is the second year on the trot that the Hobart race's line honours victor's position has only been confirmed after a protest.
"It is the long way around in some ways," said an elated Bell. "It is very relieving to get to this point. There are rules in every sport and I suppose while it wasn't ideal to go through this, I think that ultimately it gets beyond any question and whatever those questions that were asked have been proper answered. For the crew and everyone, if there is any doubt about it, it is better to have it out like it is, and have a panel of our peers come up with the answers."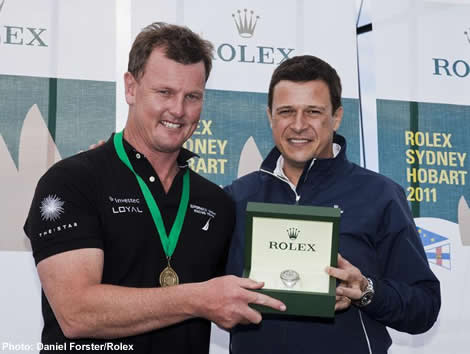 The case for Investec Loyal was presented to the international jury by navigator Stan Honey while tactician Michael Coxon also gave evidence as the person who had asked the question of the ABC helicopter pilot.
"They have an obligation to take the protest on the facts and go through it thoroughly and make sure there is no stone unturned," continued Bell. "One of the things that they did take was that Michael Coxon's question was not to gain any advantage for our boat at all."
Coxon had queried the pilot about Wild Oats XI's mainsail as it was the morning after a night where the fleet had seen gusts of 35-40 knots and he had been concerned about their competitor's 3Di sail, which he had supplied as Managing Director of North Sails Australia. It was also the most expensive sail of its type in the world. This concern followed some problems Loki had had with a 12 month old 3Di sail she had had at Hamilton Island Race Week at the reef points. On the night of the start in the big winds Loyal had been sailing with two reefs in. "The international jury found that the question was not aimed at getting an advantage and no advantage was gained," said a spokesman.
The protest being lodged by the Race Committee moments after Investec Loyal crossed the finish line, may not have been the best of timings. Bell shared his views: "That is one of the things that nicked off the crew. We carried on like we were, it was a great moment that got cut short on the basis of that. But I would prefer if there was a question mark to have gone through a process like this and dealt with it properly rather than it getting overlooked. I would rather that it was cleaned up like it was. So I'm pleased."
So finally Bell and the Investec Loyal crew get to fully enjoy the win they most definitely deserve. As Bell put it: "As much as you say don't worry, we won on the water, it doesn't matter what happens in the [protest] room, it does matter what happens in the room. It just does."
As to his victory, finally, Bell said: "It is an amazing thing to be here. We stuck it out with Loyal and believed in the boat, when we had critics who said it can't go any faster and it can't win races. The whole experience with this sailing thing has been such a fantastic one. I am really pleased it has come out like that for the guys, some of the pro sailors who put their reputations on the line for us.
"We have come second to Wilds Oats quite a lot. This is an against-the-odds victory for us. But we had this feeling when we left the dock on boxing day that we were going to go okay in this race. There is this thing - I am still waiting for one of my crew members to wake me up and say you're on watch.
"The buzz is made best by the fact that Oats is such a fantastic, professionally run campaign by the Oatley family and to have them compete so fiercely it accelerated and heightened the value to us to go down the wire against a raceboat team like that. They are the benchmark of probably supermaxi racing not just in sailing but in the worlds. It makes it so much better for us.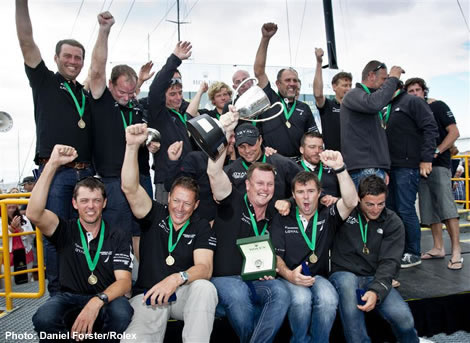 Back to top
Back to top