Christmas Day in 47 knots
Monday December 26th 2011, Author:
Ollie Dewar
, Location: none selected
While the leading trio in the Global Ocean Race struggled with fickle and frustrating light airs south and southeast of Tasmania, the two boats further west had a Christmas Day pasting in 47 knots of wind, but delivered impressive speeds.
Over Christmas Day the zone of minimal breeze ballooned and stretched to an area covering 350 miles south of Tasmania and the GOR fleet leaders, Conrad Colman and Sam Goodchild on Cessna Citation and Ross and Campbell Field on BSL in second place were snared early on Christmas Day with the speeds dropping to below five knots as the two Class40s struggled east towards South Island, New Zealand.
By 18:00 GMT, Cessna Citation and BSL had raised speeds to nine-knot averages, but Halvard Mabire and Miranda Merron on Campagne de France in third place remained glued to the Tasman Sea, 150 miles south of Tasmania with averages dropping to just two knots on Christmas Day. "It's a balmy 17 degrees, flat calm, grey and occasional light drizzle," explained Miranda Merron. "We had Christmas lunch on the 'terrace' - game casserole, cod and potato casserole," she reports. "This will be followed by tea and my mother's delicious Christmas cake, which has now travelled from Devon to Cherbourg, down the Atlantic Ocean to Cape Town and now across the Indian Ocean to our current position south of Tasmania!"
By midnight GMT on Christmas Day, Cessna Citation and BSL were both making slightly under ten-knot averages in northerly headwinds, separated by146 miles, while Campagne de France had squeezed some extra speed and were averaging 6.1 knots, trailing the Fields on BSL by 265 miles.
While the Franco-British duo on Campagne de France enjoyed lunch and tried to ignore the lack of wind, conditions were heavy further west for Marco Nannini and Hugo Ramon in fourth on Financial Crisis and the South African team of Nick Leggatt and Phillippa Hutton-Squire in fifth with Phesheya-Racing.
"The storm took its toll on Phesheya," reported Phillippa Hutton-Squire on Christmas morning. "There was a big front that begun to pass over us and we saw winds up to 47 knots and waves of five metres," she adds. "At one stage we surfed down a wave with three reefs and staysail at 19 knots!"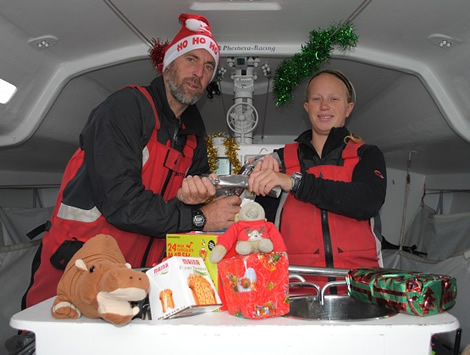 While conditions in the front were fierce, the breeze slackened later on Christmas Day. "Nick and I were both holding on very tight but the autopilot did a very good job and just continued down the next wave!" continues Hutton-Squire as the duo averaged 11-knot averages. "The front passed over early this morning and we gybed and during the course of today the wind has eased off and we were able to change first to two reefs and later to the Solent," she confirms. "The waves are still enormous and we are having some big surfs." As the front rolled east, Nannini and Ramon took the brunt of the breeze later on Christmas Day polling consistent speed averages of 11-12 knots as the rode the system east through the Roaring Forties.
By midnight on Christmas Day, Financial Crisis was averaging 10.2 knots in the wake of the front with a 451-mile lead over Phesheya-Racing.
Sched at 00:00 GMT 26 December:
1. Cessna Citation DTF 662 9.6kts
2. BSL DTL 146 9.8kts
3. Campagne de France DTL 411 6.1kts
4. Financial Crisis DTL 848 10.2kts
5. Phesheya-Racing DTL 1299 8.7kts
Back to top
Back to top