Boxing Day gathering
93 yachts are currently lining up to be on the Boxing Day start line of the 67th Rolex Sydney Hobart.
According to Garry Linacre, Commodore of the Cruising Yacht Club of Australia, the organising authority for the event: "This year's race has attracted a great group of yachts with an exciting mix of brand new, recently acquired and well established boats that will provide strong competition for line honours and through the divisions. The race for the elusive Tattersall's Cup for overall honours will again be absorbing."
All Australian states are represented on the entry list, and six international entries will sail for France, Hong Kong, New Zealand, the UK and the USA.
The newest yacht in the race is likely to be the Ker 40 AFR Midnight Rambler, launched in September and co-owned by Ed Psaltis, Bob Thomas and Michael Bencsik. Psaltis and Thomas are best remembered in the context of the race as having won overall the infamous 1998 edition, on a previous iteration of AFR Midnight Rambler. By contrast the oldest yacht is the 79-year old 9m Maluka of Kermandie (AUS), skippered by Sean Langman. Langman is one of the race's current crop of true characters. Unlike Psaltis and Thomas, he may not have won the race overall, or taken line honours. But he entertains with his entries and tries as hard as any to realise the dream. In 2002, Langman defied conventional wisdom in bringing his 66 foot 'skiff on steroids', Grundig, home safely and in the second fastest time ahead of several larger maxi yachts.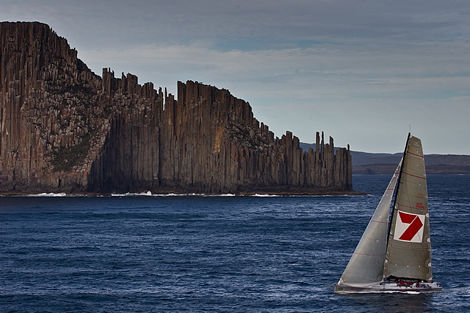 Maluka is not just the oldest, but she is the smallest. Dwarfed by the 100-footers in size and technology. Wild Oats XI, the Reichel Pugh designed canting keeler, which set the current course record holder of 1 day 18 hours 40 minutes 10 seconds in 2005, is aiming for a sixth line honours win from seven starts. Up against her is Anthony Bell's similar-sized Investec Loyal. What Investec Loyal lacks in winning pedigree compared to Wild Oats, she makes up for with an eclectic crew that accommodates some of the world's best sailors and a number of Australian sporting celebrities, including the two-time Rugby World Cup winner Phil Kearns and former world title boxer Danny Green.
Also on the Investec roster is the American navigator, Stan Honey. A Volvo Ocean Race winner with ABN AMRO One, Honey has raced on many of the sailing world's recent winning and record-breaking projects. Almost oddly, he has only attempted the Rolex Sydney Hobart once before in 2006; "I've only raced in one Hobart race in the past, 2006, in which I navigated ABM AMRO One. We had just taken the lead from Wild Oats, when we lost our mast. Maximus (now Investec Loyal) was also dismasted that same night, at about the same time. So I have started but never finished a Hobart Race." For the man that navigated the trimaran Groupama 3 to a record breaking round the world run in 2010, the Rolex Sydney Hobart remains one of the most prestigious and toughest of the major ocean races. Honey says; "I am delighted to have the opportunity to participate in another race. The combination of the East Australian Current and the rapidly changing weather contribute to the challenge of navigating the Rolex Sydney Hobart Yacht Race."
Honey is not the only American to be racing this year. American Rives Potts' 48ft Carina is making the pilgrimage from the east coast of the USA via the 2011 Transatlantic Race, the Rolex Fastnet and a few places in between, "Carina is being delivered to Australia by my son Walker and my nephew Rives. She has just left Bora Bora with around 3,000 miles to go and should be in Sydney by mid-December." Beneath this seeming air of nonchalance, Potts comes to the fray with some form in 600-mile offshore tests of seamanship. He was part of Ted Turner's Tenacious crew that won the 1979 Fastnet. And, while she has classic lines, Carina has proved adept at performing offshore to her handicap, winning the 2010 Bermuda Race and her class in this year's Rolex Fastnet.
Like Honey, Potts is looking forward to taking on the southern hemisphere's most famous race. "This is my first Rolex Sydney Hobart, but from what I have read and from all of the stories I have heard from my sailing mates who have done the race before, it will most likely be rough and cold. We would like to sail a good, safe race and to push as hard as we can. Winning would be the best, but I am sure that every other competitor feels the same."
Another yacht participating this year with half an eye on the main prize is Chris Bull's Jazz. Remarkably for such a seasoned campaigner, well-known in the northern hemisphere, Bull has not yet managed to win one of the big 600-mile offshore races, helping show how remarkable are the achievements of those that do. Bull has come mighty close. At last year's Rolex Sydney Hobart he comfortably won his class, but was ousted from pole position for the main prize by Geoff Boettcher's Secret Men's Business 3.5. The second time this has happened in this race. He hopes to go one better this year. The Jazz crew comprises a number of foreign nationals aiming to help him in this goal. Amongst them is Maltese sailing-legend Christian Ripard. Ripard is another coming to race with form and ambition, and, may prove the lucky charm Bull needs. In October, Ripard won the 606-nautical mile Rolex Middle Sea Race having finished second in the 2010 edition. Ripard was in Bull's crew in the Rolex Sydney Hobart last year. Could history be about to repeat itself?
Jazz is a Cookson 50. In recent years, much of the pre- and post-race comment has been about yachts of around this size with some highly competitive entries, including a number of optimised TP52s. The 84-year Syd Fischer may be the elder statesman of the Rolex Sydney Hobart, but with a fourth place in the 2008 race on his TP52 Ragamuffin, he demonstrated the qualities of these yachts and his determination not to be outdone by younger competitors. Among the five TP52s entered this time, two are racing under the colours of Hong Kong adding a touch of Asia to proceedings.
Anthony Day's Ffreefire features a crew that lives or has resided in Hong Kong or Singapore and is one that has been sailing offshore together for many years on this boat. With Russ Parker, Rear Commodore of the Royal Hong Kong Yacht Club, onboard the team relishes the challenge of the race and is hoping for a convincing performance. The second Asiatic TP52 is Geoff Hill's Strewth, which finished third overall in the 2010 Rolex China Sea Race. Hill is harnessing the undoubted navigational talents of Lindsey May, who was the winning skipper of Love & War in 2006.
While any number of sailors and adventurers will be setting out on their first Rolex Sydney Hobart, including one of Australia favourite daughters, around the world yachtswoman Jessica Watson, who at 18 is leading a crew whose average age is just 19, kudos should be given to Tony Cable, who plans to embark on his 46th race. That is two-thirds of the total number Rolex Sydney Hobarts so far held, and certainly suggests that Cable is not one who enjoys a leisurely Boxing Day.
The 2011 Rolex Sydney Hobart starts from Sydney Harbour at 13.00 AEDT on 26 December.
Back to top
Back to top