First Class 40 finisher
Yannick Bestaven and Eric Drouglazet crossed the finish line of the Transat Jacques Vabre in Puerto Limon, Costa Rica, this Thursday, November 24 at 07:59:08 UTC to win the Transat Jacques Vabre's Class 40.
After leading the race almost continuously since the start in Le Havre on Wednesday 2 November, the duo scored a convincing victory completing the course in an elapsed time of 21d 17h 59m 08s at an average speed of 10.23kts having sailed 5339 miles.
Although they were hounded by the young British duo Ned Collier Wakefield and Sam Goodchild on Concise 2, until they were forced to retire into the Azores with hull damage, Yannick Bestaven and Eric Drouglazet otherwise left their rivals in their wake since they powered off the start line in the lead of the fleet of 16 Class 40s over three weeks ago.
They had already won one race before they had even started...having damaging their rudder on the delivery passage to Le Havre. It would appear that this was their only set back as the duo composed a faultless victory.
During the first ten days Bestaven, who is an ex-Vendee Globe skipper and Drouglazet, who once won La Solitaire du Figaro, led the fleet as they fought strong adverse headwinds and big seas. The retirement of Concise 2 gave the Aquarelle.com crew free rein to sail their own race, keeping a loose cover on the chasing duo on ERDF Des Pieds and Des Mains who have mostly been more than 100 miles behind and who are expected to finish later today.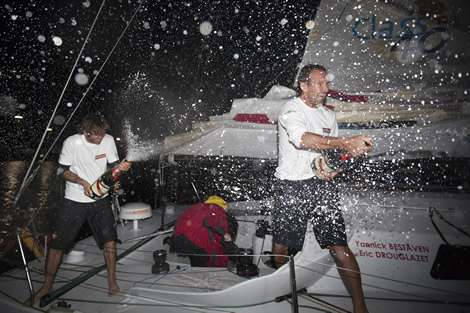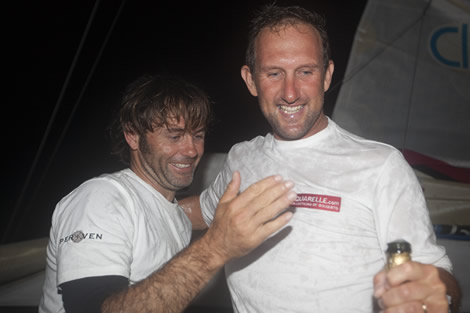 Back to top
Back to top