Banque Populaire sets off on Jules Verne Trophy attempt
A 08:31:42 UTC this morning (22 November), the 40m maxi-trimaran Banque Populaire set off on her attempt to break Groupama 3's record for the Jules Verne Trophy.
The record set in the spring of 2010 by Franck Cammas and his crew aboard the Groupama 3 trimaran stands 48 days 7 hours 44 minutes and 52 seconds, so to better this Banque Populaire will have to arrive back before Monday, 9 January, 2012 at 16:15:34 UTC
The start line for Jules Verne Trophy attempts is on a line between the Créac'h lighthouse on the west side of Ushant (off northwest France) and the Lizard and after sailing around the world eastabout, this is the same line the Banque Populaire crew will have to cross on their return.
A problem with Jules Verne Trophy attempts is that they are now so fast. For example to break the record Banque Populaire needs to be past Cape Town in 13 days' time. Given that the long range weather forecast is 14 days, in order to find a weather window, the met team at Banque Populaire has had to look not just at the weather for the North Atlantic but also for the whole of the South Atlantic to ensure a fast passage south. Obviously after this the weather is a lottery but the only possible controllable part of the course is outbound down the Atlantic, it is perhaps more understandable why the Banque Populaire crew spent one entire winter on stand-by without ever leaving.
As crewman Brian Thompson puts it: "You can almost look to the Kerguelens – so it's nuts isn't it? This time we are tyring to look down tot the Equator – six days to the equator is the target."
Fortunately now the Azores high is where it should be and around east side of this is a strong band of northerlies off the Portugese coast to propel Banque Populaire south.
As Juan Vila put it: ""Much has been changing in the weather files recently but everything seems to be lining up for us now with a good potential time to the equator and to the Cape of Good Hope. We will have regular conditions at Ushant, with about 20 knots, but it builds quickly after that. In four to five hours, there will be almost 30 knots and if the weather files are accurate, we should have around 40 knots at Cape Finisterre. For the longer term, looking at equator at the moment it gets us there in a time of five and a half days. I hope it stays that way. Beyond this you look at the trend that could get us to the Cape of Good Hope in 13 days."
Loick Peyron gave his take: "The weather conditions are favorable for the moment. The difficulty is going to be to squeeze between the Azores and Portugal/Morocco, to go as west as possible to get a favorable angle in the trades, that are not necessarily very strong. It's a nice window, but it is never optimal, it must always be compromise."
Since the last period on stand-by Loick Peyron has replaced Pascal Bidegorry as skipper. Jeremie Beyou has gone to do the TJV with Jean-Pierre Dick and is working on his own campaign for the Vendee Globe. So he has been replaced by Incidences La Rochelle sailmaker and long term crewman of Peyron, Jean-Baptiste Levaillant. "Jean-Bap is brilliant and importantly he is not only very good, but he is also Mr Lucky," says Thompson. "I did a Quebec St Malo with him and we won that on Sergio Tacchini. But he has done it the last thre times and won it every time. And he got the Transatlantic record on Banque Populaire."
Banque Populaire has all the potential to better Groupama 3's time. She is 40m long compared to Groupama's 32m, but this monster of a boat takes some handling (under Jules Verne Trophy rules there are no powered winches) and should anything go wrong... After that it is down to ensuring that nothing breaks that could compromise the record and minimising the risk of slow periods. But on a 40m long trimaran 'slow' is a compative thing...

Previous fastest times around the world...
| | | | | | |
| --- | --- | --- | --- | --- | --- |
| Year | Skipper | Boat | Nat | Time | Av speed |
| 1993-94 | Bruno Peyron | Commodore Explorer | FRA | 79 days 6 hours 15 minutes 56 seconds | 11.35 |
| 1994-95 | Robin Knox-Johnston/Peter Blake | Enza | NZL/GBR | 74 days 22 hours 17 minutes 22 seconds | 12 |
| 1997 | Olivier De Kersauson | Sport Elec | FRA | 71 days 14 hours 22 minutes 8 seconds | 12.66 |
| 2002 | Bruno Peyron | Orange | FRA | 64 days 8 hours 37 minutes 24 seconds | 13.98 |
| 2004 | Steve Fossett | Cheyenne | USA | 58 days 9 hours 32 minutes 45 seconds | 15.52 |
| 2005 | Bruno Peyron | Orange II | FRA | 50 days 16 hours 20 minutes 4 seconds | 17.89 |
| 2010 | Franck Cammas | Groupama 3 | FRA | 48 days 7 hours 44 minutes 52 seconds | 18.7 |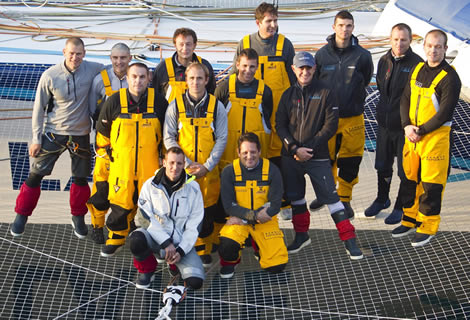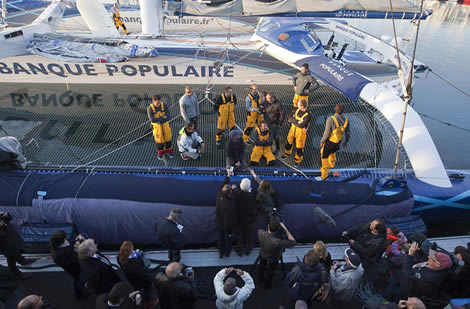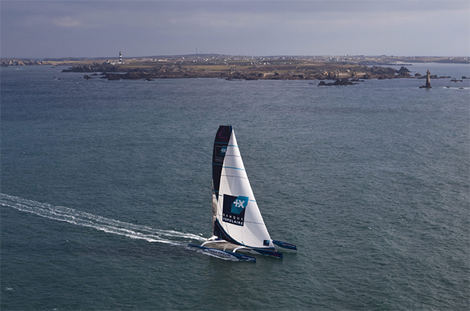 Back to top
Back to top