Driving for more Brits in the Vendee Globe
A year out from the start of next year's Vendee Globe so the organisers of the singlehanded round the world race gathered at the RORC yesterday to lend a helping hand to the British skippers still looking for sponsorship to compete in their event. Along with Guillaume Henry, the new race's CEO and Race Director Denis Horeau, on the presentation panel were Stuart Hosford, MD of Alex Thomson Racing and Peter Pantlin, Chief Corporate Officer from Gamesa. Also attending was the venerable figure of Sir Robin Knox Johnston, the first man to sail singlehanded non-stop around the world and winner of the 1968-1969 Sunday Times Golden Globe race.
While seven British IMOCA 60s competed in the 2008-9 Vendee Globe, at present just two are due to be on the Les Sables d'Olonne start line come 10 November next year: Mike Golding with Gamesa and Alex Thomson with Hugo Boss. This leaves Sam Davies, Dee Caffari, Brian Thompson, Steve White, Oscar Mead, Phil Sharp and Scottish sailor John MacKay still hunting for funds.
Denis Horeau pointed out that Britain was the country that invented solo round the world sailing with the Sunday Times Golden Globe and developed the sport with the OSTAR that in turn spawned the BOC Challenge (now the Velux 5 Oceans), and caused its two time winner, Philippe Jeantot, to set up the first Vendee Globe in 1989.
British solo sailors have competed in every event since the second Vendee Globe in 1992 creating some of the most memorable tales from the high seas – Pete Goss' rescue of Raphael Dinelli and the rescue by the Australian navy of Tony Bullimore in the 1996-7 race, the duel between Ellen MacArthur and Michel Desjoyeaux in 2000 and the performances in particular of Sam Davies and Steve White in 2008-9.
There was a video presentation including testament from several French sponsors such as Arnaud Boissieres' backer, Akena Verandas, who's company increased their turnover tenfold since they first became involved with the event. As their CEO Christophe Chabot put it: "The Vendee Globe is the only race that fascinates even people who are not fans of sailing. That enables firms like ours to enter the world of sailing, which is something we would not have done if the Vendee Globe had not existed."
The Vendee Globe returns one of the highest returns on investment in sailing and with the UK press it is one of the few events genuinely to make front page news. According to figures from the organisers of the Vendée Globe, media coverage has grown considerably: +69% for TV coverage with 466 hours of reports, +58% for Internet with 59 million visits. Total media coverage corresponds to an advertising investment of 145 million Euros. For the 2012-2013 event, the forecasts for media coverage are 30-50% higher for the sponsors as between 15 and 20 competitors are expected to take part, as opposed to 30 in the last race.
Some other statistics were offered: 1.7 million people present in Les Sables d'Olonne; 15-20,000 people visiting the race village each day; 735,000 visiting the race village over 3 weeks; 300,000 people at the start (more than Le Mans 24 hours); 120,000 people on the beach for the prizegiving; 466 hours of television broadcast; 59 million internet users, 332,000 virtual skippers; 2386 international journalists; 300 hours of radio; 18604 press articles, etc.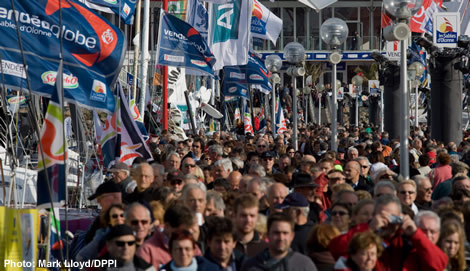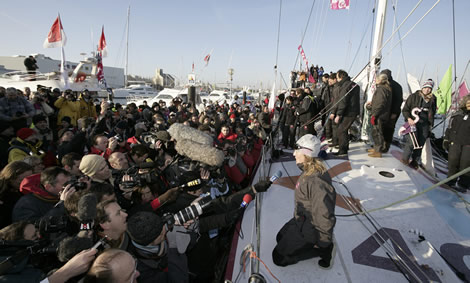 Entries

The entry list is looking thin compared to 2008 with at present just 13 boats signed up, compared to 30 last time.
There are the usual suspects – Arnaud Boissieres (Akena Verandas); Kito de Pavant (Groupe Bel); Jean-Pierre Dick (Virbac Paprec 3); Marc Guillemot (Safran); Armel le Cleac'h (Banque Populaire); Vincent Riou (PRB); Alex Thomson (Hugo Boss); Bernard Stamm (Cheminees Poujoulat) – assuming he can retrieve his yacht; Dominique Wave (Mirabaud). Spain's Javier Sanso is returning with the most recently launched new boat – the Owen Clarke-designed, Southern Ocean Shipyard-built Acciona. Then there is the new kid on the block in the form of Francois Gabart on a sistership to Foncia/Banque Populaire, MACIF. The most recent entry is Italian Alessandro Di Benedetto aboard Team Plastique, the former Sodebo/VMI.
In addition to the Brits mentioned, numerous other French skippers are still on the hunt for money - Jean le Cam, Yann Elies, Jeremie Beyou, Raphael Dinelli, Jean-Baptiste Dejeanty, Marc Emig, Louis Burton, Erwan Tabarly – plus Spaniards Guillermo Altadill, Juan Meredi, Alex Pella and Pachi Rivero and from Germany, Boris Herrmann.
Case histories

Alex Thomson Racing boss Stuart Hosford, gave his views, particularly poignant as a previous Commercial Director at Royal Bank of Scotland when he signed sports sponsorship agreements with Williams F1, RBS Six Nations, Andy Murray, Zara Phillips, tennis, dressage, etc.
"We have some fantastic sailors and some fantastic history, pedigree and heritage in this sport, but we have a problem. We have an issue right now. I think the guys are here to convince Britain to enter more boats in the Vendee Globe - I think that is wise and right. We have two guys lined up do the Vendee Globe next year, who are both sponsored by non-British companies which I think is poor. I think we have got a perception issue and a confidence issue."
Hosford provided the example of former OSTAR competitor Oscar Mead, who Alex Thomson Racing are representing: "Oscar is 21, he is fighting fit and is ready to do the Vendee Globe. I have written to 200 British companies offering to put Oscar on the start line on our Finot 60, the old Hugo Boss, for under 1 million Euros. I have contracted agreed to underwrite a 10:1 ROI for 200 British companies...and we haven't got anyone to sign up for it. So we have an issue with perception and engagement. And there is an economic crisis and we all know how that affects confidence. What I believe, from my background, is that it is not about money, it is about perception and confidence. Today signing a sports sponsorship agreement in sailing is a brave thing for any company to do and we have some work to do to convince people it is the right thing to do. We do have a great opportunity and we need to work harder to convince British companies to get on board with what is an amazing adventure and a great experience and is a great business case."
Hosford talks about Alex Thomson Racing's relationship with Hugo Boss, who are signed up until 2014 and who believe in sponsorship of ocean racing and the adventure and story the Vendee Globe creates.
"My view on that sponsorship is that it has to be worked really hard all the time in order for it to make sense. We have an ROI [return on investment] calculator within the team and it says you have to pull single every lever you can, all the time, in order to make sure that the ROI stacks up: PR, press, hospitality, employee engagement, cross board promotion, motivational speaking, product development, customer/supplier engagement. That is the reality of sailing: It doesn't deliver the major media returns that F1 or football will deliver, but it allows you to be more creative and allows you to differentiate yourself and if you work it really hard it will make sense – no doubt about it.For Hugo Boss it has made sense historically and continues to make sense and I hope it continues to make sense long into the future."
Gemesa COO, Peter Pantlin, shared their case for backing Mike Golding's campaign: "Gamesa is a global leading player in the design and manufacture of wind turbines and wind farms, so you can automatically see the wind connection. But it is not just that, it is the sort of values that Mike and sailing bring are identical to the values that Gamesa has. Clearly as an engineering and technology company, I don't have to tell you how engineering and technology-minded sailing is as well, so there is an automatic fit there as well.
"Why did we thing of a British boat and a British skipper? Partly fortuitous. Mike has a track record that is well recognised. Gamesa is totally and utterly committed to the UK market. We opened our R&D centre in Scotland a couple of months ago. That employs about 60 people, going up to 180 next year. We will develop a manufacturing base somewhere in the UK, north or south of that border that will employ 800 or so people going forward, excluding the supply chain. And the company has decided to put its Global Offshore Wind Division Offshore Division here in London. So although it is a global Spanish company, it has links to the UK."
Pantlin added that internal engagement was also vital. Gamesa has around 8,000 employees in 33 countries around the world from China to India to the USA to Brazil and they all have to buy into Golding's campaign in the Vendee Globe. "As an example of that what we have done in Le Havre and what we will do in St Barts and other races right up to 11 November next year, is we have what we call five or six Gamesa ambassador who come to the start and to the finish to assist Mike and the team in preparing the team and working with clients, etc."
Andrew Pindar made the point that while is great that sailors have the ambition to compete in the Vendee Globe, but sailing sponsorship is about using the sport of solo non-stop round the world racing to promote their business, their values or what they are trying to do with their business.
"In Akena Verandas' case, that was something they clearly could resonate with. Although they couldn't afford it, they did it, they took a chance and it has obviously paid off for them and they are delighted with what they are doing. So you will find companies like that or Gamesa, who were looking for something. So you have to trawl. You have to kiss a lot of frogs before you find a prince. It has got be against that profile of finding a company that needs to promote them in a certain way. There are metrics you have to apply as to why people will sponsor you and then you have to keep on kissing the frogs. When I say the frogs – I don't mean..."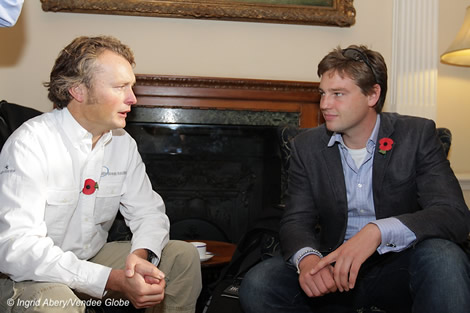 British skippers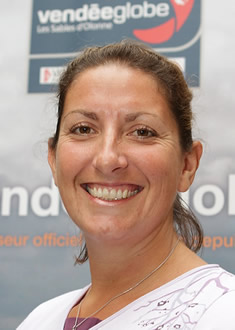 Freshly returned from Puerto Rico, where was nominated for the ISAF Rolex Sailor of the Year Award, Dee Caffari says that she has exhausted her contacts and has now employed a sponsorship agency in London (who worked with Sir Keith Mills and TeamOrigin). She still hopes to compete aboard the former Aviva she has already twice sailed around the world in the last Vendee Globe and earlier this year doublehanded in the Barcelona World Race.
While she hopes to find backing by the end of this year, in reality she says could probably push it until Easter. "You go into refit, you come out, you do the European Tour so I can race against the other boats and get a feel for where I am in the fleet and then go training, do a little refit, go to France, do the race. And then what we would look to do is come back do Round the Island, Fastnet, Cowes Week and deliver to the sponsor whatever they want after that. It is an 18 month program we are looking for to deliver that return."
The Easter deadline is there because she will need the summer to prepare herself and the boat. "I have to finish higher than sixth. I don't want to just do another lap of the planet, I want to deliver a results," Dee says.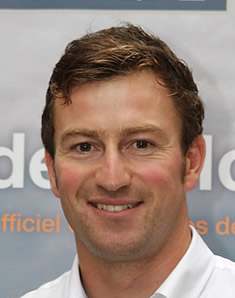 Class 40 Route du Rhum winner Phil Sharp has the ambition to win the Vendee Globe in 2016 but realises that the best way to achieve this is to have a dry run in next year's event. "There are still some good opportunities out there for boats and doing a late campaign makes for an affordable budget that will give potentially very impressive value for money to a sponsor."
Sharp reckons a competitive campaign could still be put together for around £2 million, including buying a boat and rerigging it.
If this does not come off in 2012 then Sharp would like to compete in the IMOCA class' European Pro Tour next year to get some experience and he will consider another Solitaire du Figaro campaign, having finished as the top Brit this year.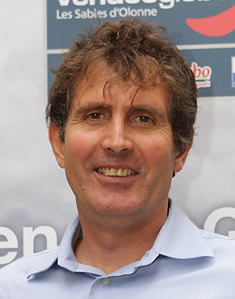 Brian Thompson who managed to get the Bahrain Team Pindar IMOCA 60 around the world in 2008-9, would like to compete in the next Vendee Globe, this being one of three projects Thompon says he would like to achieve. He is soon to set sail on the Jules Verne Trophy as the lone Anglo-Saxon aboard the Loick Peyron-skippered maxi trimaran Banque Populaire. They very nearly left last weekend. "On Friday we had our foulweather on, we had the docklines off, down to the spring lines ready to go and Loick jumped on board with all his gear on ready to go and said the weather isn't quite good enough." While the weather in the South Atlantic was the best it had been for three years, there was a large hole in the wind between Portugal and the Canaries – as the Volvo Ocean Race competitors discovered.
As Phil Sharp says, there are still enough good secondhand boats available to mount a competitive campaign for next year's Vendee Globe and Thompson says he would like to be on the start line. Beyond this his third ambition is to follow in the footsteps of Ellen MacArthur and Francis Joyon in attempting to set a new non-stop singlehanded round the world record.
So come on corporate Britain - how about it?
| | |
| --- | --- |
| | |
| | |
| | |
| | |
Back to top
Back to top