Rolex Middle Sea Race departs tomorrow
By midday on Friday, the bulk of the 69-boat fleet for the 2011 Rolex Middle Sea Race was tied up in Marsamxett Harbour – ready for tomorrow's 1100 CEST start of the 32nd edition of the 606-nautical mile offshore race. The race continues to draw a truly international cast of boats and crews with entries from 16 countries. Still the highest concentration is Italy with 26 entries, followed by Malta and the United Kingdom, with nine each.
The biggest boat in the fleet is the 100-footer Esimit Europa 2, from Slovenia. The accomplished German sailor Jochen Schümann, is onboard as skipper, in his first Rolex Middle Sea Race. The four-time Olympic medallist is more known for his inshore racing and said, "I am more focused on short distance races, and more used to round the buoys. I think to learn to sail better you learn more in short distance races. But the combination with crew who are experienced in long distance races, for example the navigator, Juan Vila, works absolutely fine. I would say this makes the perfect team."
The rich history and numerous historic sites are not lost on the competitors. Schümann, who has never visited Malta before, said, "It's my first time and I am very impressed. The different bays, the waterfront… the old walls, the forts – it is very, very impressive. In fact the whole city of Valletta is a fort. It is a very interesting city – I think it would be good to come here and have the time to discover this city."
Dueling mini-maxis

One of the more closely watched rivalries will be between Niklas Zennstrom's J/V 72, Rán and Andres Soriano's Mark Mills-designed 68 footer, Alegre. Alegre will be competing in her fourth race, having achieved a line honours win in 2008 and overall race win in 2009.
While this will be the Rán crew's third time at the Rolex Middle Sea Race, (they competed with the TP52 in 2008 and the current boat in 2009), Zennstrom's team have been ticking off some important race wins including Rolex Fastnet Race (2009, 2011), the Mini Maxi Rolex World Championship (2011, 2010), and the 2010 Newport Bermuda Race. Rán's preparation is methodical, and Zennstrom has assembled a formidable crew.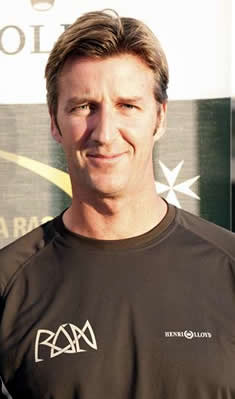 As Rán's navigator Steve Hayles put it, "This race has come on a bit in its standing. Niklas laid down our focus and he's put this race in very high regard in terms of where we should spend our time and resources. We're more focused on this race, as part of a much bigger programme, than we have been in the past."
Hayles and tactician Adrian Stead will both be called upon to decipher the best track around the racecourse, which features an anti-clockwise circumnavigation around Sicily and the neighbouring Aeolian and Egadi island chains as well as further offshore, Pantelleria, and Lampedusa, and through the channel of Malta's sister islands of Gozo and Comino, before the finish back in Marsamxett Harbour.
Most navigators and tacticians seem to agree that this racecourse is trickier than most, with varying wind systems, tidal currents and significant land formations, such as the two active volcanoes of Etna and Stromboli. After the start, the fleet sails 50 miles across to Sicily. Once there they begin to position themselves for one of the most complex parts of the course: the Strait of Messina, the narrow passage between the eastern tip of Sicily and the southern tip of Calabria in the south of mainland Italy. The passage is characterised by strong tidal currents, as it connects the different densities of the Tyrrhenian and the Ionian Seas.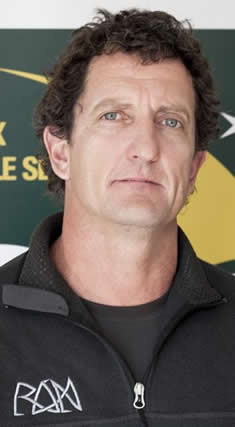 Stead offers his assessment of the Strait, "It's an amazing natural funnel of wind, water, and currents, with pretty high mountains on both sides. You've got Etna beside you, which at the moment is erupting and which affects the breeze a lot. Then you have to negotiate getting through the actual strait. Sometimes it's easy if there's wind. You see anywhere from one to four knots of current – some of it adverse, and some times it's with you, but it's swirly. Getting through Messina and exiting in good shape is stage one of the race; that whole first bit is key to having a good second and third part of the race."
But while Rán has its own game plan, regarding its close rival Alegre, Stead said, "We're definitely going to be keeping a very good eye on them. It's quite a good one this race, you've got Esimit (Europa 2), which should be in front, and they're a reasonable indication of what the breeze is doing. The onboard yacht tracker is online, so we should be able to see what going on. We know Alegre are well sailed with the people onboard (including tactician Francesco de Angelis and navigator Will Best), and we know they're very strong in this race. At the same time, if we feel strongly for something with the weather or some feature we'll certainly be leading them towards it."
Francesco de Angelis is the tactician on Alegre. De Angelis sailed this past season on the boat in several offshores including the Rolex Fastnet Race, the Channel Race, and the Giraglia Rolex Cup. This will be his fourth race, but the Naples native does not claim any local knowledge, as he says, "The beauty of this race is that every time it is different. It's in a period of the year when the weather is changing in the Med, so there are always changes in true wind speed and direction, and there are always corners to go around and current. So everyone is looking forward to it because it's a big challenge for the sailors and for each team. It's a very difficult race to win, so when you do that, you have to enjoy it because it's hard to win."
Lighter winds on tap

At the weather briefing this evening at the Royal Malta Yacht Club, Brian Micallef, a meteorologist at the Malta International Airport provided navigators and tacticians with an overview of the expected weather for the next several days. The forecast calls for southeast breeze, 8 – 13 knots with rain, heavy at times tomorrow.
Following the briefing, de Angelis said, "I think it will be a very difficult race because apparently there are three fronts going through, so there will be big shifts in wind direction and times when the wind will be very light."
A diverse mix of boats and crews

At the smaller end of the size spectrum, but no less competitive is Chris Opielok on the Corby 36, AOC Rockall. Though racing in the Rolex Middle Sea Race for the first time, as "it's on the list to tick off", the German owner/skipper has been actively – and successfully – campaigning the boat around the world for the last two years. He and his crew have raced in Australia, Germany, The Netherlands, France and the UK, were they competed in the Rolex Commodores' Cup in 2010, winning Class 3 and helping the Hong Kong team into second place overall. But a race around Denmark proved his yacht's offshore capabilities. Opielok explained, "It was really brutal and tough: it was force 8-9, heavy winds. This is a serious offshore boat."
Opielok thinks the biggest challenge for the race competitors is the unpredictable weather systems between the European continent and Africa, with Sicily and Malta in between. As a professional master mariner, who spends his life on ships commanding offshore supply vessels in Australia and the North Sea, he may have a slight advantage. Opielok, said, "You have to be a very competitive boat and very good weather guys, and some experience about how to handle the weather and forecasting."
Newly launched last spring, and racing for the first time is the 40 footer Catty Sark, co-owned by Italians Francesco Buonfantino and Enrico Lanzillo, good friends and co-skippers. The Azzuree 40 is designed in Italy and built in Turkey. The duo took delivery of boat in April and delivered it from Istanbul to Athens, then onward to the island of Procida, located off their hometown of Naples.
The pair has raced in the Rolex Middle Sea Race four times before on a Baltic 38, Obelisk, on occasion with success. Buonfantino recalled, "In 2007, we had a 2nd overall in ORC Division and a 1st in our ORC class. That was the year that was very windy and the year Loki was lost; Obelisk is a Baltic 38, so it's a very tough boat. We like to think of ourselves more like sailors, than racers. As sailors, we were very happy to have done so well in such a tough race. Now we try with this new boat. It's a strange boat, a little like an Open 40, but it's a cruiser/racer. We think we can have fun; we're not professionals, we're all just friends mostly between 45 and 50 years, so not young! But we have two young people, one is my son, the other the son of a friend – tough grinders and good sailors."
Buonfantino cruised with his family on the boat this past summer, including a trip to Malta. But they have shifted gears, working hard this week to get the new boat into race mode, and try out the new set of racing sails. Lanzillo said laughingly, "Now I hope we're ready with the new boat and my best friend. We took off his wife's hair dryer and things like that, and tried to transform it into a racing boat – we've raised the waterline by 5 centimetres!"
A royal welcome

The Royal Malta Yacht Club has been welcoming the boats all this week to their clubhouse in Ta'Xbiex, with its new marina facility, finished this summer. As luck would have it a strong northeasterly breeze last weekend caused substantial damage to some of the pontoons and forced the temporary relocation of a number of the competing boats. In its normal whole-hearted, committed manner the yacht club quickly effected repairs and had boats tied back on the dock by yesterday afternoon.
Georges Bonello DuPuis, Commodore of the Royal Malta Yacht Club spearheaded the marina project (and repairs) and is the nerve centre of the race organisers, keeping everyone focused in the lead-up to the race. Bonello DuPuis was clearly excited about tomorrow's start, "Big names, big boats, small boats…there's a great mix and so many returning yachts which is the best thing about this race, you have people that keep coming back. You've got maxis, mini maxis, Volvo Ocean racers, family cruisers, and this year, quite a few Open 40s."
Tomorrow, Saturday, 22 October, is the start of the 2011 Rolex Middle Sea Race. First warning signal will be at 10.50 CEST in Grand Harbour, Valletta. There will be four IRC starts, beginning with the smallest sized yachts and ending with the largest.
The final prize giving is at 12.00 CEST on Saturday, 29 October at the Mediterranean Conference Centre in Valletta.
Back to top
Back to top