Form book firming up
There is less than one month until Applications for Entry close for the 67th edition of the Cruising Yacht Club of Australia's Rolex Sydney Hobart Yacht Race and already there is an interesting mix of yachts and people preparing to head south to Tasmania.

Starting on 26 December, at 1300 hours AEDT on Sydney Harbour, among the applications are serious line honours and overall race victory contenders, international yachts, young female skippers, single-handed round the world sailors, America's Cup yachtsmen and home grown entries from every Australian state.

In the super maxi stakes, Investec Loyal is ready to seriously challenge Rolex Sydney Hobart record holder and multiple line honours winner Wild Oats XI for the title after giving Bob Oatley's yacht a run for its money in the 384 nautical mile Audi Sydney Gold Coast Yacht Race two months ago, trailing her over the finish line by a mere nine minutes.

Anthony Bell took sole ownership of Investec Loyal earlier in the year and is pulling together a top notch crew with names like Michael Coxon, Anthony 'Billy' Merrington, Anthony 'Nocka' Nossiter, Will McCarthy and Tom Braidwood, who between them, have all the major races and regattas in the world covered.

Joining Bell and his pros are some celebrities, with former rugby union greats Phil Waugh and Phil Kearns already re-signed to join the yacht having become yachting enthusiasts after racing the yacht to Hobart last year. More big name celebrities will be announced by Bell over the next few weeks.

"We've been working very hard on the boat and the evolution of our racing team," Bell said. "Generally, the better the boat goes, the more we raise for charity (the Loyal Foundation) which is incentive enough. We're aware what we are up against in Wild Oats XI and the guys are certainly primed to give a good nudge this year," he added.

Alex Thomson's Open 60 Hugo Boss is one of two international applications so far. Thomson is tight-lipped about race preparations and crew, busy finalising preparations for the doublehanded Transat Jacques Vabre race, starting from Le Havre, France on 30 October.

New Zealand entry, Outrageous Fortune, is Quintin Fowler's a relatively new Beneteau First 45. Fowler should be optimistic given the recent results of boats out of the same designer; Darryl Hodgkinson's Beneteau 45, Victoire (Audi IRC Australian Championship Class B winner), and Andrew Saies' Beneteau First 40 Two True, the 2009 Rolex Sydney Hobart overall winner.

Stephen Ainsworth's Loki from CYCA is shaping up as one of the red hot favourites. The Reichel/Pugh 63 claimed the treble of line honours, overall victory and race record in September's Bird Island Race, the third CYCA trifecta this Sydney thoroughbred has won and still holds records for.

"Hobart is the only major Australian race I haven't won yet – so it remains on my 'to do' list, but we all know it's the hardest one to win," Ainsworth conceded after Loki's Bird Island win.

So far six applications have come from Tasmania, the 'Apple Isle's' largest entry in recent years. Natelle Two will be skippered by 22 year-old Laura Roper. The boat has been with the Ropers since 1990 and is normally skippered by Laura's dad Glenn, who will compete in his 13th Hobart, this time as crew, alongside Laura's eldest brother, Ashley.

Laura was left at home while her father and brothers sailed Natelle Two in her last race to Hobart - the 50th anniversary in 1994. "For as long as I can remember, I've wanted to compete in the race; but for a number of reasons, including being too young, I decided in January that this was going to be the year," she said.

Other Tasmanian entries are Rob and Tony Fisher's old favourite Helsal 3, Anthony Lyall's Valheru; Dump Truck (Anthony Paterson's former Tow Truck), a Ker 11.3 owned by Justin Wells and Edward Fader, along with Martela, an IMX 38 owned by Anthony Williams.

Other interstate entries are Knee Deep, Russell Balding's Farr 49 which won the Hobart race overall in 1999 as Yendys, and Optimus Prime, Trevor Taylor's Marten 49, both from Western Australia. Queensland has produced Alacrity (Matthew Percy's Beneteau First 44.7), Lunchtime Legend, Robbo Robertson's new Beneteau First 40, and Ocean Affinity (Stewart Lewis' Marten 49).

Victoria is fielding Bruce Taylor's Caprice 40 Chutzpah. Taylor is coming up for Hobart number 31, but overall victory has eluded the dentist to-date. Worthy local opponents will be Rob Hanna's Judel/Vrolijk 52 Shogun, Rob Date's RP52 Scarlet Runner and Calm, the TP52 owned by Jason Van der Slot and John Williams.

The Rolex Sydney Hobart Yacht Race start will be broadcast live on the Seven Network throughout Australia, webcast live to a global audience on Yahoo!7 and the Australia Network throughout the Asia Pacific Region.
CYCA Commodore Garry Linacre is predicting a sizeable fleet of around 90 yachts for the famous annual 628 nautical mile race. But with Applications for Entry closing on 1 November 2011 at 1700hrs AEST, the Commodore says time is running out for prospective competitors, who should complete their entry online via the race website.
The Rolex Sydney Hobart Yacht Race 2011 Applications for Entry and Notice of Race can be found online here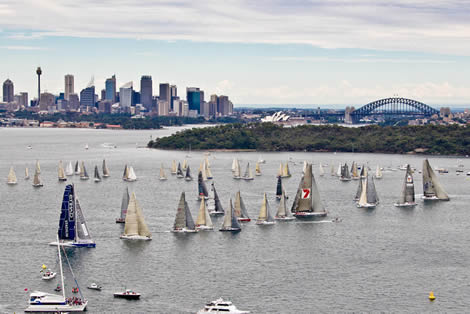 Back to top
Back to top