Six women in the Mini Transat
The 18th Charente-Maritime/Bahia Transat 6.50 (better know as the Mini Transat) sets sail on 25 September once again from La Rochelle.
Among the 80 solo sailors due to set on the 4,200 mile voyage for Salvador, Brazil via a stopover in Funchal, Madeira will be eight women. Some of the top female sailors in solo offshore racing have in the past cut their teeth in the Mini Transat including Isabelle Autissier, Ellen MacArthur, Catherine Chabaud, Sam Davies, etc.
"This race made me crazy, a complete revelation," admits Isabelle Autissier who finished third in 1987. "The arrival to Canary Islands, at the end of the day, was magic, even though I was exhausted after 43 hours at the helm… At the start, I was not a professional sailor… At the end I had become one…"

Sam Davies, finished 11th in 2001 comments: "This is a very difficult race but it is awesome. Very difficult, because it was my first singlehanded race, I suffered much… But the reward when you reach Salvador de Bahia is immense. This is one of my best memories. What really made a deep impression for me; it is the atmosphere and the spirit of this race. Even if you're a foreigner, everyone helps you and everyone supports everyone. We all share the same wish and the same motivation… I really appreciated."

Ellen MacArthur, 15th in 1997: "It gave me taste for open sea. I will never forget it!"

This time six women are racing ranging in age from 27 to 40 years old - two French, one Spanish, one Italian, one Dutch, one Briton and one American…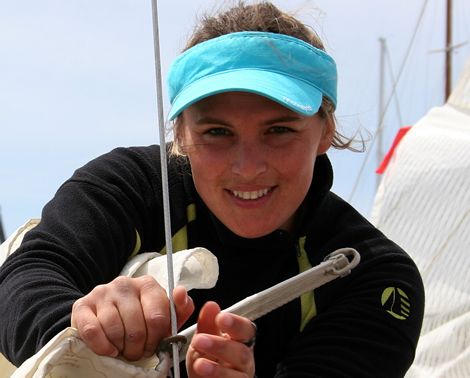 Marie Duvignac, Visit Var n° 660, 32, lives in Toulon.
Marie is not a woman we can call a newbie being a twice World champion (2002 and 2007), once runner up (2006) and four times European champion in the Hobie 16. She finished fourth in the 2009 Tour de France a la Voile and has since moved on to the Melges 24 class before taking a distinc change of direction, moving into the Mini class. "I was fed up. I wanted to see what's after the buoys…" In 2009, she bought her first Mini and successfully started her own adventure finishing third of the Grand Prix d'Italie, fourth in the Mini Max and the Hexis Cup. Now, it's time for the BIG event. "I am looking for adventure, to learn and to discover… To see the Doldrums and to know how I will react through three weeks of solitude. Not to feel lonely, I name everything on my boats, the sails, the pilots… and I talk to them. Of course, I want to have a part in the race but I have no exact idea about a possible ranking."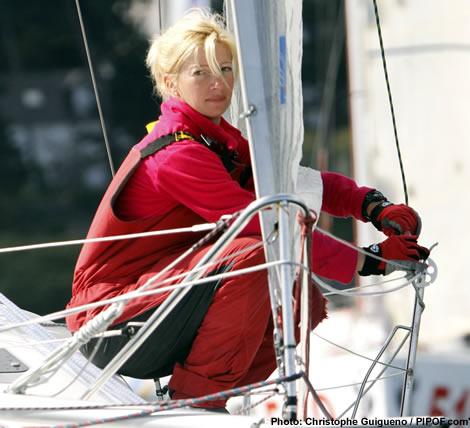 Fabienne Robin, Plume d'Ange n°708, 33 years old lives in Château d'Olonne (85), sailor.
She was accountant; but that did not last long once she had set foot on a Mini … "I have had already sailed a little when a member of the sailing club next to where I live called me. He was looking for a crewmember and I went along, just to see. Then it was 'love at first sight'. I really did not plan this professional U-turn." In 2007, she passes her professional skipper exams and bought her first boat in 2008. As to the forthcoming race, she tells: "First, it will be a very long adventure, but as it is also a race, I will do my best."

Suzanne Beyer, Penelope n° 745, 33 years old, lives in Zoagli in Italie, skipper.
In 2008, she decided that it was time for her to 'live her dream' and take part to the Charente-Maritime/Bahia Transat 6,50. Suzanne bought a Pogo 2 called Pénélope. Suzanne is, since 2005, the owner of a 1914 ketch named Tirréna II, but she also is found of offshore racing. Of the Mini Transat, she says: "I want to live a great personal and professional adventure. An adventure that I would never imagine living a few times ago."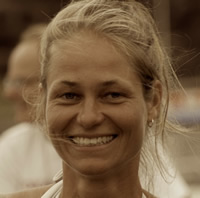 Christa Ten Brinke, Ran of the North Sea n° 758, 40 years old, lives in Hilversum, Netherlands, Artist.
Christa is an artist/sailor, two passions that she combines very easily. And Christa won't leave her partner at home, as Ysbrand Endt is competing in the Charente-Maritime/Bahia Transat 6.50 too, making them the first couple ever to set sail in the same edition of the race. Christa surfs and sails forever. Her objective: "to cross the Atlantic and see Salvador de Bahia."

Emma Creighton, Pocket Rocket n°574, 27 years old lives in Freeport, USA, skipper.
Coming from a sailing family, Emma started sailing competitively at university. Once she graduated, Emma moved from Maine (USA) to Saint-Barthélemy then to San Francisco where she devoted herself to sailing completely. In 2010, she took part to the Pacific Cup from San Francisco to Hawaii on a Mini and came to France for the 2011 season in preparation for the Charente-Maritime/Bahia Transat 6.50. Emma has one objective: "I do not participate only for the adventure even if it is part of it. I hope to be the first woman among the 20 first protos."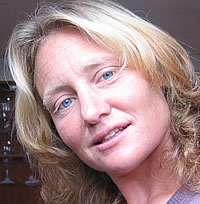 Pip Hare, The Potting Shed n°743, 37 years old, live in Warsash, UK, Sailing Coach.
Pip, is not a beginner and goes from race to race. She has sailed over 80.000 nautical miles on every ocean, and has crossed the Atlantic twice from Uruguay to Great Britain and from England to The United States. In 2010, she bought her Mini, a Pogo 2, and she started sailing with her in Mediterranean in March 2011. In just three months, she completed the compulsory qualifications: "In the end, my dream will come true." Read more about Pip here and catch up with her blogs here.
Back to top
Back to top