Top British Solitaire du Figaro finisher
18th overall in a fleet of 46 doesn't sound that flash, but when it comes to La Solitaire du Figaro, in a class where competitors return year in year out ovr the course of a decade or more, the level is so high that 18th is considered a respectable result.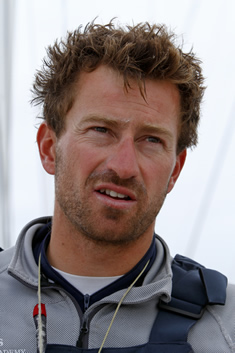 This year's Solitaire du Figaro saw Britain's Phil Sharp scrap through in terms of scoring Britain's best result in the effective world championship of singlehanded offshore racing in recent years. Leaving aside Clare Francis' 5th place overall in 1975 when there were just 13 starters, Sharp finished just one ahead of Sam Davies' 19th places in the 2003 and 2004 races. Davies still holds the prize for being the top British Solitaire first timer/bizuth ever, finishing second in this class in 2003.
His 18th place puts him ahead of 2009 Mini Transat winner Thomas Ruyant, the highly rated Charlie Dalin and 2001 Solitaire winner Eric Drouglazet.
Now in Dieppe post-finish, the Figaro sailors are maintaining their sleep deprivation but through parties, culminating in the mega-fest due to take place on Saturday. Yesterday a seven strong team of Figaro sailors beat the local Dieppe team in a football match. Today they are going 'chariot' racing.
"I think I am happy with my performance first time out, happy to be up there in touch with the lead group, considering there wasn't the optimum amount of preparation time and I picked up the boat quite late and not having a full training program over the spring," comments Sharp.
"Looking back I know that there were a few mistakes that were made due to a lack of preparation like when I broke the prop shaft and was penalised 20 minutes on the first leg and then I picked up a massive clump of weed on the second leg and went backwards through the fleet on the last night. So I need to think about all the different areas, to keep your boat working at maximum speed no matter what state you are in."
No penalty on leg one would have elevated him to 13th place overall...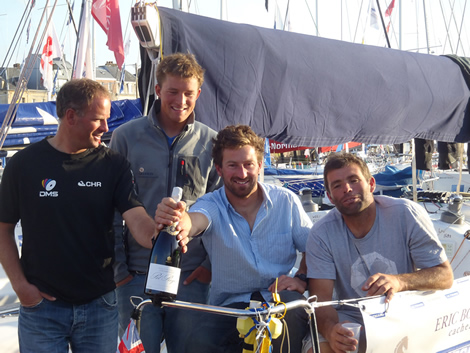 "I am thinking about the areas I can improve already and I've learned a hell of a lot in this race. I think experience definitely counts for lots. But I am very encouraged by a top 20 result. I had my sights on the top half thinking it would be great to get there and despite a few hiccups along the way I have come away with 18th."
Aside from the issues facing every solo sailor, the sleep deprivation and finding time to eat, etc La Solitaire du Figaro is a highly tactical event combining open water sailing, such as the crossing of the Channel and the Irish and Celtic Seas, with challenging coastal sailing, the tidal gates, etc.
"Every time I went through the Raz de Sein was basically a heart-in-mouth moment as you were left to the mercy of the tide," recalls Sharp. "That was always quite nerve wracking, especially the second time when I had to sail so close to the rocks to get out of the tide. That is always a really interesting time. The depth goes from 40m to 2m, and you are wondering 'I hope that is the tide under the depth sounder, not seaweed...'"
Sharp says he was happy with this final leg: "I was coming through the fleet on the last night whereas on the previous legs I was hanging on in quite a fatigued state. I was feeling quite strong for a change on the last night and was able to make gains. So it ended on a really positive note."
His first leg was encouraging when he finished seventh, although the 20 minute penalty immediately dropping him back to 21st place. By the third leg he felt confident of being able to control his position while this last leg was difficult weather-wise, ironically around his home waters of the Channel Islands.
"We had a lot of fluky winds between north Brittany and Guernsey and I was looking good until the wind promptly changed and I went from being near the front to being near the back. A lot of experienced Figarists came in towards the back of the fleet. We had to go though Guernsey - a terrible place [he comes from Jersey]! It was just miserable, fog and lack of wind." At this point two back markers took a flier around the west/north of Guernsey and came out smelling of roses.
While there have been past exceptions who have successfully banged corners in La Solitaire, most notably Yves Parlier, when he earned his nickname 'L'Extra-terrestre', most often it doesn't pay in the Figaro fleet.
"The third leg I sailed a very conservative race, positioning myself in the middle of the fleet," continues Sharp. "It was taking a low risk strategy. It is important to have your own game plan. If you are crossing the fleet you always lose a lot of time. And if you are looking over your shoulder the whole time it is not the fastest way to sail, but you have to be positioning yourself with respect to the fleet and accounting for unaccountables with the weather and making sure that you can maintain a strong position in the event of an unforecast change."
This was less possible on the final leg when as the boats approached the Channel Islands, the movement of an area of low pressure across north France was proving hard to anticipate. "I probably sailed my most extreme race in the last leg and that was the reason I lost a lot of positions, because all the people to the north of me ended up with the new breeze first, but if you stuck south and went all the way to the shore, you could pick up the accelerated wind. I was a bit in the middle and couldn't capitalise on either option properly.
"The finish was just incredible," continues Sharp. "There were so many boats in a line coming toward the finish line in 25 knots of breeze. Everyone suddenly appeared from offshore and inshore and came together in a huge mass of boats. Everyone had condensed before they got to Guernsey and then they stretched out, but I didn't expect it to be so condensed.
"Everyone was pushing extremely hard. In the middle of the night I was trying to claw back some distance by trying to time the shifts very well and everyone was gybing so well on the shifts, capitalising on them incredibly. No one was asleep for more 10-15 minutes at a time because you couldn't afford to be late - you lose significant places if you are just 10 minutes late gybing. That summed up the whole race for me – just how exciting the racing is and how much you are pushed as a result."
La Solitaire du Figaro was won this year by BPI skipper Jeremie Beyou. Like last winner's, Armel le Cleac'h, Beyou is a past Figaro winner who returned to the class after losing his IMOCA 60 sponsor, in his case Delta Dore. Since his second win Le Cleac'h has since been appointed skipper of the new Banque Populaire IMOCA 60. We wonder if Beyou won't enjoy a similarly happy outcome.
So in a class that is so tight, how did Beyou manage to win three consecutive legs? we put it to Sharp. "He plays the tides extremely well. He seems to have a very strong game plan going into the different areas of the course, particularly around west Brittany, the Raz du Sein, the Chenal du Four. Strategically he was very strong. I think his comprehension of the weather systems was strong towards the end of the race."
As to what Sharps say he has learned: "Personal time management is just so important and something really highlighted to me. There are so many things to do to keep the boat moving fast and going the right way, just managing how much time you should be on the pilot and when the pilot is quick and how much you should be navigating and sleeping and keeping the boat clean is massively important. I am not very good at multi tasking, although I am getting a little better...
"It is quite addictive in a sense that there are areas where you lost and you shouldn't have, and then you think 'what if I hadn't made that mistake there?' After four legs it highlights your weaknesses quite strongly and gives you a game plan to go and work on over the winter. That is why it is such an addictive class."
So the plan could be to come back next year and indeed he certainly should. However Sharp's main ambition from here is to get on the IMOCA 60 circuit, ideally as a skipper or in the short term as a crew, with the aim of competing in the next Barcelona World Race and next year in the IMOCA 60's postponed race around Europe. It is possible this could work alongside a Figaro campaign. "The Figaro is great because you can have a structured campaign on a reasonable budget, which you can then apply to other classes - what you learn you can apply effectively later on. I want to keep moving forwards now that I have a good solid first Figaro result under my belt.
"I am very keen to get back into some doublehanded racing and fully crewed. Important not to spend too much time on a boat on your own driving yourself insane! It is dangeorous if you only stay in the Figaro class for too long. The boats are quite unique and it is a one design class so, the boats don't develop at all. And there are more fun boats out there for sure."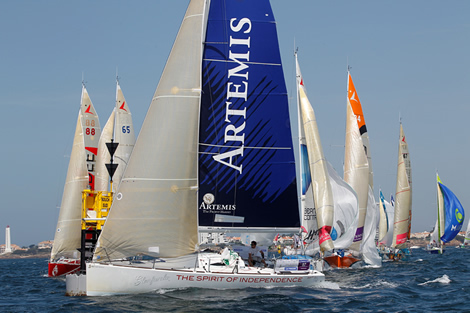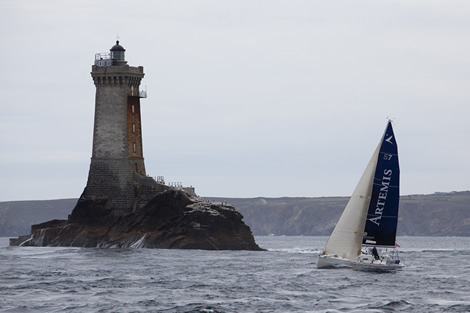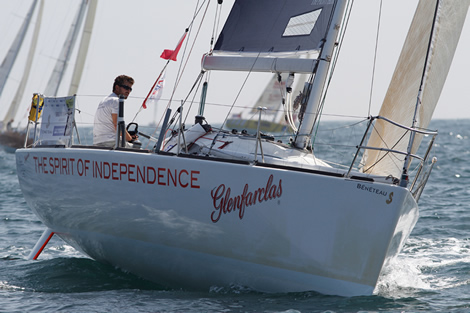 Back to top
Back to top