Brits in the Solitaire du Figaro part one
Brits have scored some good results in solo long distance offshore races over the years – Ellen famously second to MichDes in the 2000-1 Vendee Globe, Mike Golding third four years later (despite having no keel), Sam Davies fourth in an ancient boat in 2008-9. In the Mini Transat again we have come close: Brian Thompson - sixth, Alex Bennett and Mark Turner - both fifth, Phil Sharp - fourth, but in fact it wasn't one of the pros but Simon Curwen who has posted the British result finishing second in 2001.
But when it comes to the Solitaire du Figaro, that starts on Sunday, the British shorthanded sailors have never cracked it.
Until recently Sam Davies was one of the few Anglo-Saxons to have embarked on a fully fledged Figaro campaign, moving to France, joining the famous Pol Atlantique school in Port la Fôret training alongside the best – and her top results were 19th in 2003 and 2004, second first timer ('bizuth') in 2003, her best leg result being fifth on the leg into Portsmouth in 2004. And that's not because she's an average sailor, but because the Solitaire du Figaro is genuinely up there as being one of the hardest events to win across the whole pantheon of all sailing events. The training and degree of preparation that the leading competitors put into it (and that's probably the top half of the fleet) are in our opinion second only to the America's Cup and the Olympics. So it comes as no surprise that all the winners of the Vendee Globe, from Alain Gautier in 1992 on, have all be significant players on the Figaro circuit. Gautier won the Solitaire in 1989, the 1996 Vendee Globe winner Christophe Auguin won it in 1986, 2000 and 2008 Vendee Globe winner Michel Desjoyeaux has won the Solitaire three times – a very exclusive club, including just him, Philippe Poupon and Jean le Cam - Vincent Riou was 4th in the Solitaire in 2002.
So if Britannia is ever to actually win the Vendee Globe then it seems likely that her valiant seafaring representative will have to have a similar sort of track record in the 32ft Beneteau one design. For to date the best ever British result in the Solitaire dates back to 1975 when Clare Francis won the leg from Kinsale to Le Croisic (can any tell us where she finished overall?)
Fortunately to allow British sailors some chance at catching the dominant French we now have the Artemis Offshore Academy which has been running for one cycle and produced its first winner, 'the chosen one', in talented Sam Goodchild, who aged 21 is the youngest competitor by some three years in this year's Solitaire. Now whether Goodchild is the real deal we wait to see – at his young age he has every opportunity to grow into the role. For in this Solitaire du Figaro he will be up against the person who perhaps should have been this year's 'chosen one' given his track record: Phil Sharp, 30, who, as mentioned, has put in one of the UK's top results in the Mini Transat, but significantly was also the Class 40 winner in the 2006 Route du Rhum.
Sharp and Goodchild will be joined on the Solitaire du Figaro race course this year by former Whitbread sailor and Vendee Globe skipper Conrad Humphreys and professional sailor Nigel King, who in Figaro terms is the most capped of the four having competed in the Solitaire on two previous occasions. In short Britannia is this year mounting her strongest ever assault on the Solitaire du Figaro.
Partly down to their respective characters, partly their circumstances going into this Solitaire du Figaro Goodchild and Sharp were in different 'places' when we spoke to them yesterday.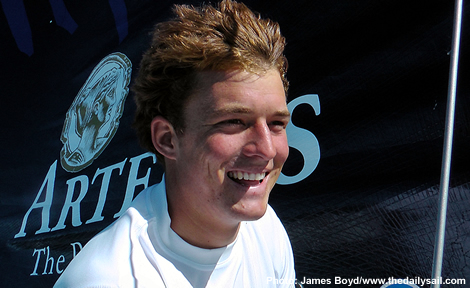 "I am struggling to find jobs to do," Goodchild admitted to us, having benefitted from the Artemis Offshore Academy support infrastructure that through the race is supporting him, Humphreys and King. "I am quite happy with where I am. I'm not going to get any better in the short time left and I'm not doing anything on the boat, because there is nothing to do."
Meanwhile Sharp just about had time to speak to us... "I am still up to my ears in it at the moment and I have got the security to finish, getting all the equipment ready to get my boat passed, so I have a few bits and pieces to do for that, so I am running around a bit."
Having not won the Artemis Offshore Academy scholarship, Sharp has had to find his own backing to get to La Solitaire's start line. He got the entry fee as the prize for winning the Solo Basse Normandie Race. Otherwise some of his funding has come from a personal backer while has also received some 11th hour sponsorship from scotch whisky manufacturer Glenfarclas, a welcome contact of Offshore Challenge's. "They helped me out with the last bit of budget to get to the start line, so the boat will be called Spirit of Independence, which is one of their mottos," says Sharp. Going forwards he is hoping to get some backing for his Figaro campaign from the Sports Foundation in Jersey from where his family heralds.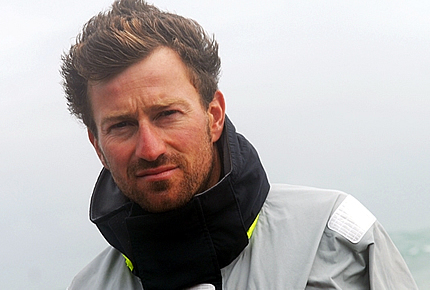 As a result, Sharp's campaign has been a much more last minute affair. He rented a boat belonging to former Mini Transat winner Armel Tripon that was originally to be campaigned this year by Laurent Bourges, who was unable to go ahead with his campaign. "The boat was ready to just pick up and rent. So I got it at the beginning of July," says Sharp.
However he has been busy since that time, including a week's training in Lorient with coach Tanguy Leglatin before continuing for a further few days with Franck Citeau's group from the CEM at La Grande Motte, where the Artemis Offshore Academy, spent the winter training. "It was really productive training," says Sharp. "I haven't been training in medium breeze and waves, because in the Med there is either nothing or way too much. So it was good to do some training in 17-20 knots for two weeks."
Meanwhile Goodchild has spent this week putting the Artemis Figaro Beneteau through measurement and scrutineering. "The boat came out of the water last Friday. There are 20 or 30 different templates that go along the bottom of the boat. It took a bit of sanding, but now we know if we get a random check it is going to be fine. If you get a random check before the race you don't get a penalty for it [if your boat is out of whack], whereas if you get random checked during the race you can get a penalty for it.
"Then on Saturday we had sail measurement. There is not much we can do about it, other than make sure the kite is not wet because then they stretch out of the limit, because they are right on the limit. We just left it in with a dehumidifier for a couple of days and it was fine.
"Then it's just general security stuff, making sure you just have all the bits and bobs, safety stuff on board. We were missing a couple of charts, but we got them this morning, so that' all done."
Meanwhile Goodchild says he's been obliged to take part in numerous briefings... "safety briefings, rookie briefs, 'everything you could think of' briefings and we have a couple more briefings this evening and a couple more on Saturday." But with a race like this, where a fleet of boats are being sailed singlehanded around the congested waters of the Bay of Biscay, English Channel, Celtic and Irish Seas, etc it is way better that the organisers be over-cautious.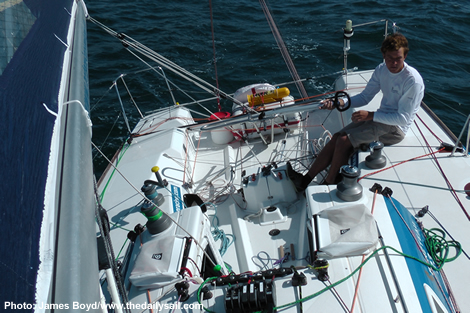 As to his prospects Goodchild says: "The main thing for me – and I know it sounds like I am avoiding the question – this is my career, so I want to enjoy it and I want to carry on enjoying it. But if I had to put a number on it, I'd say I'd be happy if I finished in the first half [of the fleet] but if I felt like I've had a good race I'll probably come home happy whether I am in the first ten or the last ten. But at the same time, if I do badly I am not going to have fun! But I am going to learn a lot, I am the youngest here and probably one of the least experienced."
Sharp is more bullish: "I would like to be challenging for the rookie title, but it is all up in the air. I have never really raced against a lot of these experienced guys and it will be tough. I would be happy to finish in the top half of the fleet, but really I am aiming higher than that. I am fairly happy with my preparation all in all, when I compare it with my other campaigns! But you have to be a lot more prepared on the Figaro, but everyone else is equally as ready.
Sharp adds that he is happy with his boat speed, despite having once recently acquired his boat. He also recognises that he hasn't had the training time recently of the other Brits. Since the last race in La Grande Motte in the end of April, he has only competed in the Solo Basse Normandie (which he won).
"I think all our training over the winter has been really productive, because we did a lot of sailing. It has made a leg of 300 miles almost second nature, I'd like to think! And everything down in the south of France was very well structured, it was identifying your weaknesses and work on them and that was good. A lot of it is about time on the water and because we've had to have quite a lot quite through the Academy selection process, and then the training down in the Med, it has been a good opportunity to relearn the Figaro - quite differently to how I learned it in 2008", when he competed in the Figaro Transatlantic race, the Transat AG2R.
In terms of their own personal competition, Sharp has certainly got fire in his belly having failed to win the Artemis scholarship, while Goodchild will be trying to prove he was the right choice. This will certainly be a race within a race to follow over the next weeks. "I don't feel like I have to beat Phil," says Goodchild. "I'll try not to lose to him, but he is not an embarrassing person to lose to."
"And any butterflies?" we enquire of Goodchild going into his biggest regatta yet. "Every now and again. You turn up for a briefing and you see Jeremie Beyou and Nicolas Lunven and they are the guys you look at and admire and then you think 'I have to line up against them'. So at the moment I am alright but I am expecting to get a bit more nervous than I am now as time goes on."
Tomorrow we publish our interview with Nigel King and Conrad Humphreys
Back to top
Back to top