Pace defends Tour Voile title
After the best part of a month racing clockwise around the coast of France, so today Bertrand Pacé's Sud de France/Languedoc-Roussillon has won the Tour de France a la Voile at the race's finish in La Seyne sur Mer, opposite Toulon. This came after the final two windward-leeward races had to be cancelled due to Mistral conditions bringing with it 30+ knot winds.
Pacé's crew that included the late recruit of Volvo Ocean Race winner and multiple Olympic medallist Torben Grael, beat Daniel Souben's crew aboard Courrier Dunkerque by just seven points, while Safran-Multiplast skippered by Julien Villion won the amateur division.
This was Pacé's second consecutive victory in the Tour Voile after he won last year aboard Nouvelle-Calédonie and, impressively, Pacé eighth win in the race. But this year Pacé's campaign was very different, taking delivery late of their M34 (the new yacht being used for the Tour Voile) and then having to learn the boat. Pacé's progress gained steadily throughout the race and its unique mix of inshore and offshore racing, assisted by several stars from Sébastien Col, Laurent Pagès and ultimately Torben Grael.
"I really did not believe it when we started the Tour," said Pacé of their victory. "I did not feel free because I was so focused on the Aleph Sailing Team. I did not like the boat and that bothered me a little - I was really on the defensive at first. From Dieppe and St Quay I thought we had a chance to win. I enjoyed the presence of our tacticians, who are all fabulous - Sébastien Col, Laurent Pagès and Torben... While they are obviously all extremely competent, it was a lot of fun to sail with them for them human qualities.
"Courrier Dunkerque sails very well, especially in the breeze. Their team is very cohesive, very strong but overall, our victor we have built over the last 3-4 legs in the Atlantic and Mediterranean. I will remember the help I had with Laurent Pagès in the Atlantic and from Torben in the Med. The team this year has been really supportive, very strong, and it helped me a lot.
"Tomorrow I go to Portugal where our team [Aleph] has already started sailing on our AC45. Again, there we have a team comprising people from all backgrounds. I wanted to have a multidisciplinary team that wanted to work together as a team consisting only of top names has its limits."
Torben Grael, commented: "It was the first time I have sailed with Bertrand and I am very happy! It is also my first French event. I have participated at the Mediterranean part of the Tour Voile but it was enough to realise that this is a great race. Each race in the Mediterranean was very windy. When I joined the crew, Sud de France/Languedoc-Roussillon was three points behind Courrier Dunkerque. The team sailed very well is down to lots of little things that made a difference. We have taken advantage of every opportunity to win. If I have the opportunity to return to the MVT, I'd be happy! The alternation of coastal courses and courses banana is very interesting, even for a foreigner as a French because you can enjoy even more of the landscape."
While Daniel Souben and his crew had to settle for second, just a few points away from victory, so double Solitaire du Figaro winner Nicolas Troussel and his Bretagne Crédit Mutuel Elite crew, who finished third. "Our goal was to be on the podium," said Troussel. "So we succeeded!" This is Troussel's first particiption in the Tour Voile and unaccustomed to sailing with a crew Troussel has greater ambitions for 2012.
In contrast to this, Julien Villion, skipper of the amateur crew on Safran-Multiplast, having won the student class last year. He returned this year with virtually the same young crew from La Trinite. They finished 14 points ahead of Benoît Charon's Bred/La Normandie in the amateur class, and with an average age of 23, this team have all potential to take victory overall in years to come.
"Last year, we benefited from beginner's luck," said Villion. "This year it was much harder! We sometimes had very difficult times - such as the injury of one of our crew in Pornic-Royan. Our strength is the cohesion among our crew - they are not just teammates, they are also my friends..."
Despite the introduction of the new M34 one design, taking over from the Farr (Mumm) 30 this year, it was two of best known teams that dominated the Tour Voile. But now that the new teams have done their warm-up lap, the 2012 Tour Voile should be closer. The M34 had its teething problems, but proved her ability in light winds and to survive in strong winds and big seas.
Overall results
1 Sud de France / Languedoc Bertrand Pacé 119pts
2 Courrier Dunkerque Daniel Souben 126pts
3 Bretagne-Crédit Mutuel Elite Nicolas Troussel 160pts
4 Toulon Provence Méditerranée Fabien Henry 175pts
5 BAE Systems Cédric Pouligny 181pts
6 Nantes Saint Nazaire E. Leclerc Corentin Douguet 248pts
7 Safran - Multiplast Julien Villion 264pts
8 BRED - La Normandie Benoît Charon 278pts
9 Ile de France Jimmy Pahun 286pts
10 Côtes d'Armor Bretagne Stéphane Letertre 293pts
11 Batistyl Ville de Pornic Cyrille Le Gloahec 331pts
12 Ile de La Réunion - Ville du Port Gabriel Jean-Albert 408pts
13 Iskareen Soenke Bruhns 455pts
14 Région de Bruxelles-Capitale - Brussels Hoofdstedelijk Gewest Courbière / Casaux / Ammeux / Michel 455pts
15 Martinique-Centrale Paris-HEC Mathieu Mourès 467pts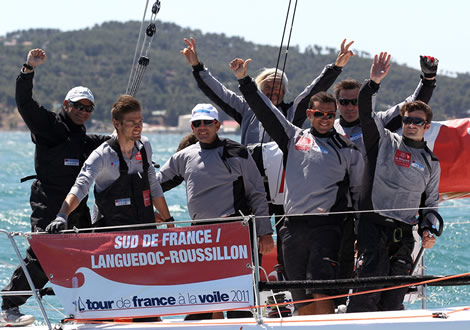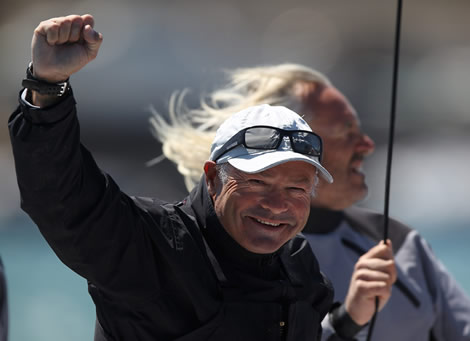 Back to top
Back to top