Line honours for Rambler 100
George David's Rambler 100 has taken line honours in the Transatlantic Race 2011. The Juan K-designed supermaxi crossed the line off the Lizard today at 16:08 GMT. She made the 2,975 nm (as the crow flies) crossing from Newport, RI in a time of 6 days 22 hours 8 minutes and 2 seconds.
George David commented: "It was really nice to see David Aisher (Rear Commodore Yachting of the Royal Yacht Squadron) greet us on the line with some Cornish pastries and some champagne and beer. We feel pretty good - it was a remarkably fast time.
"For the first 80 hours of this race we were ripping along; towards the end we hit a few holes in the wind, but the net speed average was 15.7 knots across the Atlantic, which I think is going to prove a record in its own right - as a speed record for any transatlantic race. We feel pretty good about that.

"Kenny Read is about 100 miles behind us with his Puma Team. The odds are he is probably going to win the race on corrected time, but we will see what happens over the next 15 hours, which is about the amount of time that we give them. We will keep a look out on the tracker, and we will see when the time expires, but just like politicians, we are not going to concede just yet.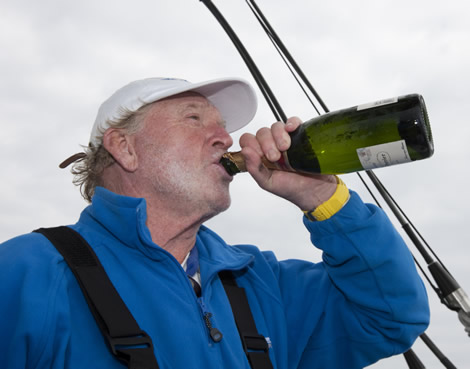 "Flying along at 28 knots is an exhilarating experience but one that concentrates the mind. Rambler is a finely balanced machine and anything can go wrong and there are huge forces opposing each other. If those forces go out of balance, bad things can happen very quickly. But, as I say, this has been an exhilarating race, where we have been well out of sight of land, completely unsupported and in a high performance machine, which you are taking close to the edge, for a very long time--that is, without doubt, exhilarating."
Next home will be Ken Read's Puma VO70 which at 17:30 was in the middle of the Celtic Sea, still with 97 miles to go and making a lowly 6.6 knots. With the depression that has been over the UK evaporating while slinking off towards Scandinavia, so the Azores high is encroaching towards the UK and the mid-fleet is caught in giant ridge, leaving them in fickle light winds until such time as a second depression, currently centred over Newfoundland, makes its presence felt in the next 24-48 hours.
Behind the lead duo, the Gunboat cat Phaedo is winning the battle in the Open Class against the monstrous Maltese Falcon and is third on the water just ahead of Huntington Sheldon's Reichel Pugh 65 Zaraffa that lies to the north of her.
Chris Bull's Cookson 50 Jazz remains a country mile ahead in IRC 2 with 375 miles left to go, but impressively overall under IRC it is the unlikely candidate of the Puma VO70 that seems to be leading, following the high favourable conditions the IRC1 boats have seen (up until this weekend) in the Transatlantic Race.
Ken Read reports from Puma's mar mostro:
We have now gone from days of exhilaration to listening to the second hand on the clock ticking away as the race can't come to an end soon enough in these light and unpredictable conditions. And, I have a feeling I am not alone in this fleet.
The weather has played the key role in this race, as it does with all ocean passages. After racing across the pond over the top of the Azores High pressure system, the fleet compressed and the boats that started a week early or four days early all pretty much converged on a trough that was formed between the high and a fairly dormant low northwest of Ireland. This trough was going to make or break this race in my opinion. Navigator Tom Addis spent a lot of time trying to figure out where to cross over the line of light air to switch from one weather system to the other. The problem was the area of light air was growing, and you couldn't get on the other side fast enough. But, the further north you tried to cross the line, the larger the zone of light air and the better the chance you literally wouldn't get through. We continued south looking for the first possible gate.
To this point our race had been quite entertaining and we were measuring ourselves against a far bigger boat in Rambler, so we were pretty pleased as to how it was all going. We checked on the boat's positioning ever three hours or so with a goal to keep our speed within a knot and a half of theirs. Tough to do when each boat was averaging more than 23 knots for days on end! Approaching the trough, Rambler jibbed early maybe thinking they didn't want us to jump onto the favored jibe and start making ground before they did. But, our strategy developed into a waiting game, and Tom thought he saw a way through. We ended up jibing more than 20 miles beyond Rambler's line.
The next 6 hours were tough, but the outcome was a 50 mile or so gain on the big boat, putting us only 50 back for the entire race at that point. Tom pretty much nailed it, and we never went below 8 knots. Our line was almost directly through. Its fun being on a fast little boat like this that can chase weather for advantageous positioning.
The rest of the fleet was not as lucky. At last count, only about five of us made it through reasonably unscathed. Leopard, for example, was only about 90 miles back entering the trough. Last time I looked, they were about 400 miles back. Luck of the draw sometimes.
Now, for the drag race to the finish! We have been touch and go with Rambler since the trough line. We moved within 45 miles of them at one point late Saturday afternoon, but the good Lord giveth and he taketh away. Right now, we are on the bad side of a squall line that has cost us nearly 20 miles in less than three hours! Yuck.
This whole race is against the clock as we are sailing under the IRC handicap system, so we always have to keep the big picture in mind. That being said, I think along with Rambler, we are in pretty good shape overall. But, the big boat won't go away and we expect a tooth and nail fight for every minute to the finish.
Funny thing is, the two crews on each boat know each other very well, having sailed with each other not just this past winter on Rambler but for years together on various boats. All in good fun! No matter what, there will be some good old fashioned trash talking over a beer at some bar someplace in the world, with the winners telling the other crew why they were lucky.
The big boat does have a breeze advantage over this last little bit. We are in good shape right now, but it will be tough to hold on as they will have advantageous positioning from almost here on in. One way or the other, we have had a great trip and learned a ton about our boat and the team…which was always the No. 1 goal in the first place.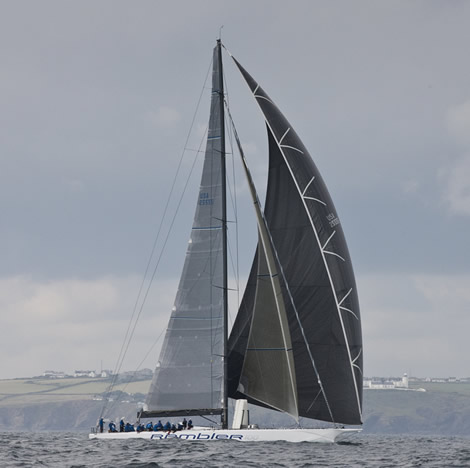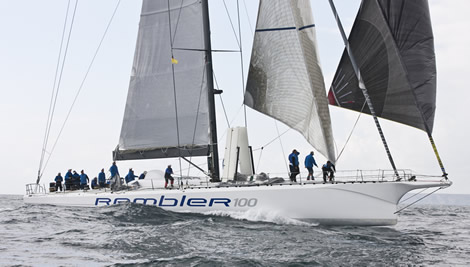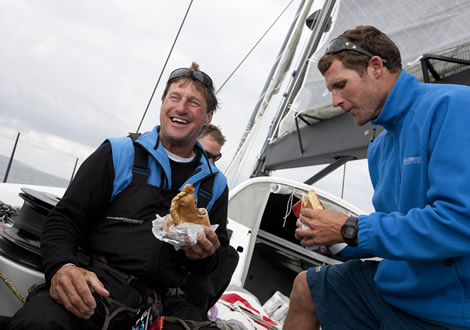 Back to top
Back to top