Babies and boats
British Vendee Globe heroine Sam Davies is currently experiencing a small bump in her sailing career. She is pregnant. The baby is due on 24 September and although she admits her opinion may change, at present Sam still sees herself being on the start line of the Vendee Globe on 21 October next year.
This year while waiting for a Vendee Globe sponsor to come on board, Sam has stepped back into the Figaro and this spring has taken part in the training out of the famous Pol Atlantique centre in Port la Foret.
"I have been able to do the whole of the Figaro early season and the training and even some of the races, even though I had to lift my foot off the gas a little bit. It was good to go back into the Figaro training. I thought I would get a real beating, because I haven't been singlehanded Figaro sailing for four years, but it came back a lot quicker and I was better than I thought. Some of it like riding a bike and some of it is really frustrating because I made stupid mistakes that I know I shouldn't normally make. And that was quite encouraging because it made me realise that even with a break this year it won't be hard to come back next year and do the same training in the Figaro."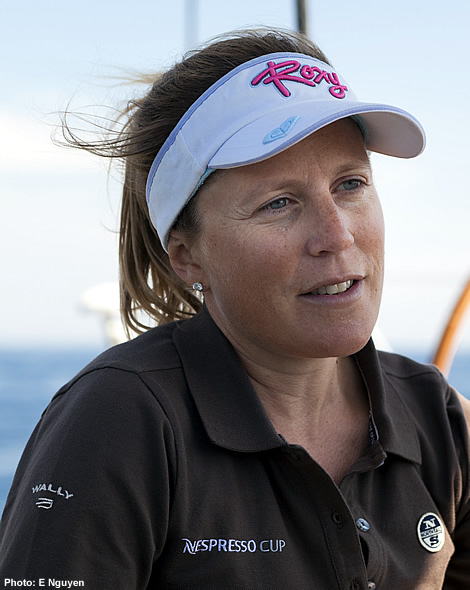 While her participation in August's Solitaire is obviously too close to launch date and nor will she be able to do the Transat Jacques Vabre this autumn, Sam had for while hoped to compete in the Figaro's class Solo Transat race from Benodet to Martinique back in April. "To start with I thought I would be fine: four months pregnant, you are in top form, and the doctors were like 'you're mad – don't you realise...you can't be in the middle of an ocean...there are things that can happen that aren't predictable, even if you're the healthiest of people...'"
While her professional sailing has now gone on hold, in fact Sam says she has been out on the water perhaps even more than she would have been . Aside from the Figaro she has been regularly sailing on a J/80. "I did Spi Ouest in the 105 boat fleet, just with my friends. We are just from Concarneau and our objective was to get into the top half and we ended up coming 46th out of 105, so we just made it! I was on tactics, which was good because I haven't had the opportunity to just think about that for a long time, because in the 60s you don't think about that at all, because there are not enough boats and there are too many other things going on. So that was good to get my head back around fleet racing and one design race."
She also took part in the Grand Prix de Douarnanez on board a Class 40 and most recently (when we caught up with her), Sam was in Portofino at the Nespresso Cup as an ambassador for Nespresso along with the likes of Jochen Schümann, Loick Peyron and Francesco de Angelis, having her first experience sailing on board a Wally. "I sailed on Genie, the 77, and on Tango, the 80, and I also spent some time on a Wally Power with guests watching the racing. It was nice to get out on the water and watch these impressive machines in action.... and try them out myself, although the racing must have been a bit frustrating for the guys as there was never much wind."
So the plan, assuming all goes to plan, is that post-birth Sam will have, as she puts it, three or four months to get to know her baby and will then be back on the water in January.
The father is Romain Attanasio, another solo sailor, who is currently campaigning Saveol on the Figaro circuit, but who like Sam would like to compete in the next Vendee Globe, although Sam says he doesn't rate his prospects in finding money. "He said that 'if you [Sam] can't find the budget for the Vendee Globe there is no way I am ever going to find it', so he is resigned to the fact that there is no point in even trying to do that race. But he is really enjoying his Figaro project with Saveol.
"He is doubly happy about being a potential dad, because he didn't want me to be racing in the Figaro against him. He hates it when we are racing in the same class together, because he puts too much pressure on himself. He hates me beating him, but if I am behind him then he worries about why I am not there. It has been quite a few years since we sailed against each other."
Otherwise what effect does she foresee becoming a mother will have on her life? "I doubt Romain is going to stay at home either, so the nanny budget is going to increase somewhat!
"It is good if we don't race in the same classes, there is a hope – like I left home yesterday and he got home yesterday after the Transat. Quite often that happens. If we can manage to continue that then there will at least be one parent at home... But at the end of the day you never know how you are going to feel about leaving your child until you actually have one..."
Sam does have another solo sailing mum to refer to. Banque Populaire Figaro skipper Jeanne Gregoire, one of her best friends and with whom she once raced the Transat AG2R, became a mother around 18 months ago.
"She did her best season last year performance-wise," notes Sam. "I guess it is the joy of being a parent makes you happy in your head, so mentally she is more relaxed in her racing and more switched on at the right times, etc. I know she does suffer a little bit. With her and Corentin it is more one-sided because she does all the sailing and he stays at home. So she hardly has any time alone with her daughter and she joked, whenever Mila hurts herself, she'll always cries for her father. But those things change so quickly with kids."
So while there is fighting talk of competing in the Vendee Globe next year, there is another significant problem to overcome first – finding a sponsor. The deadline has been and gone to build a new IMOCA 60 and the hunt for sponsorship, as always, with her business manager Xavier David has been a rollercoaster ride. "This time last year I thought I had found the money, and I thought I was going to have to choose between two potential sponsors! But that is the difference between what people say and what is written down on paper..." she says. "I have a lot of feelers out and I am still optimistic, but no one has found the money yet, so there are a lot of good boats available."
So her choice will be limited to a secondhand boat and of those available her first choice is the Farr-designed Foncia in which Michel Desjoyeaux won the last Vendee Globe in 2008-9, recently sailed around the world by Iker Martinez and Xabi Fernandez in the Barcelona World Race as Mapfre. "Mich's old boats seem to go well for me and it is a boat that seems to have good vibes to it, because it has done two round the worlds now. The later it gets the more it is important – like I did with Roxy – to take something where you don't have to change anything and you can do training and just go know that everything is tried and tested and broken and fixed and it shouldn't be too much of a problem."
So is it possible to be competitive in the next Vendee Globe in an old boat? "In theory it would be hard to win, because there are enough next generation boats now that with the probability of breakages, there would still be one finishing. But the thing with the Vendee, it is so not about pure boat speed, as I showed with Roxy before. For me I want to go and do a race that I enjoy first of all and feel that I have done better than last time. So it will get to the stage where if I haven't found the money, I'd rather not go and do it just to sail around the world."
However she adds that there is something of a compromise because she also needs to stay in the game if she wants to get a potentially race winning campaign together for 2016. "It is hard to find the balance. I am quite optimistic still because I need to find money by the end of the year to be able to make that work."
To do the Vendee Globe at this stage she is looking a budget of around 3 million Euros for two years, including either buying and selling a boat or chartering one.
It will be interested to see if she still feels as strongly about doing the Vendee Globe come the end of the year when she is bouncing a little one on her knee.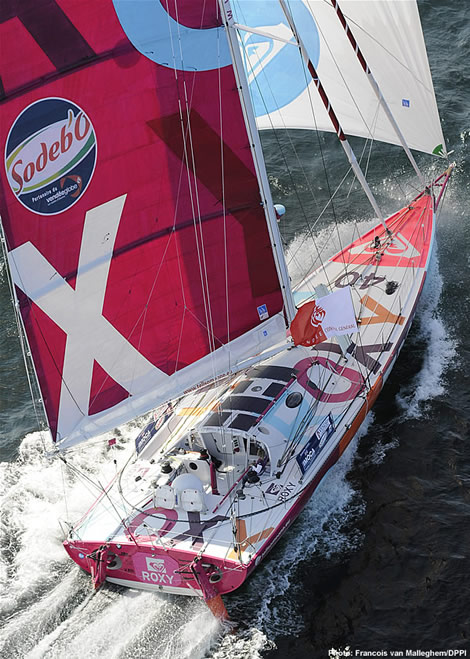 Back to top
Back to top